There's always a turning point in a legislative session when you can sense that lawmakers are ready to wrap up their work, pass budgets, and travel home. That shift was on full display this week, until COVID-19 brought the Idaho Legislature to a screeching halt today. Sadly, it took at least six legislators and a staffer to become infected this week to force a two-week recess. They're set to return on Tuesday, April 6.
They're still introducing new bills though, even as they're trying to adjourn. They'll still have plenty to do when they return, including finalizing the budget, considering the $389 million tax cut passed by the House this week, and responding to a number of potential gubernatorial vetoes. They'll also have billions in new stimulus spending from the recently passed American Rescue Plan, and Governor Brad Little laid out a plan on how to allocate the over $2 billion that's on its way to Idaho. 
On the land, air, water, and wildlife front, we saw continued challenges, and I look forward to catching my breath during the upcoming break. I'll keep the update coming next week though, as I'm sure there'll be more to report even with the legislature in recess. Without further ado, here's an update on the comings and goings at the #IdLeg in the week that was…
House passes $389 million tax cut
The big news of the week was that the House passed a $389 million tax cut, which reduces the top tax rate from 6.925% to 6.5% and provides a one-time rebate to 2019 taxpayers. The measure will surely be scrutinized in the coming weeks, as the recently passed federal stimulus and COVID-19 package precluded state-approved tax cuts, even though states such as Idaho were starting to receive billions of dollars in federal support. Attorney General Lawrence Wasden signed onto a letter with 20 other Attorneys General from across the country raising concerns with the provision in the federal law. The measure is sure to be challenged and most expect the case to be decided by the U.S. Supreme Court. 
Across the rotunda, the Senate killed a separate measure that attempted to limit the growth of property taxes through top-down austerity measures. The bill failed by one vote. Despite the fact that property tax relief was the #1 priority for legislative leaders, they haven't put forward a simple proposal to expand the homeowner's exemption. Meanwhile, the outcry from Idahoans who have seen their tax bills rise as their property values skyrocket appears, once again, to be falling on deaf ears… Enough about taxes…let's talk about Payment in Lieu of Taxes…
Senate State Affairs advances unneeded public lands "pilot study"
Despite concerns expressed by at least three members of the majority party, including Committee Chair Patti Anne Lodge (R-Caldwell), the Senate State Affairs Committee advanced HCR 08 to the Senate with a "do pass" recommendation. It passed the House on March 3. As we've reported, HCR 08 is Rep. Wendy Horman's (R-Idaho Falls) attempt to allocate $250,000 for a "pilot program" to have the Federalism Committee investigate the federal Payments in Lieu of Taxes (PILT) program, which compensates counties for non-taxable public lands in their counties. We recognize the fiscal challenges many counties face, however ICL, and other voices — Conservation Voters for Idaho, Trout Unlimited, and a Teton County Commissioner — testified that the "full" study, which has a total price tag of ~$2.5 million, is a waste of time, ignores recent developments in Congress to fund and reform the program, and could be carried out by existing state-funded researchers. Take a moment to let your Senators know that you oppose HCR 08!
Land Board approves Payette Land Strategy, opposes attack on AG Wasden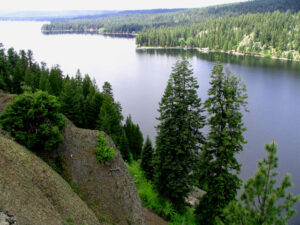 In news from outside the state legislature, the Idaho Land Board held an important meeting on Tuesday where they approved a strategy for the management of endowment lands that surround Payette Lake and the community of McCall. The plan calls for 400 acres around the lake to be sold off in the coming decades. The Land Board also lifted a moratorium on sales or exchanges of land in the area, which opens the door to a troubling proposal from Trident Holdings, a private investment firm. The Trident proposal threatens to privatize more than 20,000 acres for pennies on the dollar, which would result in loss of public access, extensive construction and development, and water quality impairment. That's why there's opposition to large-scale public land disposal from a consensus of community members, students, landowners, conservationists, wildlife advocates, the City of McCall, Valley County, and others. I can't think of a time when there was more consensus on a conservation-related issue in the State's History! Take action to stop this harmful proposal!
The Land Board also voted to oppose HB 118, which seeks to cut the ties between the Attorney General and the Land Board. The bill, proposed by Rep. Megan Blanksma (R-Hammett), would remove the AG as lawyer to the Idaho Department of Lands (IDL) and Land Board. IDL suggested in their memo that legal costs would skyrocket, resulting in costs in excess of $1.8 million, compared to the $405,000 they currently pay for in-house legal counsel from the AG's office (and that's a conservative estimate). In response, we've heard that HB 118 may be dead for the season in committee. Along with House Bill 101. Fingers crossed…
Bad news for caribou

The Senate Agricultural Affairs Committee moved forward with a proposal, HB 166, that would allow caribou (aka reindeer) farms north of the Salmon River, where they are currently prohibited.
The Selkirk Mountains, which soar above Bonners Ferry and extend into Canada are some of the last remaining wild places on the planet for mountain caribou, whose numbers have dwindled worldwide to only ~1,200.  In January 2019, the last two remaining U.S. members of this herd were transported to a holding pen in British Columbia for future potential reintroduction efforts. Just last month, a single caribou bull reportedly wandered up to the USA-Canada border, but turned around and headed back to Canada.
Years ago, protections were put in place to prohibit caribou farming. Reindeer farms could threaten future efforts to reestablish caribou populations in their native habitat in North Idaho.
TOTW: It's all about the Benjamins, or is it?
The common theme this week is about taxes, dollars, and the bottom line. While the legislature has the power of the purse, and they have a role to play in the allocation of our tax dollars, it was the message students delivered to the Governor, AG, Controller, Schools Superintendent, and Secretary of State that stuck with me. They drove home the point and said that we need to protect the integrity of the land, protect the special places, and think of future generations. In the words of Alanis Obomsawin, a member of the Abenaki Tribe of northern New England and southeastern Canada, "When the last tree is cut, the last fish is caught, and the last river is polluted; when to breathe the air is sickening, you will realize, too late, that wealth is not in bank accounts and that you can't eat money."  This one's for you Beryn, Olivia, Sailor,  and Camas.
Until next week….when we'll bring you a special Recess Edition of the Legislative Update,
Esto perpetua, 
Jonathan