Former Utah Rep. and public lands take-over advocate Ken Ivory is looking for $250,000 from Idaho taxpayers. But it's just a pilot program, so expect to pay much, much more in the coming years if approved. It's the same as a failed bill from last year and, based on the same concerns, we're hopeful it will meet a similar fate again.
The Legislature has been in session for 6 weeks, but a grand total of only 8 bills have been signed by Governor Brad Little. The gears came to a grinding halt this week in the House as tensions rose and a handful of Representatives objected to requests to waive reading bills in full, requiring a line-by-line reading which can take hours.
That wasn't all that happened though…
Padding Ken Ivory's retirement
As we reported a few weeks ago, there were whispered rumors that former Utah Rep. and avowed public lands opponent Ken Ivory would look to cash in at the Idaho Legislature. As expected, Rep. Wendy Horman's (R-Idaho Falls) House Concurrent Resolution 8 will be up in the House Resources Committee on Tuesday. The resolution would allocate $250,000 for a "pilot program" to investigate the federal Payments in Lieu of Taxes (PILT) program.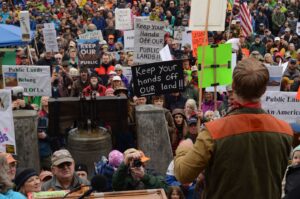 HCR 8 is almost identical to a bill from last year and is really about giving Idaho tax dollars to former Utah Rep. Ken Ivory. He retired in 2019 after directing a $700,000 contract from the committee he chaired to a company he then went to work for. Last year, he pitched to the #IDLEG that his proprietary software would "estimate fair and equitable PILT payments." According to Ivory, PILT payments should be based on the maximum "developable" value of the land — as though it had a multi-million $ mansion upon it — and that Idaho could plug in "whatever number it wanted" to maximize potential payments.
In contrast, a 2018 analysis from the Idaho Association of Counties found that if Idaho counties WERE to assess property taxes on federal lands at ag and forestland values, we would actually receive $5.5 million less than we're currently receiving from the federal government.
Another BIG problem is that the Idaho Constitution prohibits taxation of public lands, not just once, but twice (see Article VII, sec. 4 and Article XXI, sec. 19)!
To boot(!), the 2019 Idaho Legislature rejected the 2019 Federal Lands Council Bill because of concerns that it would allocate $10,000 to $15,000 to advocate for public lands seizure.  How is it that a $250,000 price tag would be acceptable? 
Still, we anticipate the resolution will advance to the House floor next week and is likely to pass by a wide margin. We encourage you to reach out to your legislators, tune in, and have your voice heard! We've said it once, we'll say it again, "Keep Public Lands in Public Hands."

Attack on the AG advances
This week, the House State Affairs Committee approved House Bill 101 from Reps. John Vander Woude (R-Nampa) and Bruce Skaug (R-Nampa). They assert that all state agencies should be able to hire outside legal counsel whenever they want. As we noted last week, this could lead to disjointed legal theories, battles between agencies, and a lack of consistency that will cost taxpayers millions.
The AG's office took the unusual position of opposing a bill, and Deputy AG Brian Kane took offense when Rep. Heather Scott (R-Blanchard) insulted the attorneys who serve the state.
What's more, in explaining the proposal, Rep. Vander Woude claimed that he doesn't know how much private lawyers cost. It didn't take Idaho Press reporter Betsy Russell long to find out. She simply asked and quickly learned that the legislature's favorite lawyer charges $470/hour, whom we've paid over $1.1 million since January 2020 alone! Together, the House and Senate have spent $4.3 million on private counsel since 2015. 
All five living former Idaho Attorney Generals also weighed in with an editorial that ran this week, pointing out the failed thinking associated with this bill.
Two other bills — one in House Resources, the other in Senate Resources — will be up next week that specifically target the AG's representation of the Idaho Department of Lands. 
In other news
This week was another mixed bag, building codes were approved (hooray!), which help protect consumers and ensure efficient home construction; the House Ag Committee advanced both HB 51 and HB 167 which both seek to avoid accountability for disposing of cow manure that threatens the Snake River (boo!); the Senate State Affairs Committee approved a "Revenge on Voters" measure to make the citizen's initiative process more challenging (aaagh!); and the House approved a bill to allow water pollutant trading that can help restore water quality (yay!). The House also delayed consideration of a bill that would promote captive breeding of sage grouse (boo!). We'll see if it returns for consideration.
Next week, we hope to see a hearing on the Big Payette and Cascade Lakes Water Quality Act, a resolution that professes love for dams, and several other measures related to water and wildlife.
But before I go…I give you the Tie of the Week!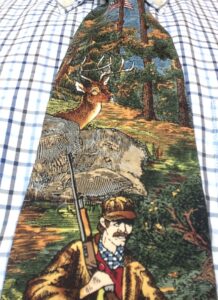 This week's Tie of the Week is dedicated to Idaho's public lands heritage. All of Idaho's forests, sagebrush, lakes, rivers, and streams managed by the U.S. Forest Service, Bureau of Land Management, Idaho Department of Lands, U.S. Fish and Wildlife Service, Idaho Department of Fish and Game, or other agencies, are what make Idaho so special. And they should not be used as a political kickball. Let's say it together, Public Lands in Public Hands…Forever!
Until then….
Esto perpetua, 
Jonathan