With each passing day, the central theme of the 2021 Idaho Legislature becomes more clear. That theme can be summed up in one word: Power.
The Idaho Legislature is trying to seize power from the Federal Government, Governor, Attorney General, Public Health Districts, counties, cities, school boards, the Idaho Fish and Game Commission, the Department of Environmental Quality, Idaho State Department of Agriculture, local art commissions, homeowners associations, universities, and Idaho citizens…to name a few. And that was just this week…
What they forget though, is that Article I, Sec. 2 of the Idaho Constitution unequivocally declares:
 "

All political power is inherent in the people.

"
There's never been a more critical time to contact your legislators. 
You can call 208-332-1000, the Legislative Info. Desk at the Capitol, and be directed straight to your legislators. Or you can use the toll-free number 800-626-0471. You don't need to know your legislative district, just your address. And remember, you have three legislators: two representatives and one senator.
Do it today, ask your 1st and 2nd cousins to do it, encourage your neighbors to do it, write a letter to the editor (or three!), and while you're at it, ask your dentist to call too!
Also, you can join tens of thousands of other Idahoans to speak out against SB 1110, a bill that would essentially make it impossible to pursue the people's right to place citizen initiatives on the ballot. Click here to urge Gov. Brad Little to veto SB 1110.
Power Grab – Attorney General style
This week, the House advanced yet another bill in their arsenal targeting the authority of Attorney General (AG) Wasden. The Associated Press published a revealing story that sheds light on some of the underlying tensions fueling these attacks.
As we've reported, one of these bills, HB 118, is a direct attack from phosphate mining and cattle grazing interests. They're concerned that the Attorney General was blocking their efforts to maintain low lease rates because it's likely they violate the Idaho Constitution. We'd hoped that since a nearly identical bill — SB 1090 — was recently rejected by the Senate Resources Committee, that the wind had gone out of the sails for HB 118 as well. That was wishful thinking. This week, the House passed the bill and it will be heard next week by the Senate Resources Committee.
The other anti-AG measure that's still alive, HB 101, is a much more expansive attack on the AG and is reportedly motivated by the recent case of Texas v. Pennsylvania, which AG Wasden did not support. 
If it passes, it means that Idaho taxpayers could be on the hook to pay the bill for hundreds of lawyers and, likely, tens of millions of dollars in legal fees. And if we see agencies suing agencies, as we did back before 1995, we'll be paying legal fees for the plaintiff AND the defendant.
Ultimately, if legislators don't like AG Wasden, they should try to beat him in an election. In 2018, he garnered 384,791 votes, and each of those voters expects him to be able to represent the State, as the Idaho Constitution requires. Speaking of the Constitution…
Power Grab – Federal Government style
Last week, I reported on a bill from Rep. Judy Boyle (R-Middleton) — HB 279 —  that would permanently extend the Federalism Committee in a quest to "defend" the Constitution. Now, if Rep. Sage Dixon (R-Ponderay) gets his way, the Federalism Committee would have teeth. 
According to HB 322, the Federalism Committee will consider complaints from legislators and if the Legislature agrees, they'd have the power to nullify federal laws, regulations, and court rulings. So now, apparently, they want to nullify laws that don't conform to the Constitution, despite the fact that they oftentimes pass unconstitutional laws, like this one. Is your head spinning yet?
Across the Rotunda, both HCR 08 and HB 279 will be heard Monday, March 15. HCR 08 is Rep. Wendy Horman's (R-Idaho Falls) attempt to allocate $250,000 for a "pilot program" to have the Federalism Committee investigate the federal Payments in Lieu of Taxes (PILT) program. If you're interested in tuning in, and/or testifying on either of these measures, you can sign up on Zoom or watch the Idaho Public Television's "In Session" video feed. 
You can also send a message to your legislator:  Act Now! to Speak up for Public Lands.
Power Grab – Dam style
While we're spending so much time talking about power, we should also mention Senate Joint Memorial 103, the Dam Memorial, which gushed forward this week with Sen. Regina Bayer (R-Meridian) steering the barge. It's a misguided pro-Dam Memorial that moved at a speedboat pace. It was introduced in the Senate committee last Friday, passed the Senate Floor on Wednesday, was considered in the House committee on Thursday, and will likely be considered on the House floor for a vote next week.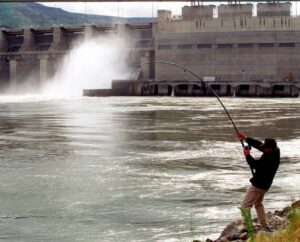 It's a memorial that professes the legislature's support for the four lower Snake River dams, and ignores the reality that salmon and steelhead are spiraling towards extinction. Shoshone-Bannock Tribes' Fort Hall Business Council Member Nathan Small testified that SJM 103 ignores the integral role that salmon and steelhead have played for indigenous nations since time immemorial. Outfitters and guides from Riggins to Grangeville testified that without salmon, what is the Salmon River? What is Redfish Lake with no sockeye?
Sen. Bayer testified at the House hearing that the costs of keeping the dams are low. Maybe that is the case if you don't consider the extinction of salmon and steelhead to be a high price to pay. Even with the Memorial floating like a hanky-in-the-wind (see last week's Update), we're still looking forward to engaging with lawmakers to support the groundbreaking proposal from Idaho's U.S. Representative Mike Simpson to provide a comprehensive package to restore our fish, and stabilize and modernize our energy infrastructure. To voice your support for Simpson's proposal, click here.  
Speaking of power…
Power Grab – Powerball style

ICL does not have a position on lotteries or gambling, although proceeds could and should be used to support conservation and public land access. Regardless, if the Idaho Legislature gets its way, Idaho will pull out of its most profitable lottery, which generates $14 million/year for education. According to Rep. Heather Scott (R-Blanchard) and a majority of the House State Affairs Committee, the risk of foreign boogeymen is simply too high. Those Brits and Aussies are apparently out to get us?
TOTW: Did I have a choice?
Did I even have a choice for the Tie of the Week? If you haven't yet reached out to your legislators to let them know that you're concerned. Please do so now! It's more important than it's ever been!
Until next week…
Esto perpetua, 
Jonathan