The year was 1973.
A group of advocates from across the state realized that Idaho needed an effective statewide voice to advance the cause of conservation, and to work to protect the things that make Idaho special…the gin-clear waters of alpine lakes, the emerald blanket of forest across North Idaho, the wild rivers gnawing their way deeper into bedrock every year, the freedom to roam on vast swaths of public lands.
And the Idaho Conservation League was born. We were founded as an independent, home-grown, Idaho-based membership organization. And we still are. 
Same phone…Same P.O. Box…Same commitment.

It was the era of the first Earth Day, Rachel Carson's Silent Spring, and a slate of federal environmental laws, including the National Environmental Policy Act (1969), the Clean Air Act (1970), the Endangered Species Act (1973), and the Clean Water Act (1977). 
Cecil D. Andrus had been elected Idaho Governor, based on his opposition to a mine proposed for the flanks of Castle Peak (in an area that now bears his name). 
Rent was $40 a month in the basement of the Boise YWCA.
ICL had one volunteer staff member (Marcia Pursley), who served as lobbyist, fundraiser, organizer, and media spokesperson.
A long-term vision
From its founding days, ICL was driven by a strong commitment from everyday Idaho citizens who knew that Idaho had something special. Something that needed safeguards and protections to ensure that their children and grandchildren can make that same realization.
50 years later, ICL can look back at a strong record of accomplishments that have made that dream a reality. 
In the early years, ICL helped secure passage of the Central Idaho Wilderness Act. Working closely with the River of No Return Wilderness Council and leaders like Ted Trueblood, Ernie Day, Bruce Bowler, and others, we helped achieve protection for 2.3 million acres of incredible backcountry (the entire Middle Fork Salmon River Basin!) that now bears the name of the bill's sponsor, Senator Frank Church.
Sen. Frank Church put it well in 1977 during debate over the Endangered American Wilderness Act (which designated the Gospel Hump Wilderness).
"I never knew a man who took a bedroll into an Idaho mountainside and slept there under a star-studded summer sky who felt self-important that next morning. Unless we preserve some opportunity for future generations to have the same experience, we shall have dishonored our trust."
But a legacy of protected public lands is only part of the picture. 
In 1974, during ICL's first session represented by a lobbyist in the Idaho Legislature, we advocated for passage of the Land Use Planning Act. Well-heeled development forces killed the bill, prompting Marcia Pursley (ICL's first staff member) to work with her husband Ken (a respected Boise attorney) to draft a citizen's initiative entitled the Sunshine Act. The measure requires disclosure of political contributions and lobbying activities, and 78% of Idaho voters agreed to its passage in the 1974 election. The Land Use Planning Act returned to the legislature the following year and was passed, establishing (at least some) controls on growth by establishing planning and zoning in Idaho for the first time.
It was in 1976 that the Twin-Falls Times News took notice.
"Like the fly on the belligerent mule, the Idaho Conservation League seems to have become a permanent addition to the Idaho State Legislature . . . . From the beginning the ICL has polished an image as a non-partisan, well-educated hard working bunch."
A permanent addition indeed!
ICL took on another high-powered challenger in the late 1970s by leading opposition to Idaho Power's proposed coal-fired Pioneer Power Plant, southeast of Boise. After a hard-fought battle, the proposal was rejected by the Idaho Public Utilities Commission, representing the first win in ICL's efforts to eliminate coal-fired power. In 2006, ICL helped kill another coal-fired power plant near Twin Falls, and in 2019 both Idaho Power and Avista committed to being 100% coal-free by 2028 and 2025, respectively. In just the past decade, we've helped shutter dirty power plants in Nevada, Oregon, Wyoming, paving the way for a cleaner energy future, and putting a path toward a coal-free power mix in Idaho within reach.
This work takes time
One of the benefits that ICL brings is a long-term commitment to working to protect Idaho's environment. Whether it's preventing and closing dirty power plants, or working to protect water quality in accordance with a settlement we signed in 1993 with the State of Idaho, we're in it for the long game.
This dedication and perseverance was seen when, after a 29-year interlude, Idaho again saw designation of new wilderness areas in the state. Years of collaboration and negotiation between ranchers, conservationists, hunters, and others led us to President Barack Obama's desk, where he signed the Owyhee Canyonlands Wilderness into law, protecting 517,000 acres of stunning sagebrush-covered canyonlands, along with legal protections for 324 miles of wild and scenic rivers. Just as these now protected rivers carve their way deeper into the sheer volcanic rocks of the Owyhees, ICL has carved out its place as a voice for Idaho's most special places.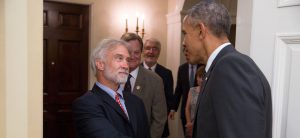 Thankfully, we didn't have to wait another 29 years for the next wilderness designations. President Obama again put pen to paper in 2015, protecting 275,000 acres as the Boulder-White Clouds Wilderness after the bill passed with unanimous support in both the U.S. House and Senate. The efforts to protect this pristine landscape had been an ICL priority for decades, but a big part of getting to the finish line was the partnership between ICL and Rep. Mike Simpson. 
These are just a few of the stories that we'll be sharing over the course of our 50th Year. 
We'll spotlight This Day in ICL History, we'll be hosting events across the state, developing a special publication (for our members, don't miss out!) highlighting 50 Years of Idaho Conservation, sharing stories via the ICL Blog…
But wait, there's more!
It's not just about looking back. ICL is excited to share our vision for Idaho's future.
We're working to protect and connect large landscapes of public lands across the state, advancing plans to make Idaho carbon-neutral, addressing an urgent need to restore abundance to salmon and steelhead before they are lost forever, restoring the health of Idaho's lakes, rivers, and streams from the Snake River in southern Idaho to the Great Lakes of North Idaho, and ensuring that all of Idaho's wildlife species can survive and thrive.
With goals this big, we know we have our work cut out for us. But as we reflect on the challenges we've already overcome, we look with confidence to those that lie ahead. We are confident because of the strong support that our devoted members across the state have shown, day after day, year after year, and decade after decade.
We're excited to celebrate our 50th anniversary, and we invite you to join us!