By Amanda Grimsted, the Idaho Conservation League's Andrus Center Fellow
On June 20, Idaho Conservation League staff, reporters, and concerned citizens took to the skies above Payette Lake and the City of McCall. EcoFlight, a conservation nonprofit focused on education via aviation, flew us up in a small aircraft to get a bird's-eye view of the area's state endowment lands. 
At the airport, I excitedly climbed into the small aircraft and buckled up. As we lifted off, a member of the Central Idaho Mountain Bike Association (CIMBA) began to describe the area. Even on a slightly smoky day, the lake, crowned with pine trees, shimmered as the sun hit the water. I was captivated.  
Many Idahoans and visitors also fall under the spell of this special place. But two proposals threaten to place these public lands in the hands of private developers.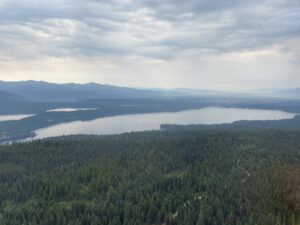 Among the 28,000 acres of state lands that spread out below us lie about 20,000 acres that private firm Trident Holdings LLC proposes to acquire through a land exchange. The company's proposal involves the purchase of 21,000+ acres of largely cut-over private timberlands in North Idaho for these endowment lands in the McCall region. 
Separately, 5,500 acres are part of an Idaho Department of Land's (IDL) Payette Endowment Lands Strategy. IDL intends to develop this strategy to help the Idaho Land Board figure out how to manage this subset of public lands that surround McCall, and Big and Little Payette Lakes. 
As we flew over the Payette Lake region, we spotted two areas involved in the proposed Trident trade – the lush Shellworth and Cougar Islands. These are the largest islands in the lake where many love to boat and explore. If Trident acquired these islands, public access to these islands and to the lake itself likely would disappear or be greatly diminished.  
As I peered through the window of the plane I saw spots I've visited while growing up. It occurred to me that these familiar lakeshores, where I've loaded up my kayak for many cherished days on the water, could disappear and be replaced by private mansions.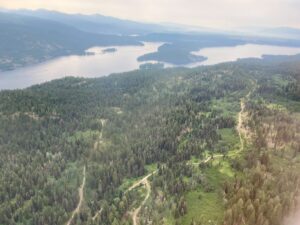 My love for the area only grew as we flew and could see from above trails for hiking, biking, and more. The CIMBA representative pointed out key recreation areas and popular trails. His knowledge clearly showed his passion for these lands, and his love for these trails doesn't stand alone. Visitors like me and the community of McCall and Payette Lake cherish their access to these outdoor places. 
Looking out onto the gorgeous landscapes, I pondered why this land swap would even be considered. Beyond disregarding the wishes of McCall residents, it sets a poor precedent. The deal would make other precious state endowment land vulnerable to sale or exchange. 
As we circled back to the McCall airport and began our descent, I had a better understanding of the issue. The flight gave me, ICL members, community members, reporters, Brundage representatives, and others a chance to truly understand the expanse of the state endowment lands in this beautiful area.  
While exiting the plane, we discussed possible solutions. If the IDL turns down Trident's proposal, other developers could still pursue the land. A permanent solution is needed.
Recently, the Payette Land Trust submitted an application to place a conservation easement on two parcels of state endowment lands. A conservation easement would protect these parcels from future developers and likely maintain public access to Payette Lake. 
After we landed, we thanked the EcoFlight pilot, Bruce Gordon, and the concerned community members who attended the flight. Heading home with a new point of view, I understood why this area matters and why all Idahoans should speak up for our public lands, and public access to Idaho state lands. McCall's endowment lands and lakes are gems worth preserving.
ICL has been Idaho's leading voice for conservation since 1973. If you'd like to support our efforts and join Idaho's conservation community, then please consider becoming a member by making a gift here. Interested in hearing more about our work? Click here to learn about our various program efforts across the state.