In celebration of the Sawtooth National Recreation Area's (SNRA) 50th anniversary on August 22nd, 2022, Idaho Conservation League wanted to tip our cap and acknowledge this "golden year" for one of our state's most iconic regions and spotlight a few of the area's lesser known, yet ecologically significant, forest inhabitants.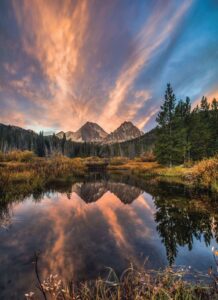 Images of the rugged skyline of the Sawtooth Mountains jutting skyward, the grandeur of Castle Peak in the White Clouds, and the fertile salmon grounds of the East Fork Salmon River — at the northern foot of the Boulder Mountains — are all perfectly emblematic of the diversity of wild places that are represented by the SNRA and the wild creatures that occupy them. Pre-historic peoples lived and hunted in and around these very lands as far back as 12,000+ years ago.
Having visited the Idaho Territory in 1888 as an author, civil servant, and avid outdoorsman, Teddy Roosevelt was among the first in D.C. circles to officially recognize the area's splendor, and as president, created the Sawtooth Forest Reserve by proclamation in 1905. In doing so, Roosevelt would kick off an almost 70-year discussion about how to best conserve and protect this gem in the untamed heart of Idaho. While many efforts to designate this slice of our state as a national park did not ultimately prevail, Idaho Senators Frank Church and Len Jordan successfully established over 750,000 acres of granite peaks, emerald lakes, and rolling carpets of sage country in central Idaho as the Sawtooth National Recreation Area in 1972 to "assure the preservation and protection of the natural, scenic, historic, pastoral and fish and wildlife values, and to provide for the enhancement of recreational values associated therewith."
Now, encompassing over 40 peaks over 10,000 feet, 300+ alpine lakes, and the headwaters of the famed and undammed Salmon River, the SNRA still ranks among the largest of the 40 National Recreational Areas in the United States, with significant tracts of connected habitat. 
Most of the momentum that led to the designation was born out of the most consequential and bitterly-contested battle in Idaho's conservation history, when in the late 1960s, the transnational mining company, ASARCO, had planned to strip-mine the 12,000 ft. Castle Peak to install a two-mile-long tailings pond and a 400 foot dam. Ultimately, this proposal floundered after a "mineral withdrawal" was implemented, coupled with the National Recreational Area designation.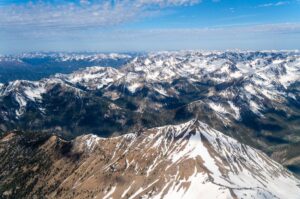 Many recent management actions within the SNRA have focused on improving the health and conditions of timbered habitat, including prescribed fire, commercial logging, and non-commercial thinning of dead and diseased trees. These measures are not just in response to evolving US Forest Service policy, but also to the obvious and growing impacts associated with climate change.
Forest and sagebrush steppe benchland habitat types both comprise large swaths of the SNRA. A diverse array of species reside there, including several "high-charisma" critters in the threatened and endangered category you're likely already aware of — like the Canadian lynx and American wolverine. Sockeye and Chinook salmon, steelhead, and bull trout all utilize the area's abundant spawning gravels and clean water during significant parts of their life-cycles.
Along with these SNRA icons, there's a slew of less trumpeted species of the SNRA. Because of a variety of habitat constraints and other climate-induced landscape effects, these animals now find themselves designated within a "Species of Greatest Conservation Need" (SGCN) classification, based on Idaho's State Wildlife Action Plan (SWAP). These critters represent a growing number of plants and animals statewide (approximately 200 listed in Idaho's most recent SWAP) that may be in better shape than those listed as "threatened or endangered," but are nevertheless experiencing declines in the size and range of their populations.
In the weeks and months ahead, we'll bring you more information about ICL's new emphasis on wildlife diversity and how we intend to work on your behalf to promote and protect these critical species. Regardless of what brought you into ICL's conservation community, we suspect that you value Idaho's wildlife — in all their shapes and sizes — occupying this state's wild country from the rolling hills of the Palouse to the rocky ledges of Castle Peak, towering high above the Sawtooth National Recreation Area, and everything in between.
Happy 50th, SNRA!
To read about these "Species of Greatest Conservation Need" within the SNRA, click here. To sign up for ICL's Wildlife Campaign updates, click here.