2023 marks 50 years of the Idaho Conservation League protecting the air you breathe, the water you drink, and the lands and wildlife you love. As we gear up for the next 50 years, we also look back at all that we have accomplished, together, for Idaho. We will be celebrating these historic wins all year long, in a series called On This Day in ICL History.
On this day in ICL history – January 9, 2012 – ICL won its case against Atlanta Gold Corporation over ongoing unpermitted toxic discharges from a historic mine tunnel into the Boise River Watershed. The case resulted in a $2 million fine against the company, and helped stop a proposal from Atlanta Gold to construct an open-pit cyanide heap leach mine at the location.
Unfortunately, four years after this ruling, Atlanta Gold was still out of compliance with the Clean Water Act, leading ICL to again file suit over nearly 500 new water quality violations. In September 2017, Atlanta Gold was again found guilty of illegally discharging arsenic from its mine into Montezuma Creek, a tributary to the Middle Fork of the Boise River. Ruling in favor of ICL, the U.S. District Court held that Atlanta Gold violated the Clean Water Act 567 times in the 5 years prior to the ruling, ordering Atlanta Gold to clean up its act and to pay a $502,000 penalty. In addition to Clean Water Act violations, this ruling also found Atlanta Gold in contempt of court for failing to adhere to the court's 2012 order directing Atlanta to comply with water quality laws – sending a strong message to Atlanta Gold and other polluters that they are not above the law. 
Two years later, in September 2019, a federal judge ruled that Atlanta Gold was still violating its clean water permit and not fully complying with prior court orders, marking another ruling in the series of suits and actions first filed in 2011 by ICL.
While these legal wins did lead to temporary improvements, Atlanta Gold's arsenic problem has returned and is raising concerns again.
The source for the arsenic is a mining tunnel on the site. As contaminated water flows out of the tunnel, it passes through a rudimentary water treatment plant before being discharged to Montezuma Creek and eventually the Boise River. The discharge from this tunnel has recently become Idaho's most illicit site of toxic wastewater discharge due to alarming levels of arsenic – since May of 2020, monthly averages have been as high as 125 times their permitted limits.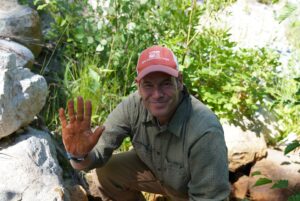 Out of concern, ICL and the U.S. Forest Service took part in a site visit to the mine tunnel and water treatment plant in the summer of 2022. The visit confirmed the wastewater treatment plant is not operating as designed nor is it up to standards, leading ICL to formally register our concerns with the Forest Service and urge them to require Atlanta Gold to repair and maintain the treatment plant. As a result, the Forest Service sent a letter to Atlanta Gold requiring both of these actions. The Idaho Department of Environmental Quality (DEQ) has also conducted an official inspection of the site and sent a similar letter to Atlanta Gold. The Forest Service's and DEQ's letters both require significant action milestones in the first half of 2023. However, Atlanta Gold has a long history of disregarding similar orders. As 2023 begins, Atlanta Gold has already missed initial action milestones which is why ICL will remain diligent in our efforts to clean up this site once and for all. 
The Boise River is a precious resource. The residents of Atlanta directly adjacent to Atlanta Gold, as well as the near 800,000 people downstream in the greater Boise metropolitan area, all rely on the Boise River watershed for drinking water, irrigation, and recreation. More must be done to end this large-scale pollution of Idaho's water, especially in a region that affects so many Idahoans.
The toxic history of the Atlanta Gold mine reminds us of the importance of ensuring mining activities don't threaten human health, special places, or Idaho's clean water. As we work to clean up this site, we are also sounding the alarm for the proposed Stibnite Gold Project, a proposed massive open-pit cyanide vat leach mine that would have detrimental impacts on one of Idaho's most ecologically important watersheds, the South Fork Salmon River.
Speak up for the South Fork TODAY by submitting your concerns to the Forest Service below! Together, we can protect this special place from the threats of this alarming project.
To sign up for our Public Lands Campaign email updates, click here.