Monday, March 14th was International Day of Action for Rivers! Worldwide, people are taking action to ensure communities everywhere have access to clean, healthy rivers. In many cases, that means breaching dams and letting rivers run free. 
Idaho is a river state. Within just an hour of Boise, we have access to magnificent rivers in the Boise, the Payette, the Weiser, the Owyhee, the Malheur, and the Snake. Decades ago, each of these rivers held mighty runs of salmon and steelhead, which migrated hundreds of miles from the Pacific Ocean to return to Oregon, Washington, Idaho, and even Nevada. 
Now, much of that habitat has been lost, but we still have some of the best cold-water salmon habitat anywhere in the continental United States. The Salmon and Clearwater rivers are a refuge for fish in the face of climate change. The wild fish that come back to those rivers every year should be protected and restored to abundance, providing an economy to Idaho's river communities and a traditional food source to indigenous Tribes.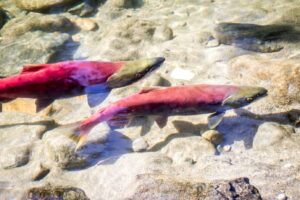 There's already a blueprint for success in river restoration. Pacific Northwest dams on the Elwha, White Salmon, and Nooksack Rivers have been removed in recent years, bringing salmon back to rivers from which they'd been exterminated. 
Already in 2022, major progress has been made on another river. The Klamath River, which flows 257 miles from Southern Oregon into California and to the ocean, is well on its way to being undammed. In February, the Federal Energy Regulatory Commission, which licenses dams across the country, issued an analysis on the benefits of breaching four Klamath River dams. The agency wrote that moving ahead with the proposal would "maximize benefits" to salmon fisheries important to local Tribes and restore the landscape to a "more natural state."
The government's analysis should allow river restoration to proceed swiftly. If the rest of the process goes smoothly, dam breaching could begin in early 2023. It couldn't come soon enough. Climate change and historic drought conditions in 2020 exacted a serious toll on salmon and steelhead in the Klamath. To survive, these fish need a free-flowing river. When completed, the Klamath River restoration project will be the largest river restoration project in world history. 
We don't want Klamath to hold that title for long. 
This year, we want to start an even larger restoration. Four dams on the lower Snake River are driving Idaho's salmon and steelhead to extinction. It's time to remove them, replace the services they provide, and place the whole region onto a trajectory toward a better future.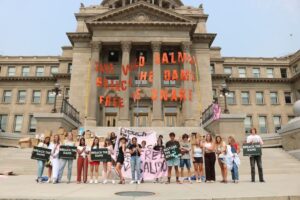 Idaho is also a salmon state. These fish are our history, our culture, and an icon in our identity. They are also a foundation of Idaho's ecosystems and economies, but they're in serious trouble. Breaching the lower Snake River dams is the only way to save them from extinction and bring them back to abundance. In 2022, the 25th anniversary of International Day of Action for Rivers, let's start a restoration and a rejuvenation. 
Take action for Idaho's salmon today! Let Northwest leaders know that the time is now restoration of the lower Snake River and our state's salmon and steelhead.