Yellowstone National Park is a treasured place for many Idahoans given its proximity, scenic beauty, and unrivaled wildlife viewing opportunities. When most people think of Yellowstone, they conjure images of the iconic bison that roam America's oldest national park. The bison that call Yellowstone home today are descendants of just two dozen individuals that found refuge in the park's rugged interior while the broader bison population was being systematically exterminated through excessive hunting across North America in the 19th century.
Yellowstone's bison are genetically pure and hold profound cultural and spiritual significance to the Native American Tribes in the Greater Yellowstone region and beyond. Nonetheless, hundreds of Yellowstone bison are rounded up and sent to slaughter every year as part of an outdated management plan that was initially designed to drastically limit their numbers and keep them from migrating out of the park and into the state of Montana.
A new plan in the works 
 At the end of January, the National Park Service formally kicked off the development of a new Bison Management Plan for Yellowstone National Park. This new plan, which has not been updated since 2000, will guide how the park manages its iconic wild bison herds for years to come. This is a crucial opportunity to shift away from the unacceptable ship-to-slaughter model of population management and towards one focused on conservation, restoration, and respecting Tribal treaty rights.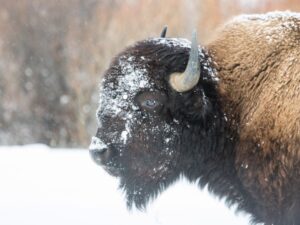 ICL is supporting our colleagues at the Greater Yellowstone Coalition to advocate for a preferred alternative plan that recognizes the iconic, economic and cultural value of this species. The preferred plan prioritizes Tribal engagement and cooperation, incorporates and expands upon the population range and management actions outlined in Alternative 3 of the proposed plan, provides greater emphasis on the continued use and expansion of the Bison Conservation Program, and improves coordination with Tribes to support treaty hunting as outlined in Alternative 2.  
Your chance to weigh in
Share your comments with the National Park Service by February 28th to ensure that bison are managed like the iconic native wildlife they are and restored to their place of cultural, economic, and spiritual significance for the Tribes in the Greater Yellowstone region. 
If you would like to stay in the loop with this project and other similar issues, please sign up here for regular updates on ICL's wildlife work. For additional information about the YNP Bison Management Plan, visit https://greateryellowstone.org/bisonmanagementplan.  
Short on time? Copy and paste this template to build off of for your comment:
I support a modified version of Alternative 3 (Food-limited Carrying Capacity) with a 5,500 – 8,000 or more population range. Alternative 3 should also incorporate the following:
Cease the ship-to-slaughter management method unless the upper limit to a population target, based on all available habitat bison have access both within and outside the park, is exceeded. The preferred alternative should rely on natural selection, bison dispersal, public and Tribal harvests outside of the park in Montana, and the continued use and expansion of the Bison Conservation Transfer Program to manage bison numbers.

The entire range of habitat and available forage that bison have access to both inside and outside of the park should be considered when determining the upper population target.

The preferred alternative must recognize and honor the significance of Yellowstone bison to Tribal interests by incorporating Tribal consultation, cooperation, recognition, and support of treaty rights for all Tribes in and around Greater Yellowstone.