Throughout July, organizations nationwide are celebrating Lakes Appreciation Month. The state of Idaho has more than 2,000 lakes that provide unparalleled recreation and beauty, drinking water, fire safety, fish to catch, irrigation for gardens and crops, and water for all our needs. In North Idaho, a group of citizen scientists called Water Quality Stewards show their appreciation for Lake Pend Oreille by volunteering for ICL's Water Quality Monitoring Program. 
ICL began the Water Quality Monitoring Program in 2022 after the Lake Pend Oreille Waterkeeper closed their doors. Our volunteer Stewards collect water samples once a month from May through September. We test the water for pollution that feeds algae and weeds, like nitrogen and phosphorus, which can come from sewage as well as other sources like soil disturbance, fertilizers, and soaps.
Anyone can become a Steward by attending a training session at the beginning of the season. This year we have 30 Stewards, some who have been volunteering for years and some who are new this season! Our Stewards come from a variety of backgrounds but have a common interest – the well-being of Lake Pend Oreille. Steward Deborah Crain stated, "It gives a feeling of hope, to be out there with so many others doing something proactive to protect the lake."
Stewards are a crucial part of ICL's broader North Idaho Lakes Advocacy program, which focuses on protecting the waters of Idaho's panhandle from degradation, pollution, and poor land use management. By collecting water samples at the same location each month, we are able to keep an eye on the water and shorelines nearby. Stewards also let us know if they see trash in the waterways, growth of noxious weeds, signs of toxic algae bloom, as well as poorly managed shoreline development. By tracking all of these different types of information, we are able to gain a better understanding of what factors are impacting water quality in Lake Pend Oreille.
While it's important to notice and monitor these negative impacts, there are also often positive things to report! On our July sampling date, Stewards Preston Andrews and Patty Erikson were excited to report that while collecting samples at Kootenai Bay, a majestic bull moose swam past them. They were sure to respect the wildlife by giving it room to swim, and it eventually emerged onto the forested shoreline. Every month, our Stewards return from the field with fun stories to tell of their time spent out on the water.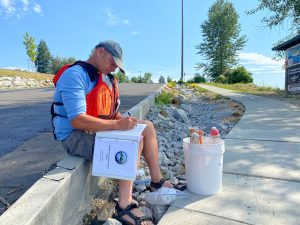 Our lakes in North Idaho give us so much, and you don't have to be an official Steward to show that you care. In honor of Lakes Appreciation Month, you can give back to these precious resources by following the tips below:
Avoid disturbing the soil near the shoreline. In Bonner County, there is a minimum 40' setback required where buildings are not allowed and retaining native vegetation is recommended. 

Don't over-fertilize your lawn and garden. If you use fertilizer, choose a phosphorus-free variety. Phosphorus is fuel for algae and aquatic weeds and can make them grow out of control – making our water unsafe. 

Keep leaves and other yard debris away from the shoreline and storm drains.

Don't let oils, chemicals, dirt, and other pollution spill into the water or storm drains.

Observe No Wake Zones. Be aware that waves from boats can agitate sediment on the shoreline, pulling phosphorus into the water.

Do what you can to divert stormwater so the ground soaks it up before it runs into the lake. 

If you have a septic system, make sure it is operating correctly. Panhandle Health District recommends having systems inspected every three years. 

Take action to prevent toxic algae:

https://takeaction.idahoconservation.org/cHmYrdu
By following these tips and being conscious of our actions, we can all contribute to the well-being and preservation of Lake Pend Oreille and other lakes across the state! 
If you are interested in becoming a Water Quality Steward next summer, email northidaholakes@idahoconservation.org or keep an eye on our Events page for future training dates.