This week – from July 15-23, 2023 – is Latino Conservation Week! Latino Conservation Week is an initiative of Hispanic Access Foundation, and is now in its tenth year.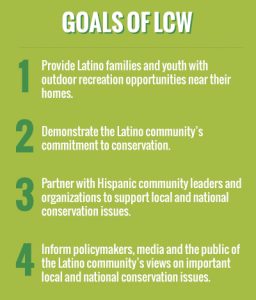 Across the country this week, Latino communities, organizations, businesses, and more are hosting and participating in a variety of events to promote conservation efforts in the Latino community. From hikes to fishing trips, trash clean-ups to talks, and movies to mountain biking, there are hundreds of events across the country. This includes a handful of events right here in Idaho.
This year, the focus of Latino Conservation Week is breaking down barriers to the outdoors and inspiring environmental stewards of the future in the Latino community. Looking at the metrics behind this mission highlights the need for it – a 2020 report from the Outdoor Industry Association found that only 11.6 percent of Latinos engage in outdoor recreation. Public lands are for all to enjoy, but these numbers highlight an alarming trend of exclusivity from our public lands for the Latino community. 
If we are to tackle the big environmental issues ahead of us with solutions that are fair and just, all communities and individuals need to be part of the discussion. For conservation, that includes making room for all people to engage with the outdoors. When the voices of all communities are heard, we can tackle environmental issues justly. 
The Gem State has multiple Latino-led conservation efforts. Below are a few to learn more about, and consider supporting their efforts through a donation, membership, or volunteering. 
Idaho Organization of Resource Councils
The Idaho Organization of Resource Councils (IORC) "empowers people to improve the well-being of their communities, sustain family farms and ranches, transform local food systems, promote clean energy, and advocate for responsible stewardship of Idaho's natural resources." The organization primarily works on issues related to agriculture, food, climate, and energy.
The IORC's agricultural and food team is centered around a commitment to local, sustainable, and ethical sourcing of food. They work on an array of issues that impact local production and find ways to connect communities with local food producers. They also work to support and protect farmworkers in Idaho.
Through the Idaho Immigrant Resource Alliance, IORC works to provide relief and resources to Latinx, Immigrant, and Indigenous communities, and seeks social justice in the midst of the climate crisis.
One of the IORC's local chapters is the Visión 2C Resource Council (V2C), which works specifically in Canyon County to build and advocate for "resilient, equitable, and sustainable communities through grassroots leadership." V2C's ongoing work includes an Idaho farmworker study that has researched what exposure to pesticides in Idaho looks like in the farmworker community, as well as a relief fund to mitigate the harms that heat exhaustion and other climate impacts can cause Idaho farmworkers. V2C advances a crucial mission to protect Idaho's farm working community, which serves as the backbone of the agricultural industry, from the dangers of climate change. 
By becoming a member of IOR and V2C, you can help support this ongoing work for farmworker justice. You can also follow VC2 on Facebook and Instagram to stay updated on their work. 
Peques Nature Club
From protecting those who work outdoors to getting families outdoors, Peques Nature Club is a bilingual club that provides Idaho parents and children opportunities to explore the outdoors and learn about the natural environment. 
The club meets on a weekly basis to explore the outdoors. Offering adventures in both Spanish and English, the club has created a space where all members of the Latino community are welcome, can learn about the environment, and can create a sense of belonging in nature.
The group not only helps members of the Latinx community connect to nature and learn about advocating for stewardship of natural resources, but also helps them celebrate the contributions of their own community to conservation. Along with hikes, the group also partakes in culturally relevant activities. 
The Peques Nature Club is certainly breaking down barriers between the Latino community and the outdoors, helping to inspire the next generation of conservationists by connecting kids and families to nature, and building memories and connections that last.
Community Council of Idaho
The Community Council of Idaho (CC Idaho) is a rural-centered nonprofit organization that works to improve the social and economic status of local communities. They do this work through preparing community members for the workforce, education, cultural awareness, civil rights advocacy, and well-being services. 
According to their website, CC Idaho is also the largest nonprofit serving Latinos in the state. The organization has a long history of helping Idaho farmworkers and farm working communities from a slew of issues, including climate change impacts. Working on public health and farmworker safety and health issues is a core part of tackling environmental injustices in Idaho.
ICL encourages you to learn more about these Latino-led conservation and environmental efforts in Idaho, and to support and follow along with their work.