The dire state of wild salmon and steelhead runs across the Columbia River basin is forcing the Biden-Harris Administration to critically evaluate bold actions that will bring these fish populations back to abundance. In a recent report, entitled "Rebuilding Interior Columbia Basin Salmon and Steelhead," the National Marine Fisheries Service (NMFS) – a division of the National Oceanic and Atmospheric Administration (NOAA) – calls for landscape-scale efforts to save regional salmon and steelhead populations from extinction. 
As part of their commitment to changing the status quo and developing a long-term strategy for restoring Columbia River basin fish populations and honoring long-standing obligations to indigenous Tribal nations, the Administration is evaluating what specific steps it can take to remedy the situation. 
Key to this effort are the quantitative goals for recovery set by the Columbia Basin Partnership (CBP), a collaborative effort between states, Tribes, and stakeholders in the region which met from 2017 to 2020. Wild salmon and steelhead in the Snake River are all listed under the Endangered Species Act, so the federal government has a duty to recover them to a low and ill-defined minimum abundance threshold. The CBP goals are higher, representing the abundance levels that people across the region want to see to make these fish ecologically and economically significant again. 
As the table below shows, Idaho's fish populations are a tiny sliver of what they once were, and nowhere near the modest CBP goals for recovery. There is much work to be done to put these fish onto a positive trajectory. The study from NMFS lays out clearly what actions compose that work.
The NMFS report uses the mid-level goals as the target for its prescribed restoration actions. Snake River fish are among the highest-priority stocks in the entire Columbia Basin, based on their risk of extinction, importance to Tribal communities, and resilience to climate change, among other criteria. Idaho's salmon are close to extinction and extremely important to multiple Tribes, but they are somewhat protected against climate change by Idaho's high elevation, coldwater habitat. Access to this habitat is the issue; the NOAA report concludes that the Snake-Columbia River system of hydroelectric dams is the most limiting factor for all Snake River salmon and steelhead.
Accordingly, among a suite of other actions, the analysis prescribes, "For Snake River stocks, the centerpiece action is restoring the lower Snake River via dam breaching." Breaching would decrease travel time for juvenile fish migrating downstream, reduce encounters between juveniles and hydroelectric turbines, reduce stress on fish that may contribute to delayed mortality further downstream, and provide 140 miles of additional spawning and rearing habitat in the lower Snake River. Restoring the river would also normalize water temperatures and flows, both of which are affected by climate change. Finally, breaching the lower Snake River dams would improve floodplain connectivity, riparian habitat for both aquatic and terrestrial species, and improve habitat for sturgeon, lamprey, and bull trout.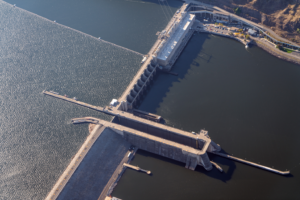 The report also speaks to the urgency of river restoration. Climate change is already increasing the frequency, magnitude, and length of environmental downturns that harm salmon. In order to counteract this trend and achieve the Columbia Basin Partnership medium goals by 2050, Snake River stocks have to achieve generational growth of 15-85%, depending on the species. In other words, if 100 sockeye salmon return to Redfish Lake next year, 175 of their offspring would need to return three years later to stay on a trajectory toward the CBP goals. Considering the current trend of generational declines, large-scale management actions like dam breaching are needed now. The NOAA analysis concludes in strong support for this action: "The science robustly supports riverscape-scale process-based stream habitat restoration, dam removal (breaching), and ecosystem-based management, and overwhelmingly supports acting, and acting now." 
In August, the Biden-Harris Administration committed to development of a "durable long-term strategy to restore salmon and other native fish populations to healthy and abundant levels," recognizing that "business as usual will not achieve the goals of restoring salmon populations and ecosystem functions" and "in the face of climate change, urgent action is needed to restore salmon and other priority species/stocks to healthy and abundant levels." This analysis from NOAA informs that strategy, concluding that breaching of the lower Snake River dams is essential to achieving the CBP goals of healthy and abundant populations. The rest is formulaic: dam breaching must be part of the Administration's long-term strategy. Take action today by telling the Biden Administration to restore Snake River salmon and steelhead!
After taking action for our wild salmon and steelhead above, sign up for our Salmon & Steelhead Campaign updates here.