I recently returned from a rewarding backpacking trip to Blackmare Lake in the Payette National Forest with two other individuals representing the Idaho Trails Association. In partnership with ICL, volunteers traveled into the rugged Idaho backcountry to help give back to the land with some trail work. 
On this excursion, we hiked 7.25 miles out to Blackmare Lake from Kennally Creek Campground. It was there we set up a base camp that we would hike out from for the next six days of trail work.
This was my first extended backpacking trip in Idaho, and what an introduction to these lands it was. The mission we set out on was as beautiful as it was rugged. The South Fork Blackmare Trail, which had not been serviced in quite some time (possibly 20+ years), was overgrown, riddled with large fallen trees, and all but non-existent in some spots.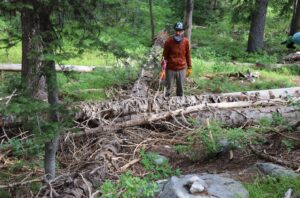 Over the span of a week, the three of us removed numerous logs using a cross-cut saw and cut back expansive thickets of shrubbery from the path, all while under a constant barrage of mosquitoes. Included in the trail we cleared was the steep ascent up to Blackmare Lake itself. Once indistinguishable from the surrounding brush, the path that takes you from Blackmare Lake to Denker Lake (accessible via "No-Trail" Trail from Needles Summit Trail) is now clearly navigable, though the terrain is still challenging!
While this experience was difficult and strenuous, it was also incredibly rewarding, and it will carry on as a lasting memory for me. When I finally turned around and saw the trail we worked so hard on had come back to life, I felt accomplished in the fact that future visitors will now be able to visit this refreshed corridor with confidence in knowing where they are headed.
I feel that the importance of work like this stems from the use it or lose it mentality. Our actions (even if just at a pace of ¾ miles of trail clearing per outing) have ramifications that protect those who don't have a voice — the animals, plants, trails, and land as a whole rely on outdoor recreationists to use the land respectfully and tend to its needs. Work like this and the subsequent responsible use of these areas influence the actions of those who decide how it will be maintained in the future.
Reflecting on this experience also reminds me how humbling nature can be. When you step away from your everyday comforts and vices to set out into the woods with only the essentials for survival on your person, you embark on a journey not only into the wilds, but into yourself. You witness what you are capable of, and the regular stressors of life seem to fizzle away as you focus your attention to the present and what is immediately around you. For this trip, it felt like true untamed wilderness. I don't know about you, but for me, that is the type of soul fulfilling adventure I seek.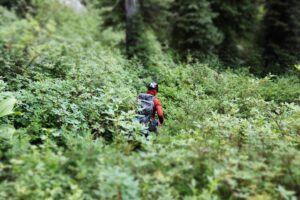 My parting words are this: If there is a place that you recreate often, and you would be devastated if anything bad ever happened to it, it is your duty to give back to that place in any way possible, and to encourage others to do the same.
To learn more about opportunities to give back to Idaho's beloved wild places, sign up for our public lands email updates.