Climate change: long-term significant alterations in global temperature and precipitation regimes. 
It's a topic that has dominated discussions around the globe for years, but has yet to arise during the 67th Idaho State Legislature, even though it's already impacting the lives of Idahoans every day. 
You may wonder, why? We are too. 
Although a natural phenomenon, climate change is exacerbated by the burning of fossil fuels and from other sectors, including agriculture, forestry, energy, transportation, and land use. The science is clear, the results are in: our planet is warming rapidly, leading to longer fire seasons, changing patterns of precipitation, more severe drought and storms, threats to wildlife and ecosystem function, and more. The question is no longer if, or how, climate change is impacting our world. Now the only question is: How can we be part of the solution?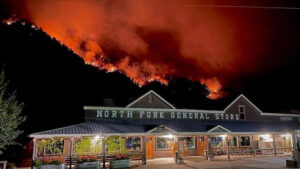 Farming, ranching, logging, and mining remain important sectors in Idaho's economy. While each of these sectors can contribute to climate change, they can also be part of the solution. Higher temperatures and decreasing snowpack are changing water availability for farmers, but those same farmers can also sequester millions of pounds of carbon in their soils, improving soil health, reducing water usage, limiting need for fertilizer application, and reducing polluted runoff. Similarly, forest management can focus efforts on storing carbon, taking advantage of new carbon markets to improve the bottom line for forestland owners. 
Bottom line: we can protect Idaho's economy at the same time we take climate action. 
But you wouldn't know this from watching the Idaho Legislature.
During a recent Idaho Environmental Forum event on January 19th, Rep. Mike Moyle did acknowledge climate change when he said, "we need to find a balance." We think he means we need to find a way to support important economic sectors in Idaho, while mitigating emissions that contribute to climate change. But we're not 100% positive what he meant.
In 2019, Gov. Brad Little made headlines when he said "climate change is real." It was the first time that an Idaho Governor had uttered such words. Yet, since then, the legislature and the governor have failed to take significant actions to address either the root causes or the consequences of climate change. 
Sure, there have been efforts to address water infrastructure, and increase water storage to prepare for future droughts, but we have not seen the type of investments or incentives in Idaho that many other states have seen.
And the fact is… they almost never mention climate change by name. It's been scrubbed from most state government documents, including water plans, K-12 Science Standards, budget proposals, and other guidance. 
Instead, the legislature has its head in the (proverbial) sand on the issue of climate change… 
And as the Legislature fiddles, Idaho burns.
Other states have stepped up to take action, but Idaho continues to ignore the issue. Farmers know it's real, water planners know it's real, and firefighters know it's real. Even with a decent snowpack so far this year, Idaho still is in a drought, and tensions between groundwater and surface water pumpers in Southern Idaho are threatening to boil over. 
The elephant is in the room. When will our elected officials acknowledge its presence?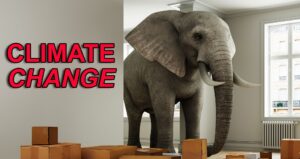 A trip down memory lane
Timeline of climate change discussions (or the lack thereof) in the Idaho Legislature:
2017: Scientists come to the Capitol to talk about climate change and its impacts on Idaho, an unofficial hearing that Rep. Ilana Rubel (D-Boise) sponsored when the Resource and Environment chairmen refused to sponsor a hearing.
2019: At a hearing of the House Environment Committee, Rep. John Vander Woude says that with more Idaho-specific information on climate change, additional hearings would be held.
2021: In December 2021, University of Idaho's McClure Center releases the Idaho Climate-Economy Impacts Assessment – over 300 pages of information focused on climate change impacts to Idaho's agriculture, water, energy, climate, lands, infrastructure, human health and other topics. 
2022: No informational meeting on the McClure Center's findings in the Idaho Legislature. Crickets from the Statehouse. No hearing, no presentations, no mention.
2023: Crickets from the Statehouse. No hearings, no presentations, no mention.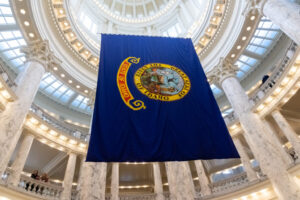 Here are the facts
Universities, state agencies, Tribal governments, economists, lawyers, and others have dedicated their time and effort to create clarity and an outlook for the state. The legislature asked for it, and now it's on their desk. 
As the National Interagency Fire Center based in Boise recently reported, Idaho was ranked #5 in the nation for total acres burned from wildfires in 2022. A list that we probably don't want to be on. 
Dry conditions, drought, and heat stress all exacerbate the risk and potential severity of fires. Smoke continues to fill our summer skies. 
Our roads, campgrounds, rail systems, and airports are at risk. Debris flows are polluting our rivers and lakes. Wildlife habitat is in harm's way and changing weather patterns, affecting the survival of Idaho's native species, including salmon and steelhead that are spiraling toward extinction. 
Our snow regime has been altered, changing the timing of runoff for our agricultural and energy sectors, which grow our food and supply our power. How severe does it get before the legislature takes notice? The most updated Idaho Climate-Economy Impacts Assessment (2022) report from the University of Idaho provides a useful inventory and assessment of the reality and severity of climate change impacts in our state. 
ICL encourages you to reach out to your elected officials to voice your concerns about the lands, waters, and wildlife that make Idaho great. Polite emails and phone calls are a great way to get to know your legislator. Other ways to stay active are to attend ICL events and community meetings around the state, and to subscribe to our climate and legislative updates by filling in your contact information below. 
If you're an Idahoan concerned about climate change, it's easy to become cynical, but in the words of Margaret Mead, "Never doubt that a small group of thoughtful, committed citizens can change the world; indeed, it's the only thing that ever has."
To sign up for our Climate Campaign email updates, click here.
To sign up for our Legislative Updates, click here.