ICL's Youth Engagement Coordinator Shiva Rajbhandari reflects on attending the U.N. Climate Conference, COP 27.
What is COP 27?
It's no secret that right now, our planet is on a collision course. Due to human activities, since the start of the Industrial Revolution, the atmosphere has warmed about 1.9 degrees Fahrenheit (1.15 degrees Celsius). This has already caused disasters around the world: flooding in Pakistan, drought in South Africa, hurricanes in Texas. In Idaho, we're all too familiar with the record-setting heat waves every summer, the thick black smoke that blankets the Snake River Plain every fall, and the declining snowpack every winter signaling a worsening water shortage across the state. 
In the 1990s, climate scientists began charting our planet's trajectory — with each degree of warming, climate change gets exponentially worse. At about 2.7 degrees Fahrenheit (1.5 degree Celsius), we will hit a point of no return, in which we'll see irreversible damage to our atmosphere. At current rates, we're on track to warm by about 4.5 degrees F by the end of the century. Recognizing that solving climate change requires international cooperation, the United Nations established the Framework Convention on Climate Change in 1994. Every country in the world soon became a party to that convention. Since 1995, those parties have met annually in a "Conference of Parties," or COP, to figure out how we're going to overcome the greatest challenge humanity has ever faced.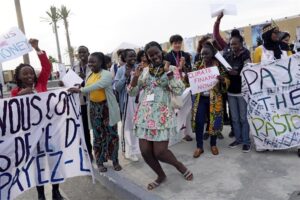 In 2015, we saw progress — world leaders from every country came together in Paris and created a plan (or at least, the outline of a plan) to prevent a climate catastrophe. The key solution was combating the root cause of this dramatic warming: greenhouse gas emissions, which are produced by the burning of fossil fuels (coal, oil, and "natural" gas) and other human activities. At COP 21 in Paris, the world committed to reducing these emissions by 45% by 2030, and eliminating all net emissions by 2050, which scientists say gives us the best chance to stay below 2.7 degrees Fahrenheit. Each country promised to create a nationally-determined contribution — essentially coordinated, non-enforceable commitments to decarbonize. The U.S. committed to reducing net greenhouse gas emissions by at least 50% by 2030. As we all know, that goal seemed like a moonshot until earlier this year when Congress passed the Inflation Reduction Act, which, through a variety of incentives, is expected to reduce emissions by 40% by 2030, putting the 50% target in range for future action. (ICL's Climate Associate Linda Engle discussed what the IRA means for Idahoans in a September blog post.) 
Another component of the Paris Accords is a just transition to a decarbonized global economy. Climate change is the universal exacerbator of global inequality. Ranked by median income, the top 10% of countries produce over 50% of greenhouse gas emissions. By contrast, the bottom 50% produce less than 10% of emissions. Yet, it is these developing countries — namely indigenous communities, small island states, and the Global South — that see the first and foremost effects of the climate crisis that developed countries like the U.S. are mostly responsible for. Since poorer countries do not have the resources to mitigate and adapt to the effects of climate change, in 2015, developed countries promised to create an international "Loss and Damage" fund for vulnerable countries. Despite the creation of this funding mechanism and other tools that accompany it, all known as the Santiago Network, in 2019, it has never been funded. Instead, developed countries have profited off of climate destruction, loaning large sums of money to developing countries to pay for losses and damages while collecting interest. This only perpetuates the history of colonization, exploitation, and capitalism — all of which are root causes of the climate crisis.
Disappointing Words from the Biden Administration
In November, I had the privilege of attending COP 27 in Sharm El-Sheikh, Egypt as an observer on behalf of the League of Women Voters of the United States. I met incredible youth and indigenous activists from around the world, and developed new strategies for climate advocacy which I'm bringing back to Idaho. As negotiations among world leaders stalled, I joined other observers to protest and demand more from the talks, particularly from our U.S. delegation. The COP resulted in some positive developments, but ultimately it failed once again to take the next steps necessary to solve the climate crisis. 
The Friday before my arrival, President Biden was in Sharm El-Sheikh. He came bearing one message: the U.S. is a leader in the fight against climate change. Talking with fellow activists, it was clear that Biden's message, however well-intended, was untrue. Despite the President's Emergency Plan for Adaptation and Resilience and the U.S. pledge to the Adaptation Fund, the U.S. lags behind the rest of the developed world when it comes to climate action. The IRA fails to reduce emissions enough to avert 1.5 degree Celsius of warming, especially given our national obligation to do so as the country most responsible for historic emissions. Hearing from my counterparts in Europe, which has taken climate action far more seriously, it was clear that Biden and Congress have a long way to go before they can pat themselves on the back.
Despite the U.S. falling behind others in emission reduction, even with the ambitious U.S. Methane Reduction Act Plan, we did come in first in one category — though it doesn't earn us any bragging rights. Awarded by the Climate Action Network, the U.S. earned the unwanted "Colossal Fossil" award – an award that highlights a lack of ability to change and fight the climate crisis. The U.S. earned this dishonor over our delegation's refusal to pay reparations to developing countries hit hardest by the climate crisis, which is also a social justice issue at its core.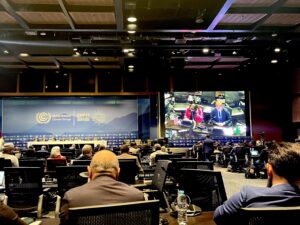 Internally, the Biden Administration has been a leader for social justice. The first talk I attended in Sharm El-Sheikh featured U.S. Secretary of Energy and ICL Salmon Campaign target, Jennifer Granholm, who talked about how the climate and resiliency infrastructure investments made in the Bipartisan Infrastructure Bill and the Inflation Reduction Act prioritize frontline and fenceline communities. (It is in this spirit that the White House has finally begun to engage with Northwest indigenous leaders on replacing the services provided by the four lower Snake River dams, which are driving wild salmon and steelhead to extinction). Internationally, though, the U.S. has consistently opposed grants-based funding for loss and damage. Throughout COP, Biden's envoy for climate, John Kerry, advocated incessantly against operationalizing the Santiago Network. Biden's one-time commitment of $11 billion for international climate aid paled in comparison to the $100 billion annual minimum that activists in the Global South say is necessary. "Show us the money! Where is the money?" We chanted in the streets of Sharm El-Sheikh. "Pay up! Pay up! Pay up for loss and damage!" As the only country in the world opposed to the loss and damage fund, the U.S. delegation stalled negotiations late into Friday night. We were all sure talks were doomed, but a breakthrough agreement came just before midnight.
The U.S. delegation also revealed its hypocrisy when it came to phasing out fossil fuels, which are responsible for 80% of global warming. Every country in the world has recognized that we must completely decarbonize in order to prevent climate catastrophe, yet world leaders continue to pretend that we can do that without ending the fossil fuel industry. At COP, most parties argued for a "total phase out of fossil fuels" to be included in the resolution language. In a rebuke of our allies, the U.S. delegation refused that, and argued instead for a "phase down" of "unabated fossil fuels," signaling the Biden Administration's reluctance to end the $20 billion taxpayers pay the fossil fuel industry in subsidies annually. Middle Eastern oil states took the bait, and removed oil and natural gas from the resolution, leaving only a "phase down" of "unabated coal" in the COP 27 agreement.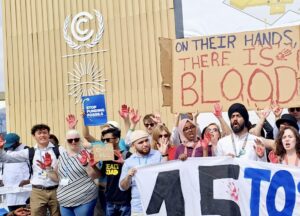 The Case for Local Climate Action
Despite an incredible and productive time in Sharm El-Sheikh, seeing representatives from our country refuse to do what's necessary and right to solve the climate crisis was discouraging and embarrassing. Over and over, when meeting fellow youth activists from around the world, I was told "you need to get your country under control." Where our government fails, communities must rise and fight for climate justice — especially over the next two critical years.
Attending the municipalities and local governments constituency meetings in Sharm El-Sheikh painted a more hopeful picture than the humiliating plenary sessions. We heard from mayors in Portugal, Zimbabwe, and Peru, who, like Boise Mayor Lauren McLean, recognized their responsibility to work for climate justice. Worldwide, cities are responsible for 70% of greenhouse gas emissions, account for 70% of the economy, and will be home to 70% of the world population by 2023. As dynamic governments that are closest to the people, cities are most fit to respond to the individual needs of their communities and engage all voices in a just transition away from fossil fuels.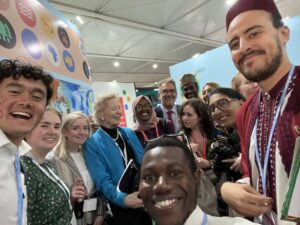 Hearing from these local leaders reminded me of the vital role school boards can play. From Salt Lake to Carson City to Miami, across the country, school districts are making clean energy commitments, creating long-term sustainability plans, and becoming leaders for climate action and resiliency in their communities — all while saving millions of dollars. I can't help but celebrate the amazing work of the Boise School District in this field, passing a collective commitment on clean energy last fall in response to a student-led initiative and now drafting a waste, water, and energy system-wide sustainability plan. (Prior to my trusteeship, the Idaho Conservation League sent a letter of support to the Boise School Board, urging genuine engagement with the students leading this charge and expeditious development of a climate action plan).
Ironically, seeing the impotence of world leaders was, in some ways, validating for me as a community organizer. Since 9th grade, my friends and I have been working for climate justice in our schools, city, and state. After COP, it is clearer than ever to me that local activists are on the right track: the battle for our planet, our people, and our future will be won not by Congress or the U.N. General Assembly, but by neighborhood associations, school boards, and city councils in a people-powered movement.
Across the state and even in the Treasure Valley, we have a lot of work to do. Developing a clean air ordinance at the Ada County Highway District, partnering with small farmers to reduce agricultural emissions, fighting for rooftop solar affordability, and expanding access to clean public transit are climate initiatives at ICL that our youth team is most excited about. Learn how you can get involved making Idaho carbon neutral here. 
What gives me hope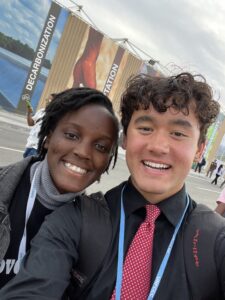 At the People's Plenary in Sharm El-Sheikh, we chanted in solidarity. El pueblo unido jamás será vencido. "The people united will never be defeated." Despite seeing complacency and impotence from elected leaders my entire life, I remain a fierce climate optimist. Why? Because all around me I see relentless climate justice warriors. Our movement is regenerative. It's people-powered, and it's growing every single day. At COP, seeing activists of all races, genders, abilities, and nationalities come together to sing, fight, and stand in solidarity reminded me that we will win. We still can defeat the fossil fuel industry. We still can create an inclusive, decolonized, democratic world. But the clock is ticking, and we need all hands on deck.
We must organize everywhere — from the streets to the suites, we need fighters for climate justice. Whether it's calling your elected officials, organizing protests, testifying in the legislature, forming a union, or even just talking about climate change every day at dinner, we can all fight for climate justice. Just as pressure and advocacy by civil society delivered the loss and damage fund this year at COP, organizations here in Idaho are working for decolonization and decarbonization. If you read this far, I urge you to support local, indigenous-led organizations like Nimiipuu Protecting the Environment and River Newe. Get involved or become a member here at the Idaho Conservation League. Take time to rest and never lose hope. We can do this. And we will.
Shiva Rajbhandari