Editor's note: This post was authored by Lauren Noeker. Lauren served as ICL's Andrus Scholar in 2022. Lauren lives in Boise, Idaho, and is contributing to the ICL blog for a series on Environmental Justice. This is part 2 of 3 in the series. Read part 1 here.
All around the world, individuals and communities alike are disproportionately bearing the negative consequences of global environmental change. Record breaking heat waves and sea level rise can disproportionately impact underserved communities that are less equipped to prepare for and recover from those events. Those communities should not have to shoulder the heavy burden of this global problem– especially when those same communities are not the ones contributing the most to climate change. Across the globe, and here in Idaho, we must unite to tackle climate change and its impacts. At the heart of doing this is ensuring all voices are heard in the process. 
Working to ensure all voices are heard and accounted for in our fight against climate change is essential in creating a better world, both socially and environmentally. It also helps us strive for environmental justice. 
Environmental justice (EJ) is the intersection of human and climate rights. It ensures the fair treatment and meaningful involvement of all people regardless of race, color, national origin, or income with respect to the development, implementation, and enforcement of environmental laws, regulations, and policies. This means that everyone has a voice in decisions relating to the environment, whether that be in policy and advocacy, or simply being informed about the environment they live within and the decisions being made about it. But, to foster an environment where all voices are heard in conversations and decision-making about our planet, all walks of life must also feel welcome in our outdoor spaces.
Environmental Justice and Outdoor Access
From people to plants to animals, our Earth is shared by many. All humans have an equal right to live on our planet and enjoy the benefits it brings, whether they are financial, spiritual, recreational, or more. Unfortunately, many communities have historically faced barriers that prevent them from enjoying the benefits of the outdoors – leading to environmental injustice. 
From not feeling represented or welcome, to the fear of facing racism or a hate crime, to the cost, time, or transportation limitations, there are many barriers that keep certain communities out of our country's and state's outdoor spaces.
Visitation data from the National Park Service and numbers by the Census Bureau highlight this lack of diversity in outdoor recreation. White Americans greatly outnumber people of color in outdoor activities like wildlife watching, hunting, fishing, and hiking. Furthermore, 2016 data from the Census Bureau also shows that people of color are less likely to use public parks and outdoor recreation compared to white Americans.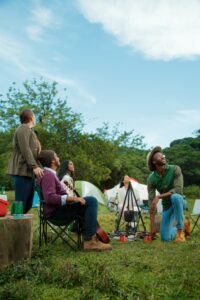 This lack of diversity in outdoor recreation has become a hot topic in recent years, and while the actual outdoors may not discriminate, it is clear that our outdoor recreation industry has underlying inclusivity issues. 
To fix this environmental justice issue, we must ensure equal access to our public lands and the abundant recreational opportunities they hold to all communities. That includes building a more welcoming, inclusive, and just outdoor recreation community – across the entire U.S. and right here in Idaho.
Ensuring Inclusivity in the Outdoors
To make real, lasting change, we all must actively work to dismantle these issues and ensure Idaho's outdoor spaces are a safe place for all. Spreading awareness and demanding better accessibility to nature in our communities is a strong start to ensuring access for communities who have been historically separated from these spaces. 
On social media, you may see accounts dedicated to the #DiversifyOutdoors movement. In Idaho, Inclusive Idaho leads the charge on making the Gem State more inclusive. This Black-founded and led nonprofit works to grow inclusion, belonging, and access for BIPOC, LGBTQ+, and all historically excluded Idahoans. They even have a program focused on increasing the involvement of underrepresented groups in the Idaho outdoors, called Inclusive Outdoors.
Along with making the outdoors more inclusive, ensuring underrepresented and marginalized groups have a voice in conservation work is essential in solving this environmental justice issue. These two goals go hand in hand – granting better access to natural amenities for all Idahoans plays a role in creating a stronger community of conservationists, and vice versa. In order to create a truly fair and just future for all Idahoans, all voices must be heard in decision-making processes that impact our air, water, and land.
ICL works to create an Idaho where public lands remain public and are well managed, air is clean, lakes and rivers are healthy, fish and wildlife thrive, and a prosperous, sustainable future exists for all Idahoans. To fully accomplish this – for Idahoans of all walks of life – conservation must go beyond science. It must connect natural rights and social rights as one, ensuring that our work serves all Idahoans today and future generations.