Emerging Leaders for Idaho's Environment (ELIE) is a leadership program focused on connecting the next generation of conservationists with opportunities to make a difference with Idaho's environmental movement. This program harnesses the unique talents and skill sets of participants to create innovative ways of reaching new audiences and building a conservation base among younger generations in Idaho.
Meet a few members of the 2022-2023 ELIE program!
Chloe Pampush
Chloe is an Oregon Coast native, whose love for the outdoors started at a young age as she spent her time exploring the woods and wandering the beach near her home. She moved to Boise to attend college at Boise State, earning a degree in Graphic Design and immersing herself in all the outdoor opportunities Boise has to offer. She currently works as a graphic designer at a local creative agency in Boise, and is excited about the opportunity to combine her passion for design and the outdoors to raise awareness about the environment and conservation through ELIE.

Clayton Lenz
Clayton is a Program Coordinator for the Idaho Conservation Corps. In his role, he falls trees, builds fences, cuts trail, teaches crews how to do the same, and works closely with public land management agencies. For fun, Clayton snowboards, hikes, and surfs.

Sam Woosley
Sam grew up in the Treasure Valley, where he developed an appreciation for the beautiful landscapes that comprise Idaho's public lands. These experiences motivated Sam to pursue a career in conservation. Sam graduated from OSU-Cascades in 2021 with a degree in Natural Resource Management, and currently works for the Payette National Forest as a Backcountry Ranger. In his free time, you can find Sam chasing sunsets with his camera or on the dance floor at Hannah's in Boise.
Marina Lundy
Marina's passion for the conservation of Idaho's natural land led her to ICL's ELIE Program. Marina is currently a student at BSU, and is working toward a masters in Policy Administration. Marina says she looks forward to using her education to help promote sustainability and conservation efforts in our beautiful state.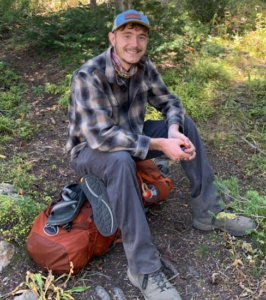 Sam Milewsky
Sam is a Wisconsin native who grew up listening to his dad's stories about working for the Forest Service in the Sawtooth Mountains in the 1980s. This is Sam's second year in the ELIE program. Sam works in recruiting and has a Graduate Certificate in Environmental Governance from Boise State and a Bachelor's in Human Resources Management from the University of Wisconsin-Eau Claire. In his free time Sam enjoys skiing, campfire cooking, and exploring the Owyhee Canyonlands with his wife and dog.
Dylan Potter
Dylan grew up exploring the forests and lakes of North Idaho, which shaped his love for the outdoors. He received a B.S. in Natural Resource Conservation from the University of Idaho and then served for two years in the Peace Corps in Jamaica promoting sustainable agriculture. In 2020, Dylan returned to Idaho and is currently the Environmental Compliance Manager for Ada County Solid Waste. Dylan greatly appreciate the amazing access to public lands living in Idaho provides, and feel strongly about protecting and restoring our natural spaces. He enjoys spending his free time in the mountains backpacking and trail running.
To get involved with ELIE, click here.