Agriculture is a cultural lifeblood of Idaho, and has been a way of life for generations of Idahoans. But, like many things we hold dear in Idaho, agriculture is threatened due to climate change. As a massive industry and the single largest contributor to Idaho's economy, agriculture is a key component in combating climate change in Idaho. Through our Farm Feature series, ICL is highlighting farmers in southern Idaho who are using sustainable practices that are good for their land and water, pocketbooks, customers, and our planet. Through climate-smart agriculture, we can protect the future of this industry in Idaho for generations to come.
Last Thursday, ICL staff visited Peaceful Belly Farm – an organic farm in Caldwell, Idaho – to learn more about regenerative agriculture in practice. On the day of ICL's visit, snow framed the foothills to the south of the farm and the clouds hung low with rain, a reminder of an unseasonably cool and wet spring. Bare fields serve as a harbinger of climate instability's threat to farmers. Yet amid the gray, Peaceful Belly's farm cafe and cider house was a hopeful pop of color, with sunny yellow walls and stained glass flowers. A fitting day to discuss climate-smart agriculture, ICL joined Peaceful Belly's Josie Erskine in the warmth of the cafe to learn more about Peaceful Belly's farming operation.
The Erskine family founded Peaceful Belly Farm in 2002, with a vision "to grow the most wholesome food for southern Idaho." In addition to producing organic-certified crops with regenerative agricultural practices, Peaceful Belly also operates a community-supported agriculture program (CSA), a farm store filled with fresh produce and goods from local artisans, a community jardín complete with free gardening classes in English and Spanish, and a cider house and farm cafe.
Neither Josie nor her husband Clay had farming backgrounds when they started Peaceful Belly in 2002, but they had been involved with Willing Workers of Organic Farms. "We both came to agriculture as environmentalists, knowing that the sector that most needed environmentalists to engage was agriculture," Josie said. 
Fast forward to today, from compost to cover-cropping to companion-planting, Peaceful Belly uses multiple regenerative agriculture practices.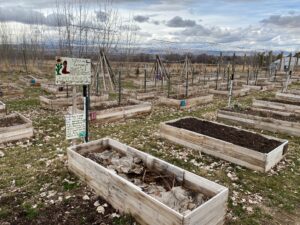 Composting, which is a practice you may have in your own personal garden, is a big part of Peaceful Belly's operations. The farm has a two-year compost program. "Looking at food scraps as a pretty big part of climate change, we're taking waste products on the farm and thermophilically composting it," Josie explained. "We built these 700-ton holding bins, where we do a second year of therma-compost. So the idea there is that we're creating a compost that is extremely high in biology and is fungal-dominant." 
Composting not only leads to healthier soil for your farm or garden, but is a key tool in the global fight against climate change. It lowers greenhouse gas emissions by improving carbon sequestration in the soil, prevents methane emissions, and makes gardens more resilient to climate change impacts.
Cover crops, which are another climate-smart tool used at Peaceful Belly, are any crops grown to cover the soil. They can be incorporated into the soil later for enrichment, eliminating soil erosion and keeping a living root so that microorganisms in the soil are always fed. This practice also contributes to plant diversity.
Through companion planting, Josie looks at inter-seeding to find which plants work well together and can benefit from each other. 
"One example would be the three sisters: squash, beans, and corn. Those three have benefits for each other." Josie said. "So, we are developing a lot of different inter-cropping or companion planting for what we call Idaho crops, like potatoes. We've also created different types of succession for wheat for regenerative agriculture." 
Even after finding success with regenerative agriculture, Josie says the farm is always learning and trying new things; Josie reminded us that the work is never done, and that they constantly observe and take cues from their environment in order to improve how they run the farm. From customers to birds to bugs, Peaceful Belly pays attention to the community that surrounds them. That same community, in turn, receives the most positive impact from regenerative agriculture. For Josie, one of the most personally rewarding aspects of the work is creating, engaging with, and giving to this very community.
"We are building community in all different aspects – we have educational programs, we grow food, we are providing lots of different types of training. It's weaving a basket that holds us, holds our community, and this land in different ways," Josie said. 
Josie doesn't differentiate between people, animals, or plants when it comes to community; they are all a part of the "basket." 
"Take an onion thrift. We look at the natural predator of that onion thrift, and there are multiple wasp species. So we grow all sorts of different types of pollinator plants, and we're working with entomologists from the College of Idaho to trap species and document all of their nectar sources," Josie said. "With that information, we can look at integrating pest management using natural practices. So, can we come in with multiple flowering species into an onion crop and help them reduce their pesticides by doing that integrated pest management? "
Some of this science hasn't been done before; it involves taking lessons from the planet's natural systems. For the sake of these natural systems, and the continued impacts of climate change on agriculture, Josie is hopeful that more farmers will take up this work. 
"Climate change is killing us. Climate instability is going to make non-regenerative practices impossible. Also, regulations are coming," Josie said. "How much longer are we, as Idahoans, going to be okay with bodies of water that are toxic? Toxic to our dogs, toxic to drink, toxic for swimming? How much longer are we going to be okay with that? Is it the agriculture industry's problem? Well, in a way, we've all said it's agriculture because it's easy for us to say, 'we have nothing to do with it.' Yet we're not changing our shopping habits, we're not supporting farmers."
Josie says that the regenerative agriculture movement needs better support from the consumer side to move forward at the pace we need. For farmers, there are resources readily available to adopt more sustainable practices. From Josie's experience, she recommends finding a mentor in your area that is using regenerative practices. She also recommends going to the Natural Resource Conservation Service, which will pay farmers to plant cover crops, put in water-saving irrigation, put in pollinator strips, install bat boxes, and more. The University of Idaho also has $55 million available—the largest grant in University of Idaho history—through the Climate Smart Agriculture grant, which aims to help large-scale farmers transition to regenerative agriculture practices.
Josie returned, however, to the responsibility of the consumer to support farmers who use regenerative practices.
"Farmers will move to [regenerative agriculture] if they see economic benefit. It is up to the consumers to take this movement forward." Josie said.
For Peaceful Belly, the desire to use regenerative agriculture practices not only comes from the head, but also the heart.
"Reciprocity is probably our core principle," Josie said. "To the earth, to ourselves, to our employees, and to our community. And within that is the identification that the earth loves us. And how do we show love? How do you take the practices that you might use on a person that you love, and apply them to the way you work with the land? It seems kind of ethereal, but truthfully, all of our nuts and bolts practices—cover cropping, drip irrigation, micro-sprinklers, or supporting pollinators—that's all showing love."