Idaho Power (IPC) is proposing a new long-term energy plan and now is the time to speak up for clean, local power. 
To ensure reliable and affordable energy, utilities like Idaho Power produce an Integrated Resource Plan (IRP). These plans look ahead 20 years, assessing the optimal mix of resources we need in the future. Idaho Power's new plan is the best yet – leaving coal by 2028, adding clean energy, and increasing energy conservation programs.  But there is one major flaw – Idaho Power plans to convert part of the Jim Bridger coal plant to burn gas in 2024. 
The Idaho Public Utilities Commission (PUC) is reviewing Idaho Power's plan now. Now is the time to say we support clean energy and oppose risky gas!
Let's take a closer look at the plan…
Closing coal! Idaho Power's 2021 IRP includes exiting all coal operations by 2028, two years earlier than the 2019 plan. The analysis shows coal is far more expensive than new clean energy, so this is a good outcome for both the environment and our wallets.
Adding clean! Idaho Power's 2021 IRP adds 3,600 megawatts of new batteries, solar energy, and wind energy by 2040, with much of that coming in the next six years. The plan also sets higher targets for energy savings programs, and expands both the depth and breadth of demand response programs. These changes are great to see, as near-term clean energy additions are essential to reaching clean energy goals. Leveraging Idaho's clean energy resources to meet our needs just makes sense.
Clean energy is the most affordable option. As Idaho Power looks to the future, data shows that building new wind and solar energy resources are much cheaper than building new natural gas plants – so the proposed move to converting coal to gas is not good for our wallets, or our environment.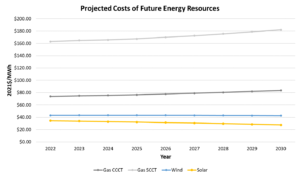 Burning gas? In a late breaking twist, Idaho Power's plan includes converting half of the Bridger coal plant to gas in 2024, and then replacing this new gas a decade later in 2034 with clean sources. But the transition to gas shouldn't happen at all.
Idaho Power claims burning gas is cheap, but since they don't have any permits yet, they can't know the full costs. Meantime, we do know that the cost of burning gas is high for customers. It's also risky – Idaho Power is currently asking for a $103 million rate increase because the gas they burned in existing plants during 2021 was more expensive than originally planned. If customers are left to pay the price for this bad forecast, it likely could happen again. Using speculation and risky fuels is not good planning, and can end up hurting loyal customers.
At ICL's request, Idaho Power modeled three potential futures. First, we pushed Idaho Power to put the company's goal of being 100% clean energy by 2045 to the test by laying out scenarios to see if their roadmap would actually get them to reach that goal. Second, we asked them to test the impact of rapid electrification – 500,000 electric cars and 80% electric heating by 2040 on the grid. Finally, to demonstrate how climate change could adversely affect Idaho Power's energy production system, they modeled a climate change scenario which featured higher energy demand and lower water supply. 
From these scenarios, we received good news – Idaho Power only needs to make small changes in its current plan for energy sourcing to be on track for reaching its 100% clean energy goal, preparing for an electrified grid, and building a more resilient future in the face of climate change.
Overall, we believe that Idaho Power is growing their clean energy portfolio and we support this effort. However, the conversion of the Bridger coal plant to natural gas prolongs Idaho Power's reliance on fossil fuels, is risky due to volatile gas prices, and does not allow for energy independence. 
Conversion to fossil gas at Bridger is bad for Idahoans and bad for our environment. Now is the time to let the decision-makers know. 
Please submit a comment to the PUC here, referencing Case Number IPC-E-21-43, letting them know where you stand: Idaho Power's plan has room for improvement – moving toward clean energy instead of gas at the Bridger plant is the best option for Idaho Power, customers, and our environment. Comments are due by June 2, 2022.