Written by: Lilly Wilson, youth activist and ICL Youth Engagement Intern
I have grown up surrounded by Idaho's wilderness, climbing western white pines and catching toads on the creekside. I will not let Idaho's natural beauty diminish, which is why I have devoted countless hours to environmental activism. As an experienced youth activist who has dedicated much of my life to conservation and organizing, I have a lot of wisdom when it comes to the vitality and progress that youth bring to the table. For over seven years I have been organizing at the community level, most recently through working with Youth Salmon Protectors and Idaho Conservation League as their newest collegiate Youth Engagement Intern, as well as on-campus advocacy at Boise State University. 
The obvious impacts of climate change have made themselves apparent over the past several years, across the U.S. and here in Idaho. As uncharacteristically hot wildfires spread, powerful hurricanes terrorize costal towns, and cheatgrass creeps into the Sawtooths, news outlets can't help but address these changes to the ecosystem. Another widespread result of climate change that is less often discussed is the world's youth banding together to solve these issues. Today's youth are an essential part of solving the problems of the past, and ensuring we are on a strong path into the future. We know we are the last generation that will be able to reverse the repercussions of climate change, so there is no other option than to try and save our planet. 
Youth advocacy is vital to the climate movement because we are looking to not only conserve what is left, but to regenerate for the future. Leaving a footprint on the earth doesn't have to be a bad thing – we can leave a trail of blooming yarrow and rushing rivers, something that goes beyond sustaining.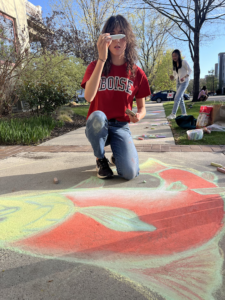 The evergreen energy of youth activists within the climate movement also brings a unique liveliness into activism. We bring education into art and turn protests into poems, blurring the lines between the values of survival and expression. This liveliness connects with people, showing them why they should care about the Earth rather than just telling them. These types of activism have led to magnitudes more community engagement, from large scale protests to social media campaigns. Youth activists have no choice other than to fight for the planet, so we might as well make it colorful. 
"I'm sorry," is what I hear most people older than 40 say when talking about climate change to a young activist.  But sorry isn't enough – action must be taken. The good news – there are many ways older generations can support youth activists.
Amplify us. Give us the spaces we need to educate, to share our experiences, to meet with politicians. Give us supplies and support and let us make decisions, since we will be the ones dealing with the repercussions. When provided with the necessary resources, there is no limit to what we can accomplish – we can host walkouts, breach cardboard dams on the Capitol steps, meet with senators, write letters-to-the-editor, and hopefully regenerate what has been lost.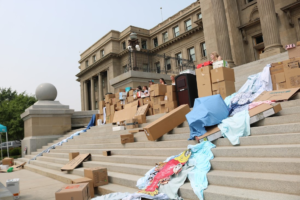 As young people, we hold a unique perspective that many dismiss. Yet, our voices are more important than ever – the future belongs to our youth, and we deserve a say in what that future looks like. Decisions made today directly affect the future we will inherit. Involving us is not only ethical, but strategic – we are empowered, educated, and engaged in working toward a better future for all of us. We all benefit when wildfires don't threaten but instead encourage growth, when hurricane season again becomes less dangerous and shorter, and when cheatgrass doesn't carpet the mountainsides.