An unfolding environmental crisis in Florida spotlights potential water pollution risks at hazardous "gyp stacks" in Idaho.
Southeast Idaho is home to some of the most prolific phosphate ore deposits in the country, which account for roughly 22% of the total domestic supply, according to the Bureau of Land Management. Several large phosphate mines – owned by Bayer, Itafos, and Simplot – operate in the Soda Springs/Blackfoot River area. Once this ore is taken out of the ground, large industrial plants nearby process it to produce chemical fertilizers and pesticides, like Roundup. 
The processing of phosphate ore to produce phosphoric acid creates a byproduct called phosphogypsum, a toxic and radioactive waste that is generally high in silver, cadmium, selenium, and radium-226 (a radioactive isotope) concentrations. Phosphogypsum is stored in piles, known as gyp stacks, that stretch over hundreds of acres and stand hundreds of feet tall. 
Given the long history of phosphate mining and processing in southeast Idaho, there are several large gyp stacks in this area – most notably Itafos' Conda gyp stacks near Soda Springs and Simplot's Don Plant gyp stacks near Pocatello. Gyp stacks typically have sizable wastewater lagoons, only some of which include synthetic liners to prevent leakage. For instance, though waste has been stored there for decades, the lining of Simplot's gyp stacks near Pocatello was not fully completed until 2018. Even for fully lined wastewater lagoons, the risk of a leak or breach is ever-present. 
The consequences of such a leak or breach can be enormous. The spill from Florida's Piney Point gyp stack reservoir, for example, has already resulted in the discharge of 165 million gallons (and growing by the day) of contaminated wastewater directly into Tampa Bay. This release of nitrogen and phosphorus-laden wastewater will likely exacerbate ongoing issues related to pollutants and associated algal outbreaks in the harbor.
Although the Florida gyp stacks are subject to more precipitation and less evaporation than those in Idaho's more arid climate, making it harder to contain and control the volume of wastewater, we're not entirely out of the woods here in Idaho. The gyp stacks located in Idaho have already had significant pollution issues. 
The Conda gyp stack near Soda Springs experienced a significant dike breach in 2006 that resulted in the discharge of approximately 3.5 million gallons of acidic wastewater. Also, the Don Plant gyp stack has historically contaminated local groundwater with adverse effects on the Portneuf River, resulting in an EPA Superfund site designation. The Shoshone-Bannock Tribes use the Fort Hall Bottoms, a large wetland area located about three miles downgradient of the Superfund site, for traditional and ceremonial activities, such as hunting and fishing.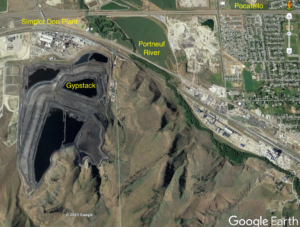 Ongoing waste disposal at these sites has the potential to contaminate important waterways like the Portneuf and Blackfoot Rivers. Further, a large-scale gyp stack failure would cause environmentally severe impacts at a magnitude that we've never seen before in southeast Idaho. 
To complicate the situation further, the Idaho Legislature is considering a bill that would codify design regulations for new gyp stacks without groundwater monitoring requirements and make it more difficult to incorporate new technological advances. ICL testified before the Idaho House and Senate in opposition to this bill and continues to encourage the Senate to oppose this misguided legislation.
Stay tuned to ICL for the latest on this bill.