In great news for a Wood River Valley icon, a proposal to address serious forest health issues on Bald Mountain is moving forward at a ramped-up pace and scale!
The U.S. Forest Service and Bureau of Land Management signed a final Decision Notice in September, giving those agencies the green light to begin work to address the rapidly declining health of the forests on Bald Mountain.
Over the last 20 years, a myriad of insects and diseases have severely damaged forests throughout the Wood River Valley. Baldy, which includes the Sun Valley ski area, emerged as a particular hotspot, in part, due to the historical exclusion of fire from the immediate area.
The Idaho Conservation League and the Wood River Valley-based 5B Restoration Coalition worked closely with the Forest Service and Sun Valley Company on the federal agency's development of a large-scale project to address these forest health issues on Baldy.
During the project's Environmental Assessment process, comments from ICL staff and members led to a better proposal. Miles of proposed new road construction were curtailed and the project is now more squarely focused on improving forest health rather than deriving commercial timber value.
Work was underway on Baldy this summer as part of a previously permitted project; the newly approved project is intended to accelerate these efforts across the entire ski area as well as beyond the ski area permit boundary.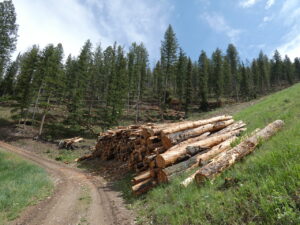 Going forward, ICL will continue its involvement with the project to ensure its success. We will advise the Forest Service and BLM with project implementation, particularly regarding how to prioritize vegetation treatment areas on the mountain given limited funding. With beetle kill and dwarf mistletoe rapidly spreading through Baldy's forests, ICL's position is that areas should be prioritized first and foremost on forest health concerns and vulnerability to die-off rather than on timber value or recreational considerations.
We will also be working with federal agency staff, the National Forest Foundation and other community partners to help secure more funding for the project through grants and other means. Lastly, we will be joining those same partners to (eventually) restart volunteer efforts to plant new seedlings and replace old pheromone patches on Baldy, once it is safe again to organize such events.