Central Idaho Wilderness Stewards have been hard at work this summer cleaning up some of central Idaho's most treasured areas. These stewards hit the trails to recreate with purpose in the Sawtooth, Hemingway-Boulders, Cecil D. Andrus White Clouds, and Jim McClure-Jerry Peak Wilderness areas, Craters of the Moon National Monument, and Recommended Wilderness Areas throughout the Salmon-Challis National Forest. 
Halfway through the season, 65 dedicated volunteers have patrolled nearly 763 miles of trail on 94 independent patrols, encountered 2,000 trail users, addressed waste issues, reduced and naturalized 114 backcountry fire rings, and extinguished four abandoned campfires – making a positive impact on the lands that we all cherish.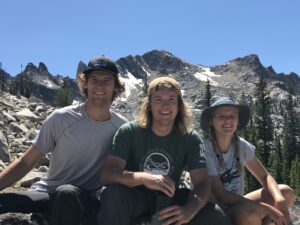 A growing program
Not only are stewards engaging with more people this summer and making a record number of independent patrols, but they have also had the opportunity to complete group projects. ICL staff and stewards have been working hard to increase education and outreach with trail users by hosting three trailhead engagement events to share information about wilderness etiquette, public land advocacy, and stewardship in the Sawtooth National Recreation Area. Through these engagement events, more than 200 people have learned how to explore Idaho's backcountry in less impactful ways. 
Staff and stewards also had the privilege of heading into the Jim McClure-Jerry Peak Wilderness and at Railroad Ridge for group projects. Thanks to funding from the National Wilderness Stewardship Alliance, stewards posted multiple signs at wilderness junctions in the Jim McClure-Jerry Peak Wilderness to ensure that the trails were used in the intended ways. At Railroad Ridge, ICL stewards and others partnered with the National Forest Foundation (who also funded the work) and U.S. Forest Service to cache (plant) nearly 10,000 Whitebark pine seeds. Whitebark pine is a keystone species and, due to climate change and invasive species, has been experiencing declining numbers. Through this project, we hope to see the Whitebark pine trees remain in this incredible location –– resulting in lasting benefits for the land, wildlife, and all who recreate here in the future.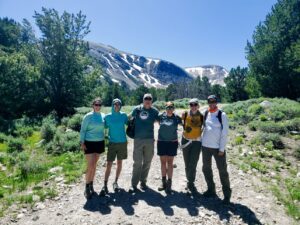 How can you give back to our public lands?
Through the ICL Wilderness Stewards Program, volunteers get to explore the places they love while giving back. Without individuals like them, our public land would be more trampled than it already is, and the escape from the developed world would be more challenging to experience. Some of the most common issues our stewards encounter are illegal campfires and campfire rings, human feces, and trash — all of which are easy to avoid. Take a look at the Leave No Trace principles below, and be sure to keep them in mind when you're exploring our incredible public lands:
Plan ahead and prepare

Travel and camp on durable surfaces

Dispose of waste properly

Leave what you find

Minimize campfire impacts

Respect wildlife

Be considerate of others
Interested in becoming an ICL Wilderness Steward in 2023? Sign up here to receive updates!