Earlier this month, ICL partnered with the nonprofit group LightHawk to do an overflight of a couple key areas for wildlife in the Idaho High Divide region. Our pilot was Chris Boyer, a longtime LightHawk volunteer pilot and professional aerial photographer.
Idaho's High Divide—stretching eastward from the majestic peaks of Central Idaho to the wildlife haven of Yellowstone National Park—is home to some of the wildest country found anywhere in the lower 48 and occupies a critical location between the expansive wilderness areas in Central Idaho and the Greater Yellowstone Ecosystem. Characterized by numerous high elevation mountain ranges, expansive sage steppe and large, productive valleys, the High Divide provides a diversity of habitat and serves as a stronghold for wildlife that have disappeared from much of their historic range. Intact sagebrush grasslands protect and link precious mountain snowpack to headwater tributaries and connect habitats for grizzly bear, pronghorn, elk, deer, Greater Sage-Grouse, and other iconic native wildlife species.
New science shows that migration patterns are shifting across the West as the changing climate forces wildlife to adapt. Intact and functional landscapes like the High Divide offer critically important terrestrial and aquatic connectivity and are vitally important for maintaining wildlife abundance and biodiversity in the face of climate change.
Donkey Hills
Our first stop on the flight was the Donkey Hills, a key wildlife wintering area rising out of the Little Lost Valley between the high peaks of the Lost River Range to the west and the Lemhi Range to the east. Circling this small cluster of moderately tall hills, it became quite apparent why wildlife like it here—minimal human disturbance, a mix of forests and open meadows, and less snow than the surrounding high peaks. Much of the Donkey Hills is a designated Area of Critical Environmental Concern (ACEC) by the Bureau of Land Management to protect this important elk wintering range and calving area.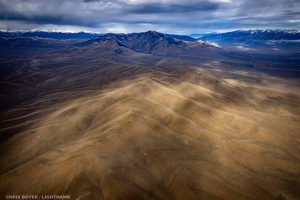 Sand Creek Desert 
Our next stop on the flight was to a much different kind of landscape—the Sand Creek Desert. Located in eastern Idaho between the St. Anthony Sand Dunes and the Island Park Caldera, this area is a patchwork of federal, state, and private lands that collectively serve as crucial winter range for moose, mule deer, and elk seeking refuge from the harsher winters in Yellowstone. Roughly 8,500 deer, elk, moose, and pronghorns spend their winters on the Sand Creek desert every year.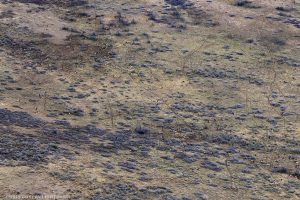 What's Next?
ICL and our partners have worked tirelessly over the decades to keep this special part of Idaho ecologically intact—it is a place eminently worthy of conservation. This flight gave us a deepened understanding and appreciation for the Idaho High Divide and its importance for migratory wildlife. We hope to use the beautiful photos from this flight to highlight the value of this large, mostly intact landscape in future advocacy efforts to enhance wildlife habitat and connectivity on our public lands.
Stay updated on the Idaho High Divide and other public lands in the Gem State by signing up for Public Lands Campaign updates.
We'd like to thank LightHawk and their volunteer pilot, Chris Boyer, for making this recent overflight possible! LightHawk's mission is to accelerate conservation success through the powerful perspective of flight.