Editor's note: This blog was written by 2017 ICL Artist in Residence Linda Lantzy, of Idaho Scenic Images. A professional photographer, Linda is focusing her residency work on the natural beauty of Idaho's public lands, creating a body of work called Gems of Idaho-Our Public Lands. We are delighted that she is offering for online auction 12 of the images she captured during her travels around the state this year. A portion of the proceeds will benefit ICL. ICL's artist in residence program explores the nexus of art and nature.
The sun was still a ways above the horizon when I arrived on top of Sundance Mountain. A welcome relief!
The last time I attempted to shoot this location, I arrived too late in the day, and I had to stop partway up the mountain to shoot the sunset as it disappeared over the distant ridge. I never made it to the top that day.
Now I'm standing in the heart of the Selkirk Range, in awe of the amazing views of Priest Lake far below. The eerie remains of charred, dead trees from the Sundance fire of 1967 are all around, and the persevering wildflowers are still in bloom on this mountaintop even in late September.
Just in Time
There's a dark, threatening storm approaching from the south and I know I must get to work. After a few minutes of searching, I find the spot I am looking for. Fallen logs create an interesting foreground for this breathtaking view. As the sun's rays are split by the edge of a cloud, I create this image with my camera. Thunder booms and the rain commences as I retreat to the safety of my vehicle.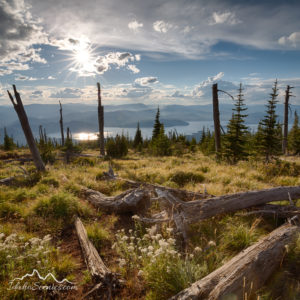 Online Silent Auction
This is just a little story about the creation of "Sundance Sun"-one of 12 photographs, selected for their beauty and location in Idaho's public lands, that I'm offering in an online silent auction to benefit the Idaho Conservation League. ICL will receive 25% of the proceeds.
As ICL's artist this year, I've spent considerable time traveling the state and turning "Idaho's gems-our public lands" into artwork. These 12 gems are presented as  8"x8" metal pieces. Each is titled on back; signed by me, the artist; and comes with a black scrolled easel.
Make Your Bid Now!
Bidding for each piece starts at $35 and the online auction closes Nov. 15.
To see the pieces and place a bid, visit my Idaho Scenic Images website.