Editor's note: This post was authored by ICL Artist in Residence Linda Lantzy of Idaho Scenic Images. Linda was offered a trip down the Salmon River by ARTA River Trips, sponsor of ICL's artist in residence program. The river trip is an opportunity for our artists to experience, learn and be inspired by the river.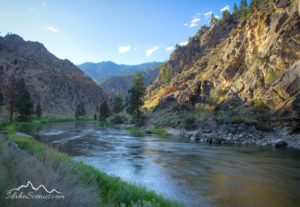 In less than 36 hours and a bit downstream from where I took this shot, I'll be floating the mighty Salmon, "River of No Return." Contained completely within Idaho, this 425-mile-long river begins as a small trickle in the Sawtooth Mountains, winding its way north through steep canyons and fertile farmlands before diving west across the rugged, roadless interior of the state.
There is no going back after launching your raft into this 81-mile stretch of isolated water. Even in mid-July after a banner snow year, the flow is still running a mighty 15,600 cfs.  There will be rapids…lots of rapids.
I came upon this spectacular rafting adventure as the Idaho Conservation League's artist in residence for 2017. Residency sponsor ARTA River Trips offered me this unique opportunity. My job on this guided trip is to take photos-to make art. I do that all the time, but not from a raft or a riverside camp with myriad other people milling about. I hope I can find the solitude I seek in this wilderness journey.
Preparations started months ago, and I slowly accumulated gear into what became a very large pile on my kitchen table: everything from a Pelican case for my camera gear to the proper polyester blends of clothing for life on the river. Hotel rooms got booked for the front and back of the trip, as was a flight from McCall to Salmon on a small, 10-seat, single-prop plane. The flight alone seems like a good reason to rethink this entire undertaking.
It's the last night in my own bed for the next nine days. I lay awake into the wee hours of the morning, listening to the occasional vehicle travel past my window. My mind swirls with thoughts of what lies ahead.
Trying to leave town today by 2 p.m. My main responsibilities this morning are loading the car, dropping my dog "River" at the kennel and making a third, final decision on which lenses to bring, which proved not as easy as it seems.
The Flight
I don't get on the road until 4 p.m. After the six-hour drive to McCall,  I spend another sleepless night, this time in a hot hotel room. Morning comes not a moment too soon. At 7 a.m. I am the first Gem Air customer to check in for a flight. Their offices are under construction and they use a bathroom scale to weigh baggage. Then we're off.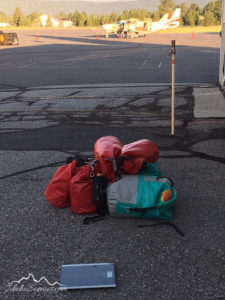 As we climb above the valley, I make a mental note of several roads I need to drive on my next time in the area. Soon we bank to the east and are immediately greeted with gorgeous views of jagged peaks, deep crevasses and myriad small alpine lakes. I see the Middle Fork of the Salmon River winding its way north and the Bighorn Crags.
A small amount of turbulence shakes the plane on the descent into the Salmon Valley, but our pilot lands the plane with precision and skill.
After a quick shuttle ride to the hotel I spend the day catching up on sleep and like a complete amateur, organize and reorganize my pack. Suddenly it hits me…. I'm excited!
We are greeted by four young ladies at the pre-trip meeting whose petite size makes me wonder how they can handle a boat on a river.
The Launch
I sleep surprisingly well and wake at 5 a.m. to take my last shower for 6 days. As the pink predawn colors the sky above the Bitterroot Range, I make note of the time I will need to be ready to shoot each morning while in the canyons. One final organizational packing-this time into the supplied dry bags. We board the bus promptly at 8 a.m.
It's a quiet two-hour ride to the put-in. Before I know it, I'm sitting in the front of an oar raft gently bobbing along on soft waves. About a mile downstream and after several drenching rapids, I realize I am smiling.

Our guides, joined by one young man at the launch, are now five strong. They prove themselves through the entire trip. All afternoon they row into a strong headwind. We make camp above a rocky beach where the guides unload gear from the boats, cook a delicious Italian dinner and set up our open-air restroom facilities. I don't think I have ever seen a group of people work harder.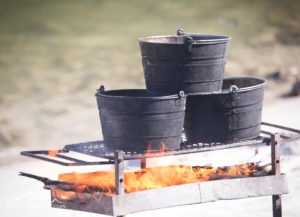 The last golden light touches the tops of the peaks and fades into darkness. The cool evening air feels amazing. Tonight I sleep to the lullaby of the river.
14 Miles In
Back on the water, we immediately enter a stretch of rapids and I get drenched. The water smoothes out and the morning sun dries me. As the magnificence of this canyon slowly passes by, I get lost in my thoughts.
I am in awe at the beauty of this place. Dividing the Salmon River Mountains to the south and the Clearwater Mountains to the north, both with peaks and ridges over 7,000 feet, this canyon is deeper than the Grand Canyon itself.
A few miles farther and I'm sitting in the white sand soaking up the sunshine. Most of the group has headed on an uphill hike. I lay back and listen to the song of the river. All cares of daily life at work and home have magically been swept away. Time stands still.
After a lunch of chicken Caesar salad and fruit, we run our biggest rapid yet. Black Rock has a huge "hole" followed by a couple of very large swells. The raft dives nose first into it and a wall of water completely consumes us. We hit the wave train and I feel like I could reach out my arms and start swimming. After a few more bends in the river we break at some hot springs. It's a sweltering day and I opt to sit in the cool shallows while others hike the rocky hillside to enjoy the springs.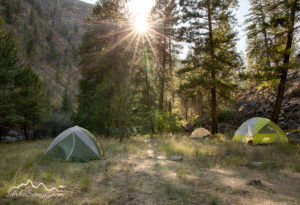 We make camp on a big sandy beach where the river disappears around a bend and the ridges appear to intersect with each other. I anticipate the sun will set in the crevice, and make a mental note of the time I will need to be ready to photograph it. I like this spot.
24 Miles In
My alarm rings at 2:45 am. Trees charred by the Mustang Complex Fire of 2012 rise on the hillside above camp. These blackened silhouettes against the dark night sky have an eerie feel to them. Standing under the radiant expanse of stars and Milky Way in the middle of true wilderness is incredible.
The day starts for me as the sun touches the mountain ridges high above the river. All references to clock time have vanished by now. Breakfast, rafting, lunch, rafting and camp define the days. We gain (or lose) 20 miles, including some of the biggest rapids on the Main, as they call this river.
I spot a young black bear exploring the shore. In the hot afternoon a swim in the river feels so good. I marvel at all the beautiful creeks we pass, wishing we could stop and enjoy. Our guide chooses tonight's camp spot just for me. It has a sweet little cascade called Rhett Creek just to the side of a sandy beach.
Dinner is one of the best cheeseburgers I've had in a long time, or maybe the food just tastes better out here.
44 Miles In
The alarm sounds at 1:30 but this time I turn it off. The next thing I know, there is light in the sky. I have no trouble getting up now, and I take a chair and my gear upstream from camp to watch the last stars fade from the sky. A few clouds light up pink.
Day 4 is the hottest day yet. In addition to the waves that break against the boat and cascade over us, we stop several times to swim. The cool water refreshes me. My skin is now reddish brown from a combination of tan and burn. I haven't spent this much time playing in water since I was a kid. We float 15 miles and stop at another sandy beach.
A herd of young bighorn sheep wanders close to camp, grazing on the scrub grasses between river rock. Tonight we eat steaks and play games around the campfire.
I like how the river curves here and disappears between the canyon contours. I notice a small rapid close to shore and wade into the swift current to photograph the evening light. This has been a great day.
59 Miles In
I wake at 4 a.m. and am surprised to see the Milky Way still shimmering in the predawn darkness. Quietly I set up my camera with a 20mm f/2.8 lens and adjust the exposure. Then I grab a couple more hours of sleep.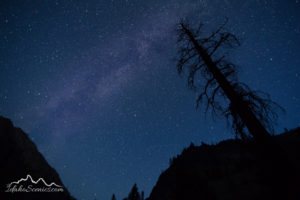 Today is going to be another scorcher. The rapids are mild today and we don't get very wet in the boat. Every time we stop I have to take a dunk in the river to cool off. For each mile downstream we travel it seems the temperature climbs. Over these 81 river miles we will have descended 900 feet. The canyon has widened considerably.
We cross a stretch of river called Salmon Lake while fighting a headwind. A cloud moves in front of the sun and the deep water suddenly appears black. A bighorn sheep rests under a tree and a golden eagle watches from his riverside perch.  For us, there's water play and relaxation, fishing and stand up paddle-boarding.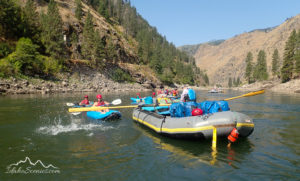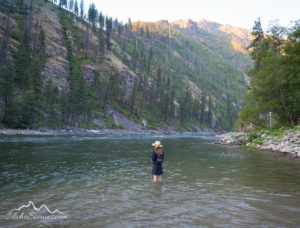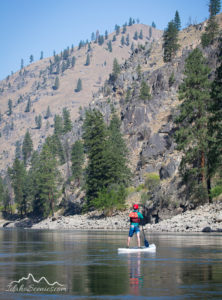 I soak in the beauty of it all. I am amazed that in mid-July this canyon is still green. The last five days truly have been wonderful.
Tomorrow we will conclude our river journey around noon. I feel sad to be leaving this place, but rejuvenated enough and ready to return home. I'm missing a different "River." My 3-year-old yellow Labrador has been in boarding for eight days.
76 Miles In
Our final morning and, once packed up, we only have a short distance to travel. Around the first bend in the river we encounter our last big rapid. With tumbling white waves, the river gives us a big sloppy kiss goodbye.