ICL relies on the generosity of individuals, businesses, and foundations to do our work. Linda Lloyd, Co-Owner of George's Cycles in Boise, recently became a Business Leader to show that their business cares for protecting Idaho's environment.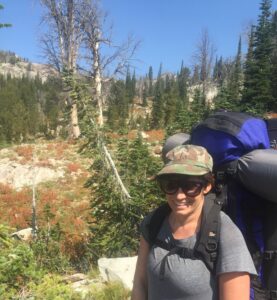 We took a moment to ask Linda why she became an ICL Business Member! 
What made you take this step to become an ICL Business Member?
We live in one of the most beautiful states with amazing natural resources for us all to enjoy. As our state grows in population, these resources need protection. Keeping public land in the hands of the public is crucial to protect what we all love about Idaho. As cyclists, we ride on public land and want to be able to keep enjoying that privilege. I feel the ICL is aligned with our core values here at George's, to preserve our beautiful state. 
What impact are you excited about making as a Business Member of ICL?
I feel financially contributing to the ICL is one of the best ways to make sure they can do the work they set out to do. It's one thing to feel aligned to their values, but you have to put your money towards those values, too. ICL helps convince our legislators to understand the value of our public lands to the recreation industry, which we want preserved for us to hike, ride, camp, climb, and more in.    
This membership is you investing in Idaho's future. What do you hope the future looks like?
I expect our state to keep growing, and while there is a lot of negative press and public sentiment about that now, I think the people moving here can contribute in positive ways as well as some negative ways — but let's look to the positives rather than dwell and complain about changes we can't do anything about. I think promoting and showing all the wonderful things Idaho has to offer makes people realize the value in preserving our natural resources. I hope Idaho continues to be a place where we can enjoy the fresh air, clear skies, clean water, and beautiful views. 
As a business, you can show your support for Idaho by joining ICL, sending a message to your employees and customers that your business cares about protecting Idaho's environment. Interested in joining ICL's business membership program? Contact Jenny Estes for more information!