ICL's Boise office welcomes two interns and a fellow to the team!
Dana Kerins, Conservation Engagement Intern
Dana's passion for the Idaho Conservation League began when Rick Johnson, the executive director of ICL, came and talked to her environmental policy class. His passion for protecting public lands and advocating for environmental matters in the state of Idaho really sparked her interest in working for an organization like ICL. She is inspired by ICL's mission and past accomplishments. Luckily, at the time of Rick's presentation, ICL was offering two internship positions and Dana was offered one of them. By the end of this internship, she hopes to have gained a better understanding of how an environmentally focused nonprofit works with federal and state agencies, local policymakers and the public. She looks forward to the day she can reflect back on her time at ICL and apply what she learned to future endeavors.
Originally from southern California, Dana moved to Boise about five years ago to attend Boise State University. She graduated in May 2018, with an undergraduate degree in health education and promotion and a minor in environmental studies. Her passion for sustainability has evolved over the last few years through her involvement with organizations such as Treefort's Green Team, the Curl Agricultural Health Lab, the beehives on BSU's campus and the Boise Urban Garden School.
Dana loves walking on the greenbelt, hiking, practicing yoga, and spending time at the beach when she is home in California. She tries to work as much as she can to save up money for traveling. Last year, Dana had the opportunity to live out of a Holden Commodore wagon with her best friend while traveling through Australia – and it was amazing!
Hannah Zimmerman, Public Lands Intern
Hannah has been interested in ICL's mission since beginning college, hoping to get involved with the organization for a while now. With her interest in public lands, Hannah knew this internship would an incredible learning experience and really rewarding. By the end of the summer, she hopes to gain a better picture of the public lands "policy world" and apply the knowledge she gains here to new experiences. She is excited for a great summer with ICL!
In high school, Hannah was involved in earth club with a few friends, where she became interested in natural sciences and bettering our planet. This led her to Boise State University, where she is finishing her senior year with a bachelor degree in environmental studies and a minor in sustainability. This past semester, Hannah took an environmental policy class that kindled her desire to get involved with policy-related work. She is now considering pursuing a master's in policy and administration or environmental biology.
In her free time, Hannah does a lot of trail running, hiking, backpacking, camping, skiing, hammocking, river dwelling, and spending time with her incredibly energetic dog, Finn.
Ryan McGoldrick, Transportation Fellow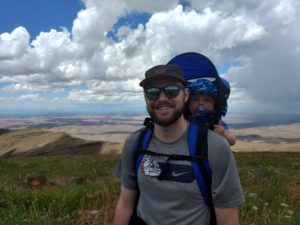 Ryan's passion for conservation was sparked by a stream restoration class in middle school and extensive time outdoors in Oregon. That passion developed into an interest in how the environmental movement can effectively communicate with communities and stakeholders to meet human needs while protecting our wild spaces. With this focus in mind, Ryan completed bachelor's degrees in environmental studies and marketing, as well as a minor in entrepreneurship, from Gonzaga University. He was drawn to ICL's outstanding public outreach and effectiveness in achieving conservation goals in Idaho.
Before beginning his fellowship with ICL, Ryan served at the American Red Cross teaching emergency preparedness education as an AmeriCorps member. He then facilitated the service of over 30 AmeriCorps members across Oregon for the Oregon State Service Corps. Additionally, Ryan has led trail maintenance efforts with at-risk youth in Oregon, worked for a cover crop startup in Washington, and served with a microfinance NGO in Guatemala. He is completing a master's degree in public administration from Boise State University.
Ryan loves hiking and camping throughout Oregon, Washington and Idaho with his wife Melinda. He's also looking forward to more trips outdoors with his one-year-old son, Theo, who will likely be an adorable disaster in his first summer of camping trips.