The Idaho Legislature hit full stride last week, with a plethora of bills, resolutions, budgets, and rules on a wide range of topics. The Governor signed the first bill into law, updating Idaho tax code in line with the Internal Revenue Service code. He's got more bills awaiting signature on his desk, and if some of the recent bad ideas wend their way to him, we hope he'll warm up his veto stamp as well? 
On conservation-related topics, we saw action related to rattlesnakes, Yellowstone Bear World, Hydrofluorocarbons (HFCs), fire suppression $$, toxic mine tailing rules, Lava Ridge wind power, dairy cows, and much, much more. See below for more details.
The legislature saw lots of debate on non-environmental topics as well: the House approved a bill related to transgender issues, the Senate Education Committee approved a private school voucher bill, the House passed a resolution in support of "Greater Idaho," and the House State Affairs Committee printed a bill that would allow lawsuits against libraries. 
But the Jaw-Drop of the Week Award (JDOTW) goes to Rep. Judy Boyle (R-Midvale) and Sen. Tammy Nichols (R-Middleton), who, with the support of the House Health and Welfare Committee, teamed up to introduce a bill seeking to criminalize the administration of Covid or other mRNA vaccines. Any nurse, doctor, pharmacist, or anyone who administered such a vaccine would face misdemeanor charges. 
You think Idaho has a doctor and nurse shortage now? You ain't seen nothin' yet. Read the bill, seeing is believing. 
There's no way I could cover it all, so without further ado, here's some of the highlights or as the case may be…lowlights.
Wildlife part 1: Bears and ligers?
In September 1995, near Lava Hot Springs, 15 lions and "ligers" (Bengal tigers crossbred with African lions) escaped from shoddy enclosures and, tragically, had to be shot. A new PBS documentary explains the story of Robert Fieber, who also previously allowed a lion to escape (also shot) near Kamiah several years before moving to Southeast Idaho. 
The issue of private wildlife facilities was also the subject of Senate Bill 1084, introduced by lobbyists from Yellowstone Bear World with the support of Senate Resources Committee Chair Sen. Van Burtenshaw (R-Terreton). 
The private facility, located in Rexburg, reportedly separates bear cubs from their mothers, offering photo opportunities and drive-thru wildlife enclosures with elk, wolves, bears, and other wildlife, and was criticized in 2022 for inhumane or inappropriate treatment of animals. Complaints filed with OSHA, US Department of Agriculture (USDA), and the Idaho Department of Fish and Game (IDFG) resulted in a notice of violation from IDFG and a warning from OSHA (with no known response from USDA). 
In response, Yellowstone Bear World is now pushing SB 1084 to cut the state out of any oversight. Lots of problems with that, including that import, export, and transport of wildlife exhibit animals in Idaho would no longer be regulated by the state, or the feds, or anyone else for that matter. That's just one of the problems. Check out the bill tracker for more info. 
Wildlife part 2: Rattlesnakes get no respect
House Speaker Rep. Mike Moyle (R-Star) and Rep. Judy Boyle (R-Midvale) teamed up to target native Western rattlesnakes in Idaho. House Bill 156 would add rattlers to the list of "Predatory Species" in Idaho, meaning that you could kill as many as you could get your hands on.
It's easy to hate on rattlesnakes, and most people appropriately give them a wide berth, but they play important roles in the ecosystem controlling hantavirus and lyme disease as well as populations of rodents and other small mammals like prairie dogs, voles, shrews, ground squirrels, small rabbits, and sometimes even other snakes. Rattlesnakes are also already dealing with another threat – there are emerging concerns that rattlesnakes in Idaho, and across the West, may be increasingly susceptible to Snake Fungal Disease. 
With a valid hunting permit, it's already legal to have up to 4 rattlesnakes (alive or dead) in your possession, so the only change is this would now allow for unlimited hunting or collection of rattlers in Idaho. Collecting live rattlesnakes could create a market for wildlife traffickers. 
Neither the IDFG nor the IDFG Commission seem to have requested this change, begging the question: Why?
Experts advise to steer clear of rattlesnakes and not to pick a fight if you do encounter one, perhaps Speaker Moyle and Rep. Boyle should heed that advice?
Allowing safer refrigerants
Remember way back in the 1980s when the world was concerned about the hole in the ozone layer? 
It was front page news for years as closing the hole became a global environmental priority. It culminated in the Montreal Protocol of 1987, and prohibitions on the use and production of  Chlorofluorocarbons (CFCs). Some good news? It's working!
The problem is that CFC replacements (known as Hydroflourocarbons, or HFCs) are one of the most potent greenhouse gasses known.
That's why the EPA is working on a rule to allow for the use of alternatives that avoid damaging greenhouse emissions and the ozone layer alike. And it's also why Rep. James Petzke (R-Meridian) introduced House Bill 141 seeking to allow for the use of safer alternatives while awaiting the adoption of the Idaho HVAC Code, which could take some time.
In other news
The budget committee, JFAC, approved $340,000 in new funding to support expanded state fire protection. Under an agreement with the US Forest Service, Bureau of Land Management, and other federal agencies, the State of Idaho is taking on responsibility for about 3 million additional acres. This includes Wildland-Urban Interface areas (near St. Maries and Coeur d'Alene, as well in Southeast Idaho) that were previously protected by the feds. Expect the state's portion of the fire bill to go up in the future, begging the question: should the state be funding more for fuels reduction and fire prevention efforts? And should the state play a more active role in promoting fire-safe home construction standards if we're paying for the firefighters to protect the homes? 
The House also passed a resolution opposing the Lava Ridge Wind Farm, in Jerome, Minidoka, and Lincoln Counties, along the Snake River Plain. There are a number of issues with the project, and although ICL shares some of the concerns, we look forward to working with state, local, and other interests to find solutions to meet our long-term renewable energy needs.
Switching gears, concerns from ICL and others were enough to give the Senate Resources Committee pause over their approval of Idaho Department of Water Resources (IDWR) rules relating to Mine Tailing Impoundment Safety. A motion to hold the rules in committee, subject to the Chair, was the one that won on Wednesday. That's a good thing, as the current reality of 200 million tons of toxic sediments perched a few miles above the Salmon River is something that should give Idahoans pause. We need to make sure that IDWR has adequate oversight authority to inspect these structures and hope to see these rules revised after this session, regardless of whether the rules are approved or not.
Down the hall, after a presentation from the Idaho Dairymen's Association to the Senate Ag Committee, Sen. Ron Taylor (D-Ketchum) asked how many more cows the Magic Valley can handle. There are currently over 1,000,000 dairy cows in Idaho, with 75+% in the Magic Valley region of South Central Idaho. Remember, each cow produces up to 150 lbs of waste per day. Managing that waste is a monumental issue. As a result, the IDA director said about 100,000 more is all they can handle. 
Many seem to be coming to the realization that there's too many dairy cows as it is, no offense to Bessie. 
Finally, House Speaker Moyle is still playing games with Administrative Rules, seeking to empower the House with the authority to strike down any rules it wants. We're still waiting to see the language of the bill, even though it was introduced last Wednesday. Paging Speaker Moyle?
What's on deck?
This week, the newly-seated Land Board will meet on Tuesday, including freshly-minted members Atty. General Raul Labrador, Sec. of State Phil McGrane, and Sup't of Public Instruction Debbie Critchfield. With the Governor chairing the Land Board, many are curious to see how well Gov. Little and AG Labrador get along on issues important to the management of Idaho's endowment lands…
We're also still awaiting introduction on several wide-ranging ESG bills that could impact state investment, public bond borrowing costs, and more. And the budget committee has started their important budget setting work with several weeks of hard work laid out ahead. 
Tie of the Week: Does it need an explanation?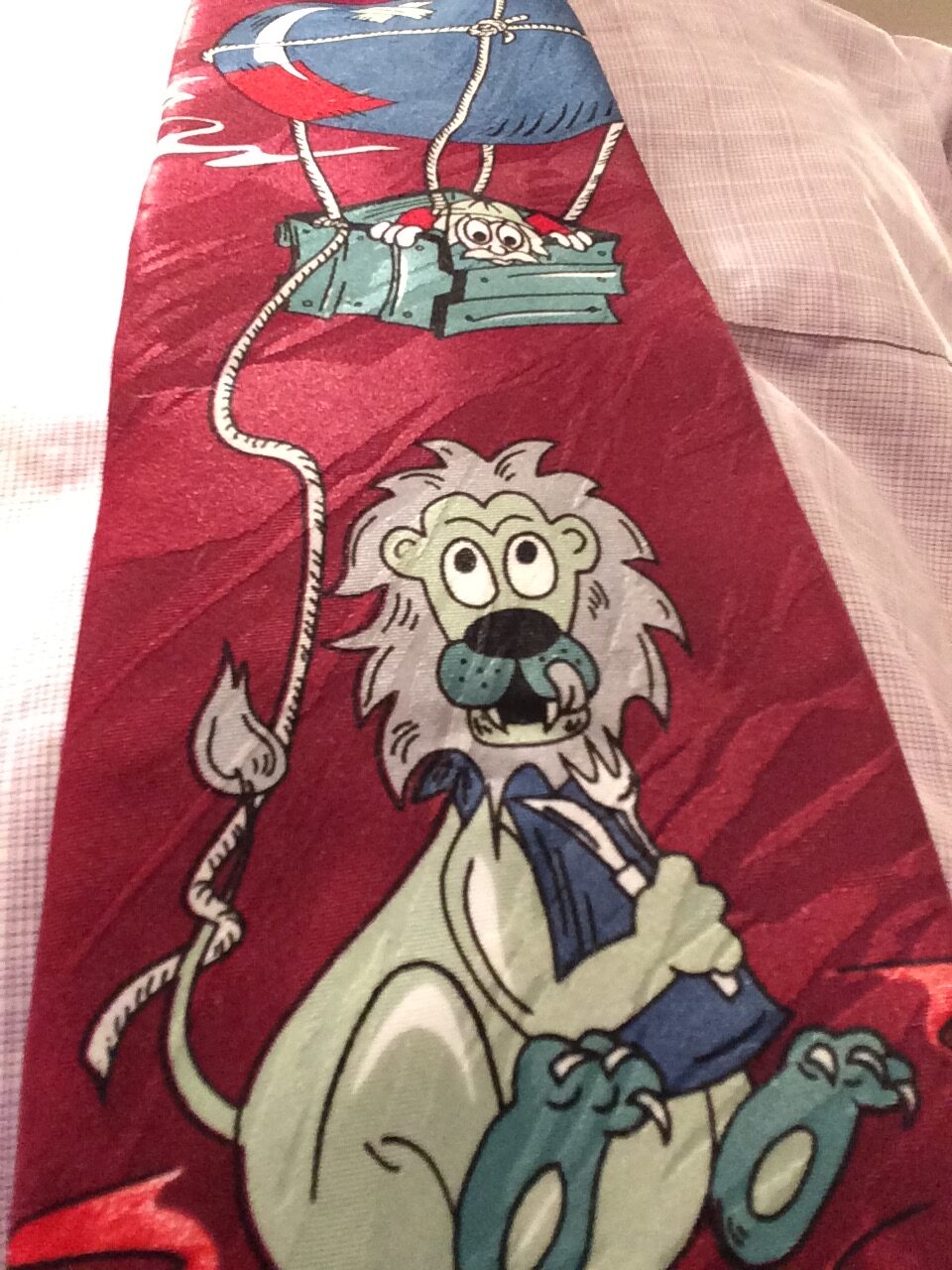 To answer your question…Yes, in fact I do have a tie for every occasion. This week's tie proves it. With the release of Ligertown from PBS and the Yellowstone Bear World bill, it was an easy choice. Plus, if you look closely you can see the hot air balloon, bridging from last week's balloon TOTW. It's the little things that make me happy! 
If it makes you happy too, consider a special gift to support ICL's 50th year in the Idaho Statehouse?! 
Until next week…Esto Perpetua