I've reported that the Idaho Legislature was slow to get off the ground this session. Not anymore! 
Last week we saw over a hundred new bills filed in both the House and Senate, including a number that are of concern to ICL. We've dubbed one of Rep. Sage Dixon's (R-Ponderay) bills the "Preventing Woke Kitchens Act." The bill seeks to preempt cities or counties from limiting new utility connections. There are no attempts to do so in Idaho, but some cities around the country have adopted regulations limiting natural gas connections in newly built homes. While many Idahoans enjoy cooking with gas stoves, there is longstanding research that shows significant public health threats from indoor gas combustion (there are steps you can take to reduce the risk). But for many communities, limiting gas connections in new residential developments avoids costly installation, maintenance, and ultimate removal of gas lines that will burden local budgets. As the transition to more efficient electric infrastructure speeds up, under-used gas lines will quite literally become 'buried costs for cities and homeowners.' If you're keeping score at home, remember 'local control' only matters in some cases.
Another triad of bad ideas (House Bills 50, 55 and 87) were introduced by Reps. Sage Dixon (R-Ponderay), Joe Palmer (R-Meridian), and Dustin Manwaring (R-Pocatello). They're seeking to preempt local decisions over transportation, limiting state funds solely for the benefit of motor vehicles (i.e. they could prevent grants for pedestrian, bike lanes, mass transit, etc.). Despite the tragic fact that four pedestrians have been killed in Ada County this year, the legislature is seeking to severely restrict the ability for local communities to make improvements to reduce congestion and improve safety as Idaho grows. Again, 'local control'? Not so much.
U.S. President Joe Biden delivered his State of the Union speech and mentioned Idaho in the same breath as climate change and energy efficiency. That wasn't an accident. He was pointing to the urgent reality of climate change, the important investments from the Inflation Reduction Act, and the need to promote renewables and energy efficiency. "The climate crisis doesn't care if you're in a red or a blue state. It's an existential threat," President Biden said. Unfortunately in Idaho, the legislature has already preempted the ability of local cities from updating their building codes to promote efficiency, and there will be forthcoming discussions to review Idaho's energy efficiency building codes after the session concludes. The important role of building codes was thrust into the global discussion as shoddy construction contributed to the tragic death toll of 28,000+ people, and disrupted the lives of millions in Turkey and Syria. What were you saying about 'local control'?
In addition to the above, we had: Chinese spy balloons, Mining and Dam safety rules (what could go wrong?), a bad Priest Lake bill, a good noxious weeds bill, a good barbed wire fence bill, two OK bills related to the Idaho Department of Lands (closures – SB 1049, and oil & gas – HB 120), consideration of the budgets for the Departments of Water Resources and Environmental Quality, presentations from Idaho mining interests, and much, much more.
Phew! Finally…thanks to those of you who've taken action. Many of you haven't. SO, if you think citizen initiatives are worth defending, PLEASE take 10 seconds to Contact Your Senator right now! (And ask your neighbor, friend, dentist, banker, and nephew to take action too!). 
Now, let's strike a match and get on with it…
Weakening standards for dams and mine tailings
The Idaho Governor and Legislature's zeal for cutting regulations sometimes gets the best of them, and they get carried away. That's our concern with important rules from the Idaho Department of Water Resources (IDWR) that help protect Idahoans from the potential collapse of a dam or mine tailings dam.
IDWR has proposed to reduce inspections at these facilities, in many cases, "at the discretion of the director." That means if they don't have funding to hire inspectors, they can allow oversight of these facilities to lapse.
For those of you who aren't familiar with mine tailings dam, check out the photo of the Thompson Creek Mine tailings impoundment below. It's massive. 200 million tons of toxic sediment stacked up behind a 600-foot high tall dam, made of sand, in a tributary that flows into the beloved Salmon River a short 6 miles downstream.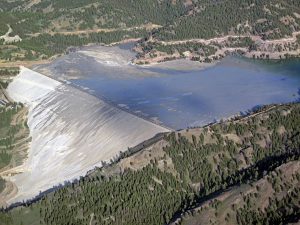 It's not only inappropriate to reduce inspections of these potentially fatal structures, it's downright dangerous. Does anyone remember the Teton Dam collapse of 1976? It killed 11 people, 16,000+ livestock, wiped the communities of Wilford and Sugar City off the map, and cost the feds over $300 million in claims… not to mention the $100 million it cost to build the dam in 1975, just one year before it collapsed.
Remember – those who don't remember history are doomed to repeat it. ICL will be testifying in the Senate Resources on Wednesday afternoon. Tune in to see how it turns out?
Preventing 'woke investing' will cost us dearly
There's lots of posturing and hot air surrounding the issue of Environmental, Social, and Governance (ESG) investing. We've seen a sneak peek at two bills anticipated for introduction next week. According to experts, they would cost Idaho taxpayers hundreds of millions of dollars if they were enacted. 
One would prohibit state deposits in banks that 'boycott' timber, mining, nuclear, agriculture, firearms, oil, gas, and hydroelectric firms. It would also provide a sweeping expansion of and new powers to the Idaho State Treasurer's office, a position that doesn't even require a high school degree, much less any accounting experience. 
The other bill would limit the ability of any public entity in the state from entering into a contract or borrowing funds from any company that engages in a 'boycott' against the same industries.
Texas passed similar changes in 2021, and it's costing their state upwards of $530 million/year in increased borrowing costs. And the Indiana Legislature is considering a bill that was estimated to cost their state retirement system (similar to Idaho's PERSI) up to $7 billion over the next decade! That's because these anti-ESG bills drive capital out of the state, reducing competition and driving up borrowing costs of municipal bonds that build things like roads, water infrastructure, fire districts, schools, and more. The bills are being pushed by Rep. Barb Ehardt (R-Idaho Falls) with the support of Idaho State Treasurer Julie Ellsworth and others.
As they begin to move forward with Idaho's attack on 'woke investing,' we hope to work with cities, counties, fire districts, bankers, industry leaders, and many others to speak out against these dangerous and costly measures.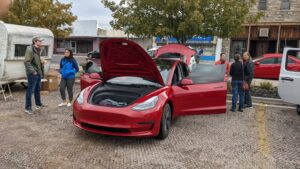 'Charging' a fair price for EVs
While other states provide incentives to encourage hybrids and electric vehicles (EVs), Idaho penalizes owners of these vehicles. Sen. Lori Den Hartog (R-Meridian) has a proposal that appears to be more fair.
Electric vehicle (EV) and plug-in hybrid owners in Idaho currently pay an additional $140 and $75, respectively. The fees are intended to offset lost gas taxes, which pay for roads, because these vehicles obviously consume less gas. The problem is that hybrid and EV owners are paying a disproportionate share relative to the impact they have on the roads. Don't take it from ICL, a 2014 INL study found that EV and hybrid owners pay about double their fair share when compared to regular gasoline vehicles, and much less than trucks when you consider their impacts on our roadways.
The new proposal from Sen. Den Hartog would give EV and plug-in hybrid owners the option to instead pay a 1¢/mile tax, capped at the existing ($140 and $65) rates. That means that EV owners would pay less if they drove fewer than 14,000 miles/year, and plug-in hybrid owners would pay less if they drove fewer than 6,500 miles/year. While this may be a more equitable approach, the State of Idaho should be looking at incentivizing low, or no, emission cars that can help protect our air, water, and pocketbooks. After all, Idaho doesn't produce any gasoline, but we sure do produce electricity.
In other news…and what's on deck?
No bills have yet to arrive on Governor Little's desk, but the House and Senate did each approve a number of measures last week that will now be shuttled between chambers. Passing the House by a razor-thin margin, the Governor's 'Idaho Launch' education initiative barely got off the ground (pun fully intended). The bill provides $8,500 grants to Idaho students for 'in-demand' job training. We also saw the House approve another bill sponsored by Rep. Megan Blanksma (R-Hammet) to unbalance the currently independent, non-partisan state auditing agency, the Office of Performance Evaluations. We'll see if the Senate can be more deliberative.
House Health and Welfare Chairman Rep. John Vanderwoude (R-Nampa) proposed a bill to roll back Medicaid expansion, just a week after the committee voted to retain the citizen-approved expansion. On the budget watch front, JFAC is supposed to wrap up with hearings next week, before the budget setting begins. But it appears they're a couple weeks behind schedule, which is likely to extend the session into April, and I ain't foolin.'
Just today (Monday, Feb. 13), we saw 37+ new bills proposed for introduction. One of the bills seeks to monkey around with Federal Stockwater Claims, an issue of concern to a whopping 11 ranchers in the state, and for which Idaho has spent over $1.6 million and is currently engaged in a lawsuit against Uncle Sam. Hold onto your checkbooks! More to come on this issue…
Remember to check out the ICL Bill Tracker to keep them all straight, and to make sure you stay in the know on all the issues that ICL is working on, from Kuna to Katka and Preston to Priest Lake. 
Tie of the Week: Up, Up, and Away!
Did I have a choice for the TOTW? We've got a Chinese spy balloon that bobbed over North Idaho (and now a new unidentified object over Alaska and another shot down over Lake Huron) dominating headlines, combustible gas bills, a propane tanker truck crash, and plenty of hot air circulating in the Idaho Statehouse. Here's to hoping we'll be a little more grounded this week. Wishful thinking? Probably… 
Until next week…Esto Perpetua,
Jonathan