The House and Senate both took a much needed time out last week. But it wasn't because they'd been naughty. (They have been).
After first entering the Idaho Statehouse as a fresh-faced representative from Wilder in 1965 (more than 21,000 days before), former Idaho Governor Phill Batt graced the Statehouse Rotunda for one final visit. 
He died on his 96th birthday. Idaho Day fittingly. And presciently, a day that Gov. Brad Little had proclaimed March 4, 2023 as Phil Batt Old Geezer Tightwad Day in anticipation of celebrating his 96th birthday. The party still happened, but was obviously a bit more somber on the day of Phil's passing.
On Thursday, former Senator Cherie Buckner-Webb (D-Boise) opened it up below the Statehouse Dome with an invocation, followed by others, including all four living Governors, who each in turn were choked up as they honored and remembered Phil for his grit, humor, music, passions, commitment to human rights, friendship and leadership skills. The ceremony lasted an hour, concluding with a tender violin solo filling and echoing across the rotunda as dignitaries, citizens, and friends remembered amongst the marbled pillars. 
As four uniformed officers stood guard he lay in state for 24 hours, his wife Francee sat discreetly in a corner, in loving vigil for a man that so many loved, and one who devoted a life in service to the State of Idaho. 
The obligatory pause didn't help the legislature get its work done though.
The Legislature's "pretend" target adjournment date is scheduled for March 24. The likelihood of things being wrapped up appears to be pretty close to Zero.
Part of the reason is that it's the hostage-taking portion of the Idaho legislative session.
The House is holding up Senate bills, trying to get the Senate to advance House bills, and the budget-setting committee is holding up the Governor's funding requests over concerns he may veto some of their priorities. The Senate is holding House bills hostage, because they think they're a distraction.
It's like a vicious love/hate triangle, except there are 106 different egos and angles (70 Reps+35 Sens+One Gov).
Despite the fact that the "Bill Introduction Deadline" was on Feb. 13, there were dozens of bills introduced last week, with still more to come this week.
So without further ado, here's the other 'haps from the week.
Citizen Initiative Attack and Anti-Tree Bills "Held" 
When a committee hears a bill, they have a handful of options. They can:
Pass the Bill (with or without a "Do Pass" Recommendation),

Send the Bill to the "Amending Order" to make changes,

Hold the Bill in Committee, to kill it, or

Hold the Bill in Committee, at the "Call of the Chair."
Option #4 is what happened to the Attack on Citizens' Initiative and the Anti-Tree measure we call the Billboard Protection Act. They were both "Held at the Call of the Chair" last week. That's a good thing, because they're both bad ideas.
But what does it mean, at the call of the "Chair"?
It means that the Chair of the relevant Committee can bring the bill back up for consideration on a whim. Usually it means that the bill is dead for the session, but not always.
The read on Senate Joint Resolution 101 is that it is still very much alive, it's just being held hostage by House State Affairs Chairman Brent Crane (R-Nampa). Because the proposed constitutional amendment emanated from the Senate, he's trying to use it as leverage to get the Senate State Affairs Committee to hear some of the ~14 bills that came from his committee, have passed the House, yet haven't been scheduled for a hearing in the Senate.
We'll see how the battle plays out, and whether Senate State Affairs Committee Chair Jim Guthrie (R-Inkom) gives a hearing to some of Chairman Crane's other priorities such as: restricting voting rights, seizing control of streets around the Capitol, a bill encouraging the Treasurer to invest in gold/silver bullion, silent prayer in schools, Anti-ESG investing (what is ESG?), Administrative Rules, abortion, drag shows, TikTok, and expanding Idaho into the State of Oregon. To name a few.
Bottom line is just like the Governor said, "if things go off the rails, don't make any June plans."
Bad Wildlife Bills Advance
An anti-rattlesnake bill is up for a hearing in the Idaho Senate Resources Committee on Wednesday, March 15 at 1 p.m. The bill proposes to allow unlimited killing of native rattlesnakes, and ICL opposes it. 
According to the state's preeminent experts on Western Timber and Prairie Rattlesnakes, "Based on decades of rattlesnake studies in Idaho, we oppose this bill to reclassify rattlesnakes because it is unnecessary and will have unintended, negative consequences."
While the majority of rational Idahoans try to avoid rattlesnakes when at work or play, these species are native to Idaho, and play an important role in our ecosystem. Rattlesnakes help keep populations in check by preying upon small rodents and mammals that can carry disease and act primarily in self-defense against larger mammals (like humans and dogs).
The second bad wildlife bill is one from Yellowstone Bear World, which finally passed the Senate after being hung up for a couple weeks. The private zoo facility near Rexburg has been criticized for treatment of animals and complaints were filed in 2022 with several agencies including the Occupational and Safety Administration (OSHA), US Department of Agriculture (USDA), and the Idaho Department of Fish and Game (IDFG). In past instances, animals have escaped from the facility and were killed.
In response to the 2022 allegations of mistreatment of wildlife and employee safety, OSHA opened an investigation that just wrapped up with ~$9,000 in fines, and it's unclear whether a USDA investigation may be underway. IDFG issued a notice of Violation related to "feeding of wildlife," and now Yellowstone Bear World is one step closer to exempting their facility, and several other Idaho private wildlife menageries, from state regulation.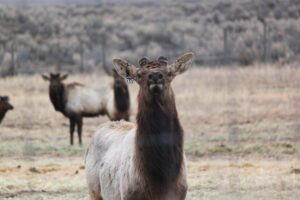 If passed, the bill would eliminate oversight of import, export, propagation, bonding, and transport of any wildlife species that may be kept at these private zoos (with the exception of deer and elk). Species in these "zoos" could include wolves, bears, mountain lions, snakes, and others that can threaten public safety, native wildlife, spread disease, and pollute wildlife genetics if they escape. Plus, without local oversight, we could see a repeat of the Ligertown disaster in Lava Hot Springs in 1995. Local authorities didn't know how many animals were there, how many escaped, and didn't have any emergency bond to cover local costs. We changed the rules after that incident, and now another facility is trying to remove those rules altogether.  
The measure now moves to the House for consideration, and we encourage you to contact your legislators and ask them to vote NO on SB 1084.
Unwinding a 2018 Building Code Deal
House Bill 287, sponsored by Rep. Joe Palmer (R-Meridian), was introduced last week and was up for a hearing this afternoon, Monday, in the House Business Committee. It would remove the "legacy clause" that resulted from a deal crafted in 2018 that preempted local adoption of Building Codes while preserving the updated codes that had already been adopted in several cities and counties across Idaho.
The bill goes beyond just Building Codes though, and appears to prevent any "energy-related…ordinance, process, or regulation." This could eliminate the ability to implement incentive programs, or to adopt energy saving practices in city-owned buildings.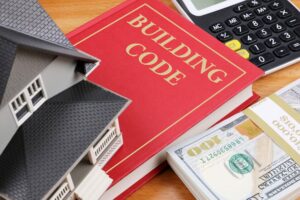 Building codes are critical because they ensure that homes are built to last and are affordable to operate. Consumers rely on building codes – once a home is built, it's difficult to replace infrastructure such as heating/cooling, windows, insulation, and ducts.
In 2018, the state of Idaho adopted statewide building codes while restricting the ability of local communities to adopt stronger codes. Since then, the Building Contractors Association has consistently moved to block or impede statewide code updates.
This move will abolish local codes that are currently in place in Boise, Wood River Valley, Ammon, and other communities across the state. These codes have been strongly endorsed by stakeholders who know that conserving energy and minimizing wasteful practices is clearly in everyone's best interest.
After all, Idaho's homes consume 21% of Idaho's energy. By improving efficiency, we can conserve energy, protect air quality, and save homeowners money.
You're getting your money's worth with ICL
ICL is bringing your voice to the Capitol. Last week was one of the most active (and challenging) that I can recall.
With so many different balls in the air, juggling all the hearings, new bill introductions, meetings, and testimonies can be a challenge.
But ICL is there, speaking truths in a building where truth is not always dominant.
On Thursday alone, ICL testified before three different committees. By my count we testified at least seven times during the entire week, and we're testifying three times again today! We're speaking out in support of water quality, wildlife, citizen initiative rights, clean energy, and dinosaurs (see below). We don't always win. But we speak truth to power, we're in the arena, and it's an unfortunate fact that in many cases if ICL doesn't speak out against these misguided laws, no one will.
For 8 years, I've served as the lobbyist for ICL, and have been well supported this session by my Legislative Fellow Jacob Bernal, who's off to pursue an Environmental Science Graduate Degree at Washington State University next fall. Other program, engagement, communications, marketing, and administration staff help us out, reviewing bills, and pinch hit when we have two or three committees at once (Thank you Marie, Jennifer, Will, Mitch, and others!), but it's a lean, mean operation.
If you don't already support the work of ICL, and you enjoy getting these updates on what's happening Unda Da Rotunda, throw us a bone, would ya?
Become a member today and help support our work in the Idaho Statehouse, and help us reach our goal of 1,000 new members as we celebrate ICL's 50 years of accomplishments! Trust me, we've got our work cut out for us in the coming 50 years too!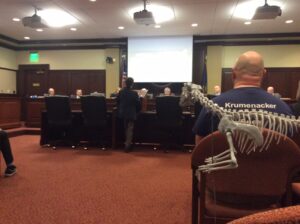 In other news
The fourth graders or Mr. Joel Walton's class at Ucon Elementary School in Idaho Falls impressed the Senate State Affairs Committee on Friday morning, testifying in support of the designation of the Oryctodromeus as Idaho's State Dinosaur. Paleontologists and other students also joined in with ICL to support the bill, including Levi Herway, another fourth grader from Edgemont Gardens Elementary (also in IF). The bill is sponsored by Sen. Kevin Cook (R-Idaho Falls) and would add the unique burrowing and young-rearing dinosaur to the list of 16 other state symbols such as the Huckleberry, Westslope Cutthroat Trout, and Idaho Giant Salamander to recognize our unique cultural, historic, and ecological heritage as a state. Kudos to all the students for their hard work to make this happen!
Rep. Judy Boyle (R-Midvale) introduced House Joint Memorial 4, a non-binding memorial in opposition to the EPA's 2023 Water Quality Standards Revision Rule that aims to revise water quality standards as they relate to Tribal Nations.
Among other things, the Memorial raises an interesting criticism by questioning the validity of "Indian treaties approved in the 19th century." It is worth noting that our elected officials swore an oath to uphold the U.S. and Idaho Constitutions, both of which were ratified a long time ago (in 1788 and 1889 respectively). We testified against the measure today.
We'll also testify on another non-binding House Joint Memorial (HJM 3), which seeks to have you and I pay for private legal fees for two ranchers. Idaho taxpayers have already spent over $1.625 million to increase funding to process "stockwater claims" (when cows walk into streams and drink), and now the Attorney General is defending the state in a lawsuit from the U.S. Dept. of Justice ($$$), and the Legislature also intervened with private lawyers making somewhere around $500/hour ($$$).
An additional ~$265,000 is included in the FY2024 state budget ($$$) to process these, and of the total 18,000 claims that could have been filed, only 11 ranchers have filed a grand total of 254 claims. Now Rep. Boyle wants us to use more taxpayer dollars to pay the legal fees for ranchers in a lawsuit that ended in 2007. Go figure.
Finally, this morning, ICL was again the only voice of opposition to HB 191, which seeks to prohibit Environmental, Social, and Governance (what is ESG?) considerations in the award of any state contract valued >$100,000. According to the sponsor, Senate Majority Leader Sen. Kelly Anthon (R-Burley), the bill would supposedly maintain the status quo, begging the obvious question: then why change the law? ICL testified to the inaccuracy of the fiscal analysis of the bill, along with unintended consequences.
Tie of the Week: I couldn't choose
I had several contenders this week, and for the first time ever bring you the (drumroll, please) Ties of the Week!!! With both the Constitutional Initiative and the Anti-Tree Billboard Bills being held in committee, I couldn't decide, so let's consider it a draw. Or perhaps more appropriately, a tie! 
Don't forget to tip your servers and bartenders, I'll be here all week (literally).
Until next week…Esto Perpetua,
Jonathan