Ken Johnson and Annalisa DeMarta are co-founders of Ridgeline Insights (formerly known as Lone Cone), a Boise-based ecommerce and marketing business founded in 2008 that works with various outdoor industry brands. In addition to being multi-year recipients of Outside Magazine's Top 50 Best Places to Work in the U.S., Ridgeline Insights is a champion-level business member with the Idaho Conservation League – showing their dedication to protecting Idaho's wild spaces.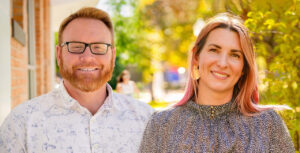 After moving back to Idaho from upstate New York in 2008, Ken and Annalisa were looking to get involved in advocacy for Idaho's public lands. "Growing up in Idaho, public lands access was important for everybody," Ken shares. "We're all part of this great state and are blessed to recreate on rivers, on trails, with hunting and fishing, or just watching the sunset from a favorite campground. These lands are for all of us and it is critical to preserve them for all future generations."
With this passion for public lands and a business of their own, Ken and Annalisa connected with ICL staff about ICL's mission and vision. "ICL knows they need to work with the business community to be successful – as a business owner, I respect that, and I also know that the business community needs ICL to help protect our quality of life" Ken says. "As a person who loves access to wild places, I love seeing the impacts of ICL's advocacy."
As an ICL business member, Ridgeline Insights demonstrates to customers and employees that they care about Idaho's special places and the experiences they hold. "The landscapes are incredible," Ken says. "We have access to great skiing and backpacking. The fishing and hunting are out of this world. You have everything a person needs in this state. I can't imagine wanting to live anywhere else."
To learn more about supporting Idaho's wild spaces by becoming an ICL Business Member, click here.