Each spring more than 100 members, staff and supporters of Idaho Conservation League gather together at Redfish Lake Lodge near Stanley, ID, for our annual conference and membership business meeting,  Wild Idaho!  For decades this fun and educational weekend event has been something special to look forward to – and this year was no exception!
A Weekend Packed Full of Info and Activities  
Highlights included celebrating the new Central Idaho Dark Sky designation and learning constellations with Dr. Pauley (aka Dr. Dark) and astronomer Matt Benjamin, and connecting with friends – new and old – in the lodge Friday night.
On Saturday morning, Rick Johnson recapped ICL's challenges and successes over the past year, called the business meeting to order and introduced incoming board members. Steve Welch with ARTA shared his passion for connecting people to wild and scenic rivers.
Daniel Stone showed us how the Shoshone-Bannock Tribes are engaging in salmon recovery efforts so they can continue their traditions. (You can take action now to help the salmon.)
With the inspirational help of Connie Myers, director of the Arthur Carhart National Wilderness Training Center, we reaffirmed our resolve as "guardians of freedom" to speak truth to power, to share our stories and to continue our work on wild and scenic rivers and wilderness.
Presentations by ICL program staff emphasized the interrelated nature of our work on transportation, public health and climate change. (You can  take action now on these issues.)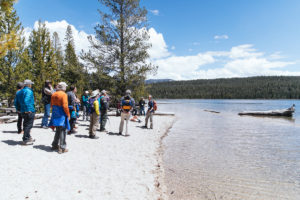 Awards and Auctions
On Saturday afternoon, many of us enjoyed field trips, conversation with ICL staff, or some quiet time. The awards ceremony that evening highlighted the conservation careers of Dr. Stephen Pauley and Sandy Compton of Friends of Scotchman Peak.
The live auction, led by ICL's Jonathan Oppenheimer and accompanied by the pink coat dancer and the Redfish Lake swim team, was a fantastic convergence of entertainment and philanthropy. We are deeply thankful for the remarkable number of generous gifts to support our work. This year the silent and live auctions, including the pink coat and "Jump in the Lake" raised over $64,000! Thank you!
On Sunday, we were amazed and impressed with the talent and dedication of folks engaged in ICL's  Emerging Leaders for Idaho's Environment (ELIE) program and plan to share more of their work in the future.
The Women and Wilderness panel featured several amazing women who are breaking stereotypes and drew attention to work that still needs to be done regarding inclusion and openness in our society.
Our final panels reviewed the good, the bad and the ugly in the various political arenas and closed with a hopeful vision regarding Scotchman Peaks Wilderness.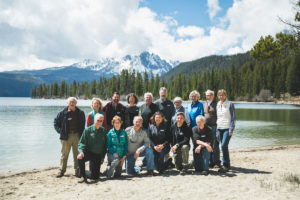 We Hope to See You Next Year
It was an incredible honor to spend the weekend with the remarkable people like you who make up the Idaho Conservation League. Thank you to all who came. We looking forward to next year!