When it comes to fighting for environmental justice, youth-led grassroots movements are often at the forefront. Oftentimes, however, their passion and drive to make a difference are hindered by a lack of resources and support. This is where the Green Backs Mini-Grant Program comes in. 
The Green Backs Mini-Grant Program was established to provide funding to support and develop high school organizing for climate justice in the Treasure Valley area. This program aims to remove the monetary barrier that often hinders youth-led projects and programs, ensuring that young activists have the funds they need to organize and execute events, support their members, create promotional materials, and more.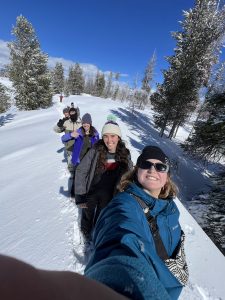 This year, the Green Backs Mini-Grant Program awarded grants to Timberline High School's TREE Club and Borah High School's Green Team. Thanks to this funding, these youth-led groups were able to accomplish some amazing things over the course of the school year. 
Michel Liao, a member of the TREE Club, shared the impact that the grant had on their organization: "TREE Club used the funds provided by ICL to go on a trip to the Buffalo Field Campaign's headquarters and help them track bison. We also held the fifth annual Student Voices event, which featured 12 youth speakers ranging from elementary to high school, talking about their hopes for a better, more sustainable future. The rest of the funds will go to next academic year's projects!" 
The experiences made possible by this funding undoubtedly enriched the knowledge and understanding of conservation efforts for these youth advocates, while allowing them to explore their own unique youth perspective and advocate for what they care about.
The Borah High School Green Team also used the grant to support their own projects and initiatives. Maya Mazariegos, president of Green Team, shares: "The grant money was monumental in enabling our club to do activities that helped us spread our environmental message around Borah." Green Team used these funds to support their Earth-week inspired spirit week, complete with conservation activities, a climate themed art show, and interactive dress-up days such as "Make-It Monday" – where students made patches for their clothes out of thrifted denim – and "Thrifted Thursday."
With funding support, Borah High School's Green Team also created a segment for the weekly video announcements that featured tips for environmental sustainability. Extra funds went to purchasing plants for the Borah Carbon Sequestration Community Garden, which members of the Green Team maintain. This group is dedicated to promoting sustainable practices and protecting the environment, and the grant allowed them to expand their efforts and engage more members in their mission.
The Green Backs Mini-Grant Program is a crucial step in making funds more accessible to youth-led groups, ensuring that their voices are heard and that they have the resources they need to make a meaningful impact in their communities.