Editor's note: This guest blog is provided by  Idaho author and photographer Matt Leidecker. Idaho Conservation League is a sponsor of his new guidebook.
In June of 2014, as the debate over wilderness vs. national monument designation for the Boulder-White Clouds heated up, Matt Leidecker and his family drove to the end of the East Fork of the Salmon River Road to begin a summer of research for a new guidebook to the region. They were greeted with a spectacular panorama of rugged, snow-capped peaks that form the backside of the Boulder Mountain Front that parallels Hwy 75 in the Big Wood River drainage.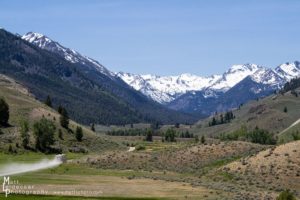 This would be Leidecker's third guidebook in a series that covers the entire Sawtooth National Recreation Area and surrounding mountains. His previous hiking guides include  Exploring Sun Valley, and Exploring the Sawtooths.

Throughout 2014 and into 2015, local communities and the national press engaged in a vigorous debate over the merits of, and how to best protect the Boulder-White Clouds. Finally, on Aug 7, 2015, President Obama signed HR 1138 establishing three new wilderness areas that protect the core of the Boulder-White Clouds.
The new White Clouds, Hemingway-Boulder, and Jerry Peak wilderness areas encompass a stunning region of high peaks, alpine lakes, forested ridgelines and rolling, open sagebrush-steppe landscape. Combined, they  support a wide array of wildlife from large ungulates like bighorn sheep, mule deer, elk and mountain goats to rare species like wolverine, lynx and mountain lions. A  complex and varied geology that supported significant mining in early 20th century underlies the mountains. Rivers draining the peaks provide the highest altitude salmon and steelhead habitat in the U.S.
Leidecker's 2014 research was a systematic effort to cover every mile of trail (and many more miles off-trail) in the Boulder-White Clouds. Leidecker's wife Christine and children Sarah and Max joined him on several adventures in 2014. All told, he covered 526 miles and more than 127,000 vertical feet on foot and mountain bike over 50 days of research.
"The Boulder-White Clouds offer more variety than the better-known Sawtooth Mountains to the west," said Leidecker, "You have a core of granite basins and high alpine lakes similar to the Sawtooths. But, there are also several rugged sedimentary canyons that offer opportunities for true wilderness solitude. The rolling volcanic sage-steppe landscape in the Jerry Peak Wilderness was a highlight during my research."
With his guidebooks, Leidecker seeks to provide a big picture perspective of the landscape covering every road and trail rather than just focusing on a few select hikes. His research is exhaustive and offers meticulous detail in both his descriptions and maps. The guides include information on the geology as well as a mini-guide to common wildflowers. The books are printed on durable waterproof paper.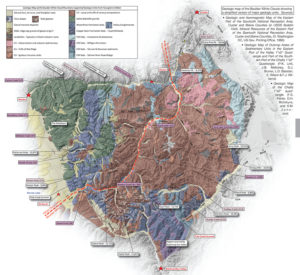 Leidecker recently launched a Kickstarter campaign to raise money through pre-orders of the guidebook and other rewards. This will be his fourth time raising funds through the online crowdfunding platform.
"Printing on the waterproof paper adds a significant upfront cost, so I try to recoup some of that through presales and by offering other unique rewards through the Kickstarter interface."
Besides the books, Leidecker's Kickstarter backers can choose from other rewards including a custom designed t-shirt, wilderness note cards, wall maps, photography book, and fine-art photographs. The Kickstarter campaign  will run through June 17, after which the guide will be available online  and in stores throughout southern Idaho.
ICL has been a supporter of Leidecker's work from the beginning, adopting the highly visible cover sponsorship and inside layout of the guide. Matt will donate 10% of all ICL orders back to the conservation organization. There is a specific ICL Kickstarter reward, but if you choose a different combo reward, send a follow-up message to Matt and he will track the contributions on the back end.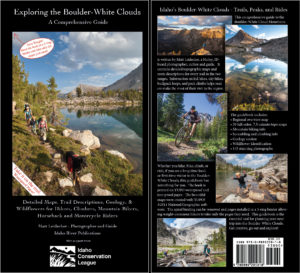 Visit the  kickstarter campaign here.