I'll admit the first time I stood up to speak in front of my guests about Idaho's salmon and steelhead this summer, I was a bit nervous. Sure, at this point in my career, I've done hundreds of interpretive talks — but this one felt different.
Every day as an Idaho guide I strive my best to teach guests about my favorite parts of Idaho. On my boat every day, all summer, I talk to guests about the indigenous cultures who used to inhabit these spaces and what the great grandchildren of these cultures are doing now to protect these beautiful places. I talk about homesteaders, miners, trappers, and mountain hermits. I give a brief history on how guides and outfitters came to be in Idaho and where the industry is heading now.
At least a couple times a week I will do this in a more formal way, too. We will all stop as a group to look at historical sites. I put my best teaching voice on while looking at pictographs and hunting blinds, checking out old cabin remains, or peeking into old mining sites.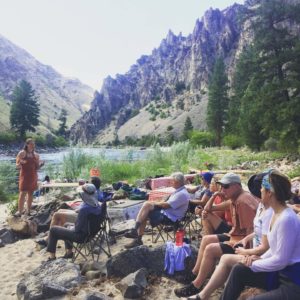 However, standing in front of guests near the banks of the pristine Middle Fork of the Salmon, preparing to talk about salmon and steelhead filled me up with butterflies. Something about this conversation felt a lot bigger this summer.
Why?
Because as Idaho Conservation League's Guide Liaison, I understand that salmon and steelhead are heading toward extinction at a dangerously fast rate. We could lose these important native fish in a generation if we don't take bold action soon.
We are already getting reports back that our Sockeye returns are the lowest they've been in over a decade. Outfitters and guides who facilitate steelhead fishing trips in the fall, winter, and spring are already holding their breath. These iconic fish not only mean jobs and careers for my community, but they are also a huge part of our identity. 
The reason I was feeling nervous had nothing to do with my knowledge or passion for salmon and steelhead, but everything to do with the politics surrounding them. Saving Idaho's salmon and steelhead can be controversial and I wanted to do my best at educating people on the nuances of this issue, without alienating them. 
Despite my fears, I stood up and asked my guests to imagine what abundance would look like in this pristine habitat. What if every time they waded out into the river to fish or play with their children they were bombarded by a robust and healthy salmon population? What if during certain parts of the year they could hear them splashing and spawning at night? What would those numbers look like?
I continue the talk and discuss efforts that have been made in the past. Hatcheries, habitat restoration, and improvements to hydropower systems. I let them know that over $16 billion has been spent with no real effect on recovery rates, and that certain powerhouse politicians in Idaho are growing tired of the status quo. I let them know that Gov. Brad Little has committed to a salmon and steelhead recovery workgroup. We talk about how the Bonneville Power Administration's financial crisis may be an opportunity to combine regional efforts towards affordable, reliable and clean energy as well as healthy restoration numbers.
I end the talk by asking my guests if they can guess why this river is named the Salmon. I ask if they have ever seen a salmon on this stretch of water — to which 99% of them unfortunately answer no. I then ask them if that feels strange, now knowing the history of what used to be and the ecological importance of the presence of Idaho's fish. Finally, I ask that they keep an eye on the news in the coming months. That if they care about this issue — regardless of their political leaning — they'll talk to their friends, neighbors, and politicians when they return home. 
I remind them that this issue affects all Idahoans, and that if we work together, we can find solutions to help get our iconic salmon and steelhead back.
I am not making these efforts alone.
Earlier this year, ICL supported efforts to educate outfitters and guides across Idaho on the current state of salmon and steelhead. I am just one of many guides talking to our guests about how important salmon and steelhead restoration in Idaho truly is. Each guide brings their own expertise to the issue and is helping educate people one river trip at a time. 
If you know an Idaho guide, especially one who is passionate about salmon and steelhead issues in Idaho, let them know how to apply for our 2019-2020 Conservation Fellow Position. Applications are due September 30.