The White Cloud Mountains are a jewel of central Idaho and testament to the state's reputation for having beautiful, wild spaces. Like many of Idaho's mountain ranges, the White Clouds are home to stunning alpine lakes tucked between ridges, peaks that climb into the sky, and a variety of creatures big and small. While the beauty of the White Clouds is well-known, deep in the heart of the mountains lies a lesser known story – a piece of Idaho's Black history.
Blackmon Peak, also known as Blackman Peak, climbs over 10,000 feet above sea level in the White Clouds. Located in the Sawtooth National Recreation Area in the Cecil D. Andrus White Clouds Wilderness, the peak's name pays tribute to George Washington Blackmon, a Black mining pioneer who came to Idaho in the late 1870s. While mining has had many negative impacts in Idaho's wild spaces, the state's history with mining runs deep.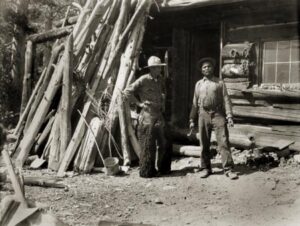 Blackmon was born into slavery in Kentucky in the 1850s. Years later, he ventured west to find financial success. He came to Idaho in the late 1870s, working claims in the Fourth of July Creek area with just a mule and a pick axe. He was said to still be mining into the 1930s. According to an edition of The Challis Messenger in 1936, George Blackmon died in April of that year. Articles and books mentioning Blackmon say he was known for making friends wherever he went, and that he was loved and respected by those who knew him. The naming of Blackmon Peak is evidence of the impact he had and life he built.
Blackmon Peak is just one of many features named after Blackmon. He is also the namesake for Washington Creek, Washington Lake, Washington Basin, and Washington Peak. These namesakes show how although Idaho's Black population has always been small, its presence was acknowledged early on in our state's history.
Black people were among the earlier explorers, trappers, miners and homesteaders who journeyed west for a new life in the mid and late 1800s. Many made their homes in territories that eventually became Idaho.
According to Phillip Thompson, executive director of Idaho's Black History Museum, Black Americans were able to come to Idaho and thrive because of homesteading, an opportunity that was not allowed in many other places across the country. Today, the state's Black percentage of the total population is less than one percent.
On your next hike into the White Clouds Wilderness, we encourage you to take a moment to remember the stories of Black pioneers like Blackmon, and how they live on in Idaho's landscape. 
To learn more about Idaho's public lands, sign up for our Public Lands Campaign email updates.