This is the first in a series of weekly blogs about Idaho's salmon and steelhead. This week I'm going to set the stage for our weekly salmon blogs with a brief introduction about Idaho's salmon and steelhead, their migratory path to the ocean and the dams that stand in their way.
Salmon and steelhead are born in rivers and streams and spend part of their life in the ocean (making them anadromous fish). The principal species in Idaho are chinook salmon, sockeye salmon, coho salmon and steelhead (an ocean-going rainbow trout). Idaho's original coho population went extinct and was later reintroduced by the Nez Perce Tribe.
[row][column md="3″]

Sockeye Salmon[/column][column md="3″]

Coho Salmon[/column][column md="3″]

Chinook Salmon[/column][column md="3″]

Steelhead[/column][/row]
Illustrations by Joseph Tomelleri
The map below illustrates the distribution of salmon and steelhead in the Snake River basin. As juveniles (or "smolts"), Idaho salmon and steelhead travel down the Snake River and the lower Columbia River to get to the Pacific Ocean. They follow the same pathway in reverse when they return to Idaho to spawn. This pathway is riddled with hurdles that include four dams on the lower Snake River (Lower Granite, Little Goose, Lower Monumental and Ice Harbor) and four dams on the lower Columbia River (McNary, John Day, The Dalles and Bonneville).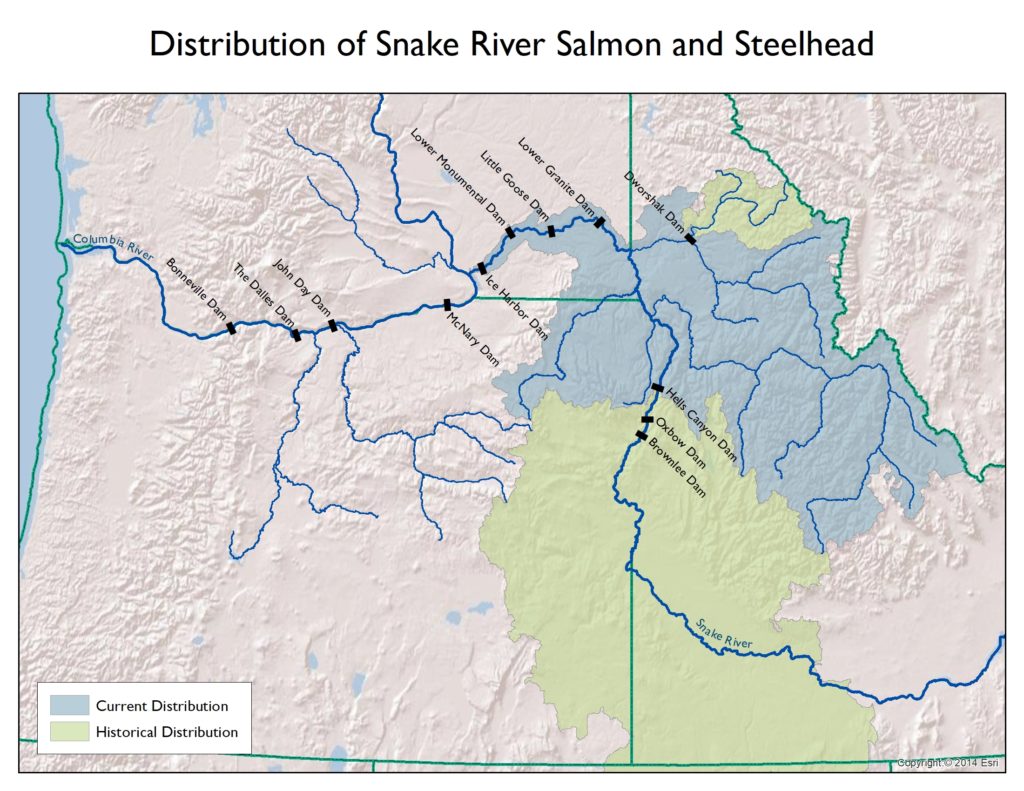 Within Idaho, salmon and steelhead were historically found in the Clearwater River, Salmon River, lower Snake River and mid Snake River basins. Habitat in the mid Snake was blocked by the construction of the Hells Canyon dams (Hells Canyon, Oxbow and Brownlee) in the late 1950s and early 1960s. Habitat in the North Fork Clearwater River was blocked by the construction of Dworshak Dam in 1973. There are no fish ladders at these facilities.
Next week we will take a look at how well Snake River basin salmon and steelhead are fairing.