The 4.2 million acre Salmon-Challis National Forest is rich in history and natural resources. The Salmon-Challis is one of the largest national forests in the country with an immense amount of unroaded, wild lands that support an immeasurable number of recreational opportunities. The Salmon-Challis National Forest also provides habitat for numerous plants and wildlife species, as well as plays a key role in the water needs of the region. To celebrate the importance of the Salmon-Challis National Forest, ICL will be publishing a blog series celebrating this vital land and the opportunities provided within.
Blog by Sam Linnet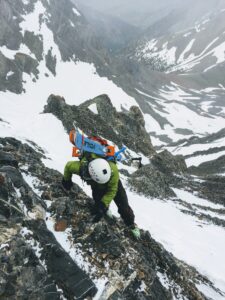 In late 2016, I started scheming about skiing all seven 12,000' peaks in the Lost River Range in the Salmon-Challis National Forest. Earlier that summer, three friends had successfully completed the fastest-known-time run of Idaho's 12,000 foot peaks. The Lost River Range made up the majority of their trip – they ran and scrambled continuously from Borah Peak to Lost River Peak in less than 24 hours. While I do love running, I love skiing more. So after hearing more about their adventure, I wondered what it would be like to ski all of the 12,000' peaks in the Lost River Range.
I quickly found out that there was almost no information about skiing in the Lost River Range. Due in large part to the jagged peaks, avalanche risks, and route complications that result from having a season's worth of snow blanket a mountain range – traversing the Lost Rivers was going to involve a lot more distance and climbing than just scrambling along the ridgetops like my friends had in the summer. Plus, I wanted to ski off of each peak. What's the point of climbing up if you don't ski down?
In 2017, I applied for and received a Live Your Dream grant from the American Alpine Club to establish a ski traverse in the Lost River Range. My skiing partner Jon "JP" Preuss and I scouted as much as we could, and set out in June 2017 to climb and ski all seven 12,000' peaks in the Lost River Range. It was a record snowfall year in the Lost River Range, and there was still plenty of snow coming late in the season. We started with Borah, hiking up the standard climber route in our ski boots with 45lb packs and skis on our backs. We rappelled off of the summit to ski a large open face on the Pahsimeroi side of the mountain that brought us into the large, unnamed drainage between Borah Peak and Sacajawea Peak. This took most of the day, putting us behind schedule. 
The rest of the trip was a grueling slog but the brief moments of accomplishment, fun, and beauty kept us going. Every peak presented a new challenge. Some peaks, like Mount Idaho, had established routes on the way up (the infamous North Couloir), but to our knowledge no one had ever skied the southeast face to get us to our next peak: Leatherman. On our descent, we regrettably picked the wrong couloir to descend, forcing us to hike back up to find an alternate route that didn't end in a 200' cliff. We traded in fear and worry for accomplishment and stoke when we skied out into the long valley connecting us to the West Fork of the Pahsimeroi River. 
On our final night, we made it to the basin below Mount Church and Donaldson. We did the math. We still had four peaks (Church, Donaldson, Breitenbach, and Lost River Peak) left with only one day to do it. We immediately scratched our plans to properly ski off of Church and Breitenbach – allowing us to link ridges between Church and Donaldson and Breitenbach and Lost River, which we hoped would get us to the truck by the end of the following day. 
The next day remains one of the hardest I've ever had to face in the mountains, and I have met my share of challenges since this trip. Without warning, a storm blew in after we skied off Donaldson Peak and were on our way to climb Breitenbach. We summited Breitenbach, ecstatic to only have one peak left. That's when I noticed a loud buzzing sound…
I had never been at 12,000 feet in a lightning storm. So, my first question to JP was, "What's that buzzing sound?" It was our ice axes, skis, crampons, and assorted pieces of metal vibrating from the electrical charge in the air. "Run!" yelled JP, and we descended the south ridge of Breitenbach. We tossed our packs and everything metal to the ground at the low point of the ridge, and bailed off the side to lose elevation and find shelter. We hid behind the largest rock outcropping we could find and waited. 
The storm cell passed after thirty minutes, and we decided the fastest way out of the mountains to safety was to finish the ridge traverse to Lost River Peak and get to the truck. For the next six hours, we navigated a ridge, which neither of us had ever been on, in a total whiteout. After a few wrong turns, we eventually made it down Lost River Peak. Unfortunately, another wrong turn led us to the small drainage that meets up with Upper Cedar Creek, which is way off route and consists primarily of a narrow creek bottom with no clear trail. It had snowed six inches that day and every bush, tree, and blade of grass was covered in wet, June snow. When we arrived at the truck, it was midnight, we were soaking wet, and out of food. We stripped out of our drenched gear, put on a few random but dry pieces of clothing, and drove home. Challenged, humbled and filled with gratitude for this amazing landscape.
Since 2017, JP and I have attempted the Lost River Traverse two more times. We switched direction so that now we climb and ski south to north. We also recently added the goal to climb and ski all of Idaho's 12,000' peaks, which includes Diamond Peak in the Lemhis and Hyndman Peak in the Pioneers. We have not yet completed this new adventure and have faced challenging conditions. In 2019, we had a close call with an avalanche that ended our trip (thankfully without injury) and since then, snow conditions have been less than ideal to take on such a big feat. It is still very much at the forefront of our minds. But, as our snowpack becomes less predictable, we are forced to develop a healthy patience. Big adventures take a long time, which is a good thing if you want to adventure forever. 
I was initially hesitant to write about the Lost River Range. For me, it feels like an undiscovered mountain paradise – JP and I are certain that some of the lines we skied and climbed in the Lost River Range had never been previously climbed or skied. The Lost Rivers have minimal infrastructure for recreation or tourism, and most nearby communities do not have services to welcome crowds. One guidebook exists, but it's not specific to the Lost Rivers, and the information and descriptions are sufficiently vague to prevent the masses from exploring all but the most popular areas of the Lost Rivers: Borah Peak, Super Gully, Merriam Lake, etc. I feel a responsibility to protect the Lost Rivers from being overused, overloved. 
I believe it is important to protect the places we love, especially places like the Lost River Range that do not have significant legal protections, like the Sawtooth National Recreation Area or the Frank Church Wilderness. But, I do not believe this protection justifies secrecy around public resources, which has been an unfortunate tradition in some recreation communities, with voices opposing landscape protection for fear that it will attract other visitors.
Conservation efforts based on secrecy are destined to fail, because no place will stay hidden forever. Even more problematic is that keeping public lands secret fosters exclusivity. The exclusion of people from public lands in the name of conservation has largely resulted in perpetuating elitism and racism, prolonging disconnect between our communities and nature, wilderness, and our public lands. If people do not experience these places, how can we expect them to act to protect them? We must ensure that conservation work is inclusive to all people.
While I recognize that not everyone has the gear or skills to attempt a traverse, the beauty of the Lost River Range is available to all for camping, hiking, fishing, hunting and other pursuits. It might take a little more planning and preparation in these remote and undeveloped mountains, but remarkable beauty abounds, and should be celebrated by all.
We need to protect the places we love, but keeping these places a secret from others is not the way to do it. If you want people to care about the places you love, you have to show others why they are so worthy of protection. Helping others love these places can do this. The Lost River Range has provided me with space to adventure for the rest of my life. I want you to know about this place so that you too can enjoy it and recognize how important it is to protect the places we love, together. 
If you want more information to plan your next Idaho adventure, or to stay updated on Idaho's public lands – sign up for ICL's public lands emails.