Editor's Note: This post was co-authored by Lilly Wilson and Lily Saperston, both members of Youth Salmon Protectors and Idaho Conservation League staff.
August 12, 2023 marks International Youth Day, a day to celebrate the energy, passion, and determination of young people worldwide who are addressing the myriad of issues that impact them. This year's theme, "Green Skills for Youth: Towards a Sustainable World," allows us to explore the profound impact of youth-led environmental initiatives, and their innovative approach to creating a more sustainable future. The Youth Salmon Protectors (YSP) is a prime example of this; bringing together youth from across the Pacific Northwest to advocate for the removal of the four Lower Snake River dams in order to restore salmon and steelhead populations, recover orca, and honor Tribal rights. 
These fish play a vital role in maintaining the ecological balance of our region. They are not only an integral part of Indigenous cultures and traditions but also contribute significantly to the overall health of the ecosystem through nutrient cycling. These remarkable fish transport nutrients from the ocean to freshwater habitats, nourishing other wildlife, and providing a source of sustenance for both animals and humans alike. Without this keystone species, our environment will change drastically, struggling to sustain the variety of plants and animals that rely on it. 
The construction of dams along the Snake River has obstructed the natural migratory routes of these fish, leading to a sharp decline in their numbers. Beyond this physical barrier, climate change has impacted river temperature and flow patterns, further compounding the challenges faced by these species. As a result, they are now listed as endangered or threatened under the Endangered Species Act, making their conservation efforts even more critical and urgent.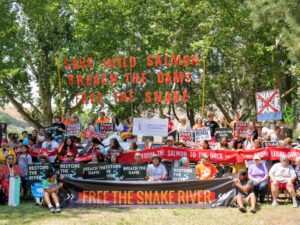 Our coalition of young people fighting to save these anadromous fish exemplify the power of youth-driven environmental movements. We understand that the status quo for this issue is no longer cutting it, and youth are using their passion and creativity to continue what the amazing activists of the past started. Whether it is through community art projects, social media, or meetings with key decision makers, through YSP we transform the potential of young minds into direct action and collaborate within our entire generation. 
Our work and collaboration with others have also developed our green skills – skills that contribute to a future of environmental sustainability. The development of these skills is preparing us to address environmental challenges effectively – now, and in the future. These skills include knowledge about sustainable resource management, conservation, renewable energy development, climate adaptation, and ecosystem restoration. These skills are vital for young people, as the current status of the environment falls into our hands and we are forced to be adaptable in order to sustain and develop what has been left to our generation. Through workshops, educational programs, and hands-on experience, we have honed these green skills, allowing us to successfully organize in our area and across the region, and bring attention to this pressing issue!
International Youth Day serves as a powerful reminder that young people worldwide are not just the leaders of tomorrow, but also the change-makers of today. As the leaders of Youth Salmon Protectors, we work to exemplify this notion in order to restore salmon and steelhead populations. By nurturing the passion and potential of youth, we can collectively safeguard our environment for generations to come. 
Here are 3 ways you can support the Youth Salmon Protectors in honor of International Youth Day!
Support youth activism across the region by donating to the Youth Salmon Protectors. This spring, donations from fellow advocates helped send YSP members and other youth from across the region to Washington D.C. to help advocate for salmon, orca, and Tribal justice. 
Sign up for YSP's mailing list to stay updated on our work and ways you can take action for Idaho's environment.

See the fun youth bring to activism by

following YSP on social media!