Serving as a public interest lobbyist in the Idaho Legislature presents unique challenges. Many legislators may not necessarily see the world the same way we do at the Idaho Conservation League. But most appreciate the importance of Idaho's outdoor heritage and agree that clean water, clean air and abundant wildlife are better than the alternatives. 
This week, House Speaker Scott Bedke (R-Oakley) spoke at the Idaho Environmental Forum and again emphasized his desire to address water quality issues, including in the Mid-Snake, a key priority for ICL. But the BIG story was that Rep. John Green (R-Post Falls) now wears the ignominious title of being the only sitting state legislator to be expelled (we think). 
The Verdict is In
Rep. Green faced felony charges in Texas that he conspired with his client, Thomas Selgas, to avoid paying more than a million dollars in taxes to the federal government. His attorneys defended Green by claiming his ignorance of relevant federal laws. The jury thought otherwise and convicted Green and Selgas on all counts. Both await sentencing and are expected to serve prison time. Because the Idaho constitution prohibits convicted felons from serving in public office and Rep. Green refused to resign, the House voted 65-0 on Thursday to expel him. 
The Week That Was
The main focus this week in the statehouse continues to be Administrative Rules, and there's still no "deal" to appease House Republicans who want veto power over the rules process. We're keeping a close eye on environmental rules that deal with building codes, streamside forest protections, K-12 science standards and dredge mining. We also had a visit from a leading Public Land seizure advocate, who's now offering his consulting services to the state. Hold onto your wallets, folks! 
Wait, What's the "S" Stand For?
The Governor's STEM Action Center hosted STEM Matters Day in the Capitol, with hundreds of students, educators and business leaders promoting the study of and careers associated with Science, Technology, Engineering and Math. 
STEM Action Center Director Dr. Angela Hemingway also presented her budget to the Joint Finance and Appropriations Committee and reported that 7,633 STEM jobs went unfilled in 2019, representing lost earnings of $516 million. Obviously, the Idaho Legislature is committed to ensuring rigorous standards and investment in science education, right? Think again…the House Education Committee is again targeting the K-12 Science Standards and a hearing is likely next week, stay tuned!
What's On Deck?
Next week, the House Resources Committee will take up consideration of the Shade Rule, which protects water quality in fish bearing streams. The rule sets standards for retaining trees next to these streams, reducing sediment and keeping temperatures cool enough for steelhead, bull trout and cutthroat. The rules have been in place since 2014 and took 10 years of thoughtful development by the Idaho Department of Lands, Department of Environmental Quality and others, and represent a sensible approach to these important forests. Unfortunately, the Idaho Farm Bureau argues this rule is an unconstitutional taking of property rights and is opposing the rule. The good news is that the timber industry, Forest Practices Act Advisory Committee, and the state all agree with our position that clearcutting should not be allowed up to the edge of these important waterways.
And Finally, the TOTW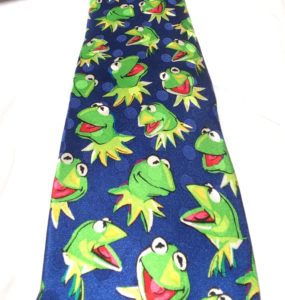 I think this one speaks for itself. As Kermit said, it's not easy being green… I bring you the Tie of the Week.
Until next week, Esto Perpetua, 
Jonathan