This week, we had Transportation Chairman Joe Palmer (R-Meridian) riding an e-bike down the marble halls, the Governor signing a proclamation for Electric Vehicle Day and a presentation from the dairy industry, all at once, yet  managed to cover  them all!
Bills are coming so fast, it's hard to keep the  bill tracker  updated! However, we're doing our best to review all bills introduced that relate to clean water, wildlife, public lands and other issues that matter to our 30,000 statewide members and supporters! So far, over 500 measures have been introduced, leading to lots of juggling. Oh, and we hosted our annual Legislative Reception along with our friends at Conservation Voters for Idaho. Thanks to all those legislators, members, agency and congressional staff who made it down. With much to report, let's get down to it …
Feeling Positively Electric!
Feb. 14, 2019 was proclaimed to be Electric Vehicle Day in Idaho by Gov. Brad Little. Right now, Idahoans export $3 billion from our economy. That's because we don't produce or refine gasoline or diesel, so every cent is exported. On the flip side, we have the potential to generate 100 percent of our transportation fuel when we transition to electric vehicles. It would be a game changer for our economy, and would reduce emissions to boot! Instead, Idaho still penalizes electric and plug-in hybrids by assessing an unfair premium on their annual registrations. To fix that, we're working in coalition with power producers and others. This week, we sponsored a joint informational House and Senate committee hearing in the Lincoln Auditorium to talk about the potential for EVs to be a game changer in Idaho. At the same time, literally, House Transportation unanimously approved the e-bike bill  that will define and govern e-bikes in a more sensible way.
Public Lands Access
Today, in Idaho, if you block access to public lands, there are only 44 people who can do anything about it. Only county sheriffs have the authority to enforce illegal posting on public land. Instead, the Public Access Protection Act (PAPA) would change that and allow citizens to enforce illegitimate posting. It deserves a hearing, and it deserves to pass! Also on the public lands front, Rep. Judy Boyle (R-Midvale) offered a bill that would establish a Federal Lands Oversight Council. The problem is, Congress has oversight over federally administered lands, not the Idaho State Legislature. And thank goodness they do, as the U.S. Senate passed a massive public lands package this week that protects lands across the country and reauthorizes the Land and Water Conservation Fund. Let's hope the House follows suit, and soon!
Mining and Solar Bills in the Wings
Other bills that were introduced this week include the Idaho Mining Association's Bonding Bill  and Reps. Ilana Rubel (D-Boise) and Randy Armstrong's (R-Inkom) Solar Bill. The mining bill establishes bonding requirements for mines, which often leave taxpayers with the cleanup costs. Unfortunately, the bill exposes the state and taxpayers to liability with flimsy financial assurances. The solar bill would prohibit homeowners associations (HOAs) from blocking private decisions to put solar panels on your rooftop. It's a good measure that would remove an obstacle to Idaho's clean energy future. Both bills are likely to be heard in committees (House Resources and House Business) next week, so stay tuned in to find out how they fare!
Get Amped for the Shocking TOTW!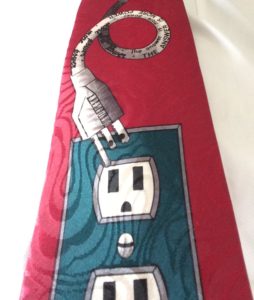 The air was positively electric on Thursday, and  the Governor and chairs of both the Senate and House Transportation Committees got in on the act –  ogling e-bikes and electric vehicles parked on the Capitol steps. We were really charged up and electrons were buzzing. I should probably stop, before I get too carried away.
Folks, I give you the Tie of the Week!