One Down, Thirteen-ish to Go
Well, we've wrapped up the first week in the Legislature, and despite the expectation that nothing happens in the first week, we actually saw several bills introduced. We also wrapped up our legislative advocacy training series that brought in more than 100 ICL members and supporters who are planning to engage in the legislative process. Thanks to all those who attended – and keep an eye out for opportunities to have your voice heard! I also enjoyed presenting some of ICL's priorities to the 5 Tribes Summit in Boise, where leaders from each of Idaho's Native American Tribes gathered to share information on pertinent issues.
Agency Rules Get Close Examination
As is customary, consideration of administrative rules dominates the first couple weeks of the legislative session. ICL has been monitoring a number of rules over the past year – among them, Idaho Department of Fish and Game (IDFG) rules that would seek to limit the introduction or spread of diseases in Idaho's wild elk, deer and moose populations.
One rule would limit importation of live elk, deer and other species for game farms, that could expose native wildlife to chronic wasting disease (CWD) or other diseases. Another would limit the importation of wild deer, elk or moose from areas with documented cases of CWD. A third would include considerations of CWD and disease transmission in any winter feeding decisions. These are all important rules designed to protect our precious wildlife, and we hope that the Legislature will approve them as written.
Finally, the IDFG proposed another rule increasing the distance for traps sets near trails. Currently, traps must be set 5 feet from the centerline of a trail. This poses risks to recreationists, their dogs, horses and other animals. So, the IDFG has proposed to increase that distance to 10 feet from the edge of a trail and 300 feet from the edge of paved trails. While this is an improvement, ICL remains concerned that this distance isn't sufficient. Ultimately, no one (including trappers) wants to see dogs or other non-target animals or recreationists caught in a trap, leading most conscientious trappers to never set their traps so close to a trail. So, why is IDFG continuing to allow this dangerous practice? Still, going from 5 feet (from centerline) to 10 feet (from edge) is an improvement, and something is better than nothing.
First Bill of Session Deals With … Water!
Instead of calling a special session over the summer, legislative leaders and the Treasure Valley Water Users reached an agreement on a bill to resolve pending litigation before the Idaho Supreme Court. The bill was introduced this week by Speaker Scott Bedke (R-Oakley) and will be up in the House Resources and Conservation Committee (probably next Thursday). While ICL is officially neutral on the bill, we'll be noting our concern that the measure fails to adequately protect stream flows in the Boise River. After all, without any water, a river isn't really … a river, is it?

Ladies and Gents, the Tie Of the Week (TOTW)!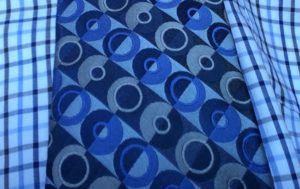 As Gov. Little said in his State of the State address last week, "water is Idaho's lifeblood." This week's TOTW and matching shirt (they DO match, right?) honors the official state policy, passed with 85% of the popular vote in 1954, that "clean water in the streams of Idaho is in the public interest." ICL works on many, many issues, but when it comes down to it, many can be (ahem) tied directly to the protection of clean water. So clean water …  esto perpetua (Idaho's state motto translated: may it be forever).