Carl Rowe, ICL's 2019 Artist in Residence, has been no stranger to Idaho's highways this year. As his stunning paintings show, Carl has been all over the Gem State finding iconic landforms, compositions, and colors to bring to his canvas. From rolling hills draped in the shadow of an Idaho evening to the craggy highlands found in the state's countless mountain ranges, and from wetlands lush with green grasses to deep canyons cut by Idaho's iconic river rapids, Carl has travelled far and wide in order to depict the awe, splendor, drama, and diversity of Idaho landscapes. And he has fifty paintings to show for it.
Carl Rowe On Tour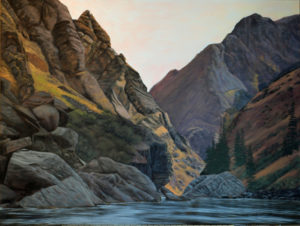 I had the pleasure of joining Carl and his wife Tracey as they took to the road again to showcase Carl's residency artwork and celebrate the close of his year-long residency.  With over twenty paintings and almost as many easels packed in the trunk of a single car, our traveling, pop-up art exhibit stopped in Pocatello, Twin Falls, Ketchum, and Challis over a week in mid-November.
We set up the show from the ground up each evening, beginning with the simple task of screwing together the posts of the easels. Then, we would unpack the paintings one canvas at a time and carry them carefully inside the gallery space. Next came the delicate task of arranging and lighting the artwork. It was astounding how different each painting looked under different lighting. Just a tweak in the angle of a single light could make the sunlight depicted on the canvas shine as if from within. This is the magic of Carl's luminous artwork.
Listen to our Interview with Carl Rowe!
I had the chance to interview Carl while we were on tour. Check out this episode of the Wild Idaho! Podcast to hear the interview.

Telling ICL's Story through Art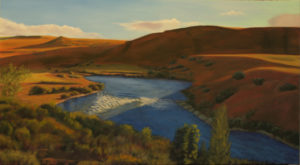 Carl's paintings are simply breathtaking. But in addition to inspiring awe, they help tell the story of why Idaho is worth protecting. At each art show, I was able to use Carl's paintings to jump into conversations about all that ICL is working to accomplish across the state. His depictions of the Snake River canyon were especially helpful in Pocatello and Twin Falls to show why ICL is working to restore the Snake River, the crown jewel of Southern Idaho. For nearly every corner of Idaho from Challis to Bonners Ferry, Carl has a painting that captures our state's unique beauty.
This is what our Artist In Residence program is about: sharing the beauty of the places ICL works to protect and telling the Idaho story in creative new ways to expanded audiences.
By the way, if you purchase work from Carl that he creates during his residency, 25% comes back to ICL!
Don't miss the next leg of Carl's artist in residence tour!
Carl takes to the road again in December to showcase his paintings throughout the western side of the state. Come enjoy an exclusive look at Carl's radiant paintings at this unique pop-up art show and hear from Carl about his artist's journey.