Bull trout are native to Idaho. Because Idaho has some of the coldest and cleanest mountain waters, Idaho is a stronghold for this species. You can find them in streams, rivers, and lakes with cold, clean water like Lake Pend Oreille and its tributaries. In fact, an angler hauled a state record 32-pounder out of the Pend Oreille. 
Today it is illegal to target bull trout. In 1998, they were listed as a "threatened" species under the Endangered Species Act. If you catch a fish that looks like a trout, take special care to correctly identify the species. Bull trout must be immediately returned to the water if you accidentally catch one.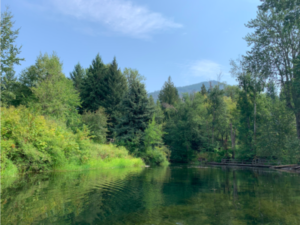 Protecting Trestle Creek
Because of the bull trout's status, it is important to do everything we can to restore degraded bull trout habitat and protect habitat that is still in good condition. Bull trout have been eliminated from 60 percent of their historic range. In 2010, the U.S. Fish and Wildlife Service designated thousands of miles of Idaho's rivers and streams as critical habitat for the trout, including Trestle Creek on Lake Pend Oreille.
Each year the Idaho Department of Fish and Game and Avista Utilities count bull trout spawning sites, or "redds," in 22 tributaries of the Pend Oreille Basin. On average, more than half of the redds counted in these tributaries occur in Trestle Creek alone. The area also provides habitat for bald eagles, migratory birds, beavers, and kokanee. These are reasons why it's so important to protect Trestle Creek from damaging land use practices and developments, which ICL recently stepped up to do.
In response to litigation from ICL and the Center for Biological Diversity, the Army Corps of Engineers recently revoked a dredge and fill permit that they issued to the Idaho Club in 2019 for an alarming project – a proposal from the Idaho Club to build a marina and residential development at the mouth of Trestle Creek. The development plans included more than 100 boat slips, a boat ramp, three boat storage facilities, and five residential units. To carry out these plans, the Idaho Club planned to remove an entire island and portions of another island and peninsula by dredging over 15,000 cubic yards of material – either eliminating or significantly impacting the habitat available to bull trout and other species in the area.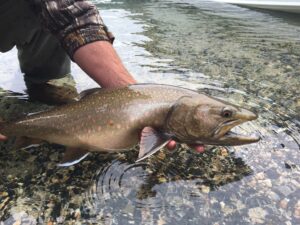 Moving forward
If the Idaho Club applies for a new permit, then the Army Corps should deny it. The public interest favors bull trout recovery over the development of a marina and housing development that will only be accessible to a few wealthy individuals. 
Any new permit for this development will need to go through proper environmental review. ICL will continue to monitor the project and ensure that the Corps and the Idaho Club comply with environmental laws if there is an attempt to renew the permit, and will work to ensure threatened and endangered species are not harmed by development in the region.
Protecting Trestle Creek is not only good for bull trout, but also for the other wildlife species in the area. Because bull trout require cold, clear streams, they are a good indicator for ecosystem health. By ensuring bull trout can persist, we can protect healthy streams for other fish and aquatic species like salmon, steelhead, and other trout species. ICL will continue to work to identify and prioritize conservation efforts to ensure future generations of Idahoans can experience and enjoy Idaho's native species.
To learn more about ICL's work to protect Idaho's native wildlife, or to get involved with standing up for Idaho's wildlife heritage, sign up for our Wildlife Program updates.