Until recently, the western U.S. was experiencing a relatively mild summer for wildfires.
While folks enjoyed Labor Day weekend, climate projections of extreme and prolonged heat waves came to fruition across the West. The record high temperatures come on the heels of two years of drought and have been met with strong wind patterns as the jet stream dips south, creating perfect wildfire conditions. As I write this just a week into September, Blaine County Sheriff's Office issued level three mandatory evacuations for Pettit Lake Road and Cabin Creek Road due to the Ross Fork Fire. Meanwhile, the Four Corners fire near Lake Cascade is also causing evacuations in small communities, the Payette National Forest is reporting that the Rainbow Fire is burning on top of Brundage Mountain, and the Moose Fire near Salmon has burned more than 122,000 acres. All in all, the Gem State is feeling the impacts of climate change and its impacts on wildfire season.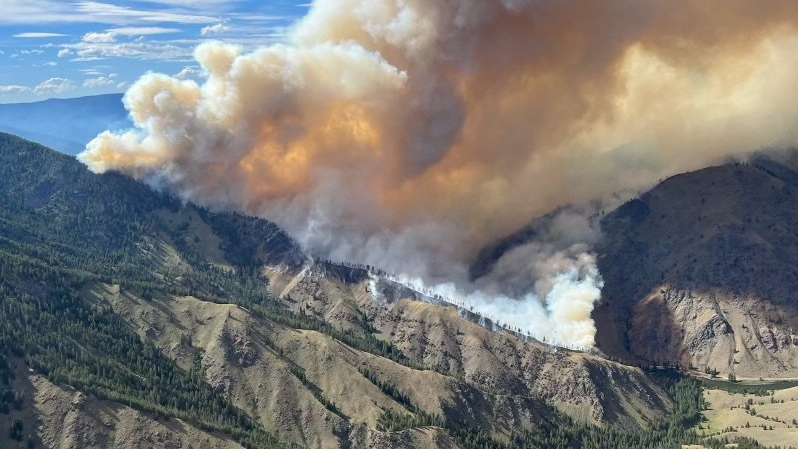 Although Idaho hasn't seen the same intense heat waves as in the past two summers, Boise has already broken its record of days above 100 degrees F (22 times this year). Boise National Weather Service observed that this August's average temperature is slated to be 80 degrees F, which has never been recorded in August before. Experts say these types of heat waves will only become more frequent and intense in the future.
The heat dome in the western U.S. has many states on high alert. In Oregon, Governor Kate Brown declared a state of emergency due to the imminent threat of wildfire across Oregon.) Californians have been asked to minimize energy use during peak hours to avoid rolling black outs. In Idaho we are experiencing impacts of climate change in the form of decreased snowpack, more rain on snow events, and warmer stream and air temperatures. In addition to the recent Idaho Climate-Economy Impacts Assessment speaking to Idaho-specific impacts, the Idaho Statesman is even spearheading a project on climate change — reporting that the average annual temperature has risen from 50.3 degrees in the late 1870s to 52.7 in recent years, and announcing that the outlet will focus on more climate change-related content moving forward.
2.4 degrees F may not seem like much, but it's significant; 1.8 degrees Fahrenheit is the equivalent of one degree Celsius (5), and below is the difference in projected impacts between 1.5 and 2 degrees C.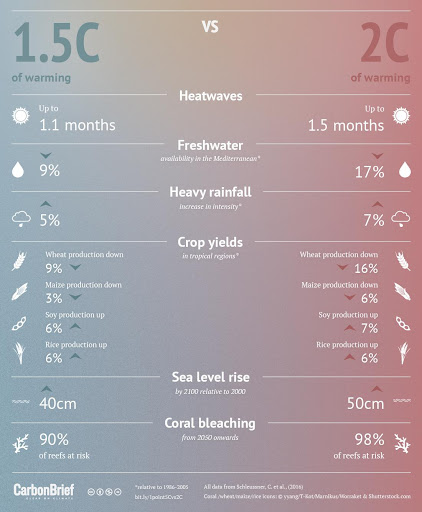 This is why ICL is working to combat climate change and address climate change impacts across Idaho. We're trying to mitigate greenhouse gasses that contribute to climate change and eliminate fossil fueled power plants, prioritizing clean energy like wind and solar. We want to get more electric vehicles on the road by supporting projects that prioritize EV charging stations and alternative modes of transportation. ICL is also working to reduce methane emissions and sequester carbon within the agricultural and dairy sectors.
Climate change is no longer an issue that our decision makers can push off for the future — it's impacting Idaho today.
If you'd like to stay updated on ICL's climate campaign, sign up for our emails here.