Here in Idaho, we're lucky to have countless places to camp and recreate outdoors. Wherever and however you choose to get outdoors – recreating responsibly is vital to protecting you, other recreationists, and the land, water, and wildlife we all love. In this 5 part series of blogs, the Idaho Conservation League is helping you recreate responsibly with easy tips and tricks that make a difference – giving back to the lands that give us so much.
Relaxing by a fire after a long day in the woods can be so satisfying. It is part of what makes the experience of camping so enticing. That being said, there is a time and a place for a campfire. It is important to research the fire rules and regulations in the area you intend on recreating prior to your trip. Many places such as designated wilderness areas do not allow fires at all. These regulations are in place for a reason, and they need to be followed and respected in order to maintain the intended purpose of those spaces.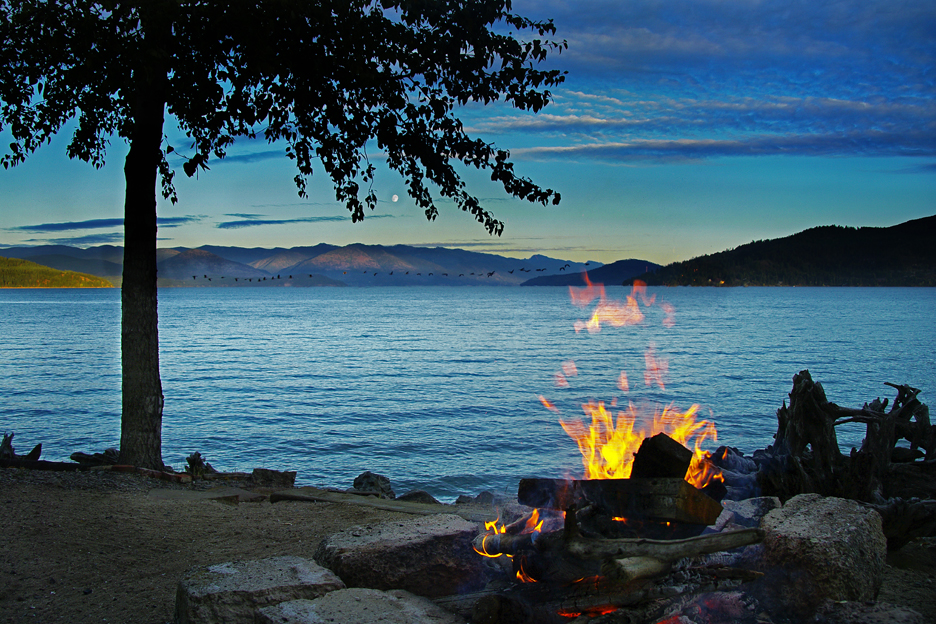 Sometimes, fires are not allowed in areas that need to remain as natural as possible with little to no signs of human disruption. In others, fires are banned to protect the wildlife and land from a potential wildfire. Constantly changing weather patterns are becoming more common, leading to more fire bans. While you may think you have everything under control, sudden and unexpected high winds can quickly escalate a seemingly innocuous small fire into something catastrophic. Some areas require you to obtain a campfire permit ahead of time. No matter the adventure, if you plan on making a campfire during it – make sure you are at a site that allows campfires and that there are no burn bans in place first. 
In areas where fires are permitted, be sure to follow these simple guidelines:
Ask yourself why.

The easiest way to navigate having a fire safely is by first deciding if you really need one in the first place. A good alternative to a campfire with virtually zero impact is a

Buddy Burner

. 

Location, location, location.

If there is an existing fire ring or already established spot where it seems a fire has been made, use that spot! Make sure all your gear or any other burnable material is at least 10 feet away from your spot.

Build it properly.

Knowing how to properly build your fire includes location and materials. When finding fire materials, remember the 5 Ds –

Dead, Down, Dry, Distant and Dainty.

Dead – avoid using living organic materials to build your fires. Down – standing and fallen dead trees are important habitats for all sorts of animals, so keep their homes intact. Dry – you want your wood to be as dry as possible to get an efficient burn. Also, wet wood is more likely to crackle and pop, sending embers flying out of your fire. Distant – try to gather burning materials just off trail and away from your campsite so you are not impacting untouched areas. Dainty – your biggest piece of fire fuel should be no larger than your wrist. This will help avoid having too big of a fire. Make sure all of your wood fits inside your fire ring.

Keep an eye on it.

NEVER

leave a campfire unattended, even if it's only for a few minutes or you can't see any flames. Wildfires often start because of abandoned fires or because someone thought a fire was out when it wasn't. An adult should supervise the campfire at all times. Children around campfires should also be supervised at all times.

Put it out.

Never leave your fire until you know it is completely out. Dump plenty of water on it, stir with a shovel, and dump more water on it.

If the fire remnants are too hot to touch with your hand, then they are too hot to leave.

Make sure the fire remnants are cold before leaving. Bringing the right tools, such as a shovel and bucket of water, can help ensure you have an easy time putting out your fire.

Leave No Trace.

Ideally, if you are making a fire in the backcountry you should try and leave the place looking as if no one was ever there. A

mound fire

is a great way to accomplish this and prevent ground scarring.
Enjoying a campfire in the great outdoors comes with the responsibility of doing it right. Following campfire rules and regulations not only protects the aesthetic of the wilderness, but more importantly wilderness itself. While fires can be healthy for ecosystems, unchecked wildfires impact areas in ways that may take decades for them to recover form. Help to preserve the beauty of these natural places for wildlife, visitors, and future generations by recreating responsibly!
For more information on recreating responsibly, planning your next Idaho adventure, and ways to stand up for Idaho's public lands – sign up for our email updates here.