New study shows very recent positive trend in water quality, but continued clean-up is essential for the future of Lake Coeur d'Alene
When a small group of miners struck gold in the mountains above Lake Coeur d'Alene in 1860, they had no idea that an entirely different society would still be grappling with their toxic legacy today, more than 160 years later. No one knew the scale of what was to come, or the long-term impacts of their actions. The mining boom came in the 1880s, with the extraction of lead, silver, and zinc. Over the decades, as mining activities increased and mining companies gained power, workers had a tough existence. They had to fight for their rights for fair wages and safe working conditions. A time of great wealth for some, life was fraught with violence, injury, and untimely death for others. 
Today, the results of mining in the 'Silver Valley' are still tragic, with lead and other heavy metal pollution continuing to threaten human health and safety almost 40 years into a robust cleanup effort. Ailments such as anemia, weakness, and kidney and brain damage can result from too much lead, which can be ingested through water, dirt, and even by breathing small particles in from dust. 
The ongoing cleanup was instigated by a 1983 Superfund designation, and focuses on a 1,500 square mile 'box.' It's one of the largest and most complex environmental cleanup sites in the nation. Tons of soil was dug up from people's yards, playgrounds, and other public places. Clean dirt was brought in to replace it, so children could play outside without being poisoned and people could live somewhat normal lives. But there are still reminders of this toxic legacy today – the Panhandle Health District loans out vacuum cleaners to encourage dust-free homes, and warning signs encourage people to wash their dog's paws with clean water before letting them in the house.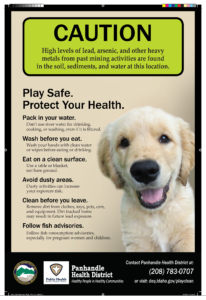 Even Lake Coeur d'Alene, widely known as the gem of north Idaho, is still highly compromised. Though downstream and outside of the Superfund cleanup area, this treasured recreation paradise is the resting place for approximately 75 million metric tons of sediment that is polluted with lead, zinc, and other heavy metals. In order to keep those metals trapped in the sediment, and keep the lake relatively safe for swimming and other uses, it's imperative to keep phosphorus and nitrogen levels low. These pollutants feed weeds and algae, which use oxygen when they decompose. If oxygen is depleted, it could cause the metals to mix into the water column, rendering this sparkling gem of North Idaho unsafe to swim in or touch. 
An effort led by the Idaho Department of Environmental Quality under the 2009 Coeur d'Alene Lake Management Plan aims to reduce pollution flowing into the lake from fertilizers, failing septic systems, wastewater discharges, and disturbed soils that result from logging and construction.
A new study by the National Academy of Sciences suggests these efforts are beginning to work, but that more is needed. Although phosphorus and heavy metals entering the lake have decreased in the last decade due to cleanup and restoration efforts, the amount of phosphorus entering the lake has still roughly doubled since the 1990s. Metals concentrations are still in violation of Idaho's water quality standards and greatly exceed the toxicity threshold. The study also raised concerns that increased storm events and wildfire activity from climate change could quickly reverse this recent positive trend – putting the lake at further risk. Population growth also contributes to more pollution, and needs to be planned for and managed responsibly.
During a recent symposium at the Coeur d'Alene Resort Golf Course, where results of the study were presented, one of the authors, Dr. Samuel N. Luoma, cautioned that "it took 150 years to get to this point, and we cannot expect it to be fixed in a couple of decades." 
Caj Matheson, Natural Resources Director for the Coeur d'Alene Tribe, is calling for expedited on-the-ground action. Matheson reminds us that Tribal ancestors have lived in the area for 12,000 years, thousands of years before the first miner struck it rich, and he is concerned that the positive trends are very short term. Scott Fields, Water Resource Program Manager for the Tribe, said that land use descriptions underestimate forest loss and the related pollution coming from the logged areas, and must be looked at closer.
Regional Administrator for the Idaho Department of Environmental Quality Dan McCracken had a more hopeful take on the situation. He emphasized that there was 'low hanging fruit' in terms of new projects that would further reduce pollution. He said that prioritization of these new projects would be discussed at an upcoming meeting of the Coeur d'Alene Lake Advisory Committee on December 16th. The public is welcome to attend. 
North Idaho's waterways are treasures worth saving. ICL is working with multiple stakeholders to improve decisions that impact our precious waters, so they can be protected for current and future generations.
If you'd like to help protect North Idaho's waters, consider becoming an ICL member or making a contribution to support ICL's North Idaho Lakes Advocacy program, which focuses on protecting the waters of Idaho's panhandle from degradation, pollution, and poor land use management. You can also consider becoming a volunteer with ICL's Water Quality Monitoring Program in North Idaho.
Together, we can restore and protect North Idaho's precious waters.