The Stanley to Redfish Lake trail will provide hikers, equestrians and cyclists of all ages and abilities with incredible mountain views and a safe route between these two destinations.
The Sawtooth National Forest is nearing completion of a new trail from the town of Stanley to the iconic Redfish Lake. This 4.5-mile multiple-use trail will provide a crucial wheelchair accessible route for the public — open to pedestrians, bicyclists and equestrians in the summer, and snowmobilers and cross-country skiers in the winter. Importantly, the route is not in a sensitive area for wildlife.
The Stanley to Redfish Lake Trail will provide locals and visitors with many important and equitable benefits. It will improve the quality experience of all those who visit the Sawtooth National Recreation Area, assist local businesses who rely on these visitors, and provide safe access for local residents and others. Construction on the trail has been ongoing this summer with an expected opening next summer. 
My colleague Hannah Smay and I recently had the opportunity to walk the route (with Forest Service and landowner permission as the trail is still under construction) and wanted to give our members a sneak peek of what's to come!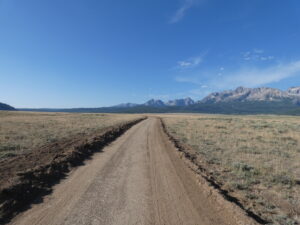 The trail begins at Pioneer Park in Stanley with a magnificent view of the Sawtooths. Unlike many of the rugged trails in the heart of the Sawtooth Wilderness, this flat, gravel trail will be accessible to folks with a wide range of interests and physical abilities – hikers, bikers, and wheelchair users alike. Dogs will be allowed, but importantly, they should remain on-leash because portions of the trail pass through open range.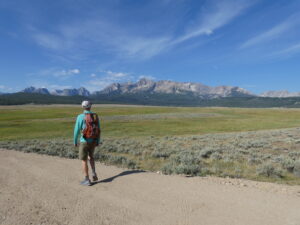 One of the best aspects of the trail is that it feels remote without actually being too far from town. For the first section of trail, you stay far from the road and can enjoy the spectacular views without hearing cars whizzing by at 70 mph. The trail is artfully designed with curves that bring dramatic views of Thompson and Williams peaks, two of the highest in the Sawtooths.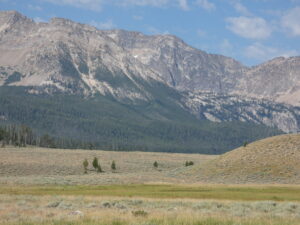 Despite having spent a lot of time exploring the Sawtooths, I was still taken aback by how beautiful the views of my favorite peaks were from this new trail. What excites me most about this trail is that it will provide so many people with the opportunity to experience the magic of the Sawtooth Valley. Despite ongoing litigation on the trail, the court has allowed construction to proceed while the merits of the case are heard. ICL strongly supports the Forest Service's proposed trail route. Stay tuned to hear when the trail will open to the public!