By Amy Sevcik, Sawtooth National Forest
Unfortunately, summer 2020 on public lands across the West, including in the Sawtooth Wilderness, could be summarized in one word: trashy. It seems more people than ever before traveled to the wilderness this summer. While it's fantastic to see new users experiencing and recreating on public lands, it's also important to emphasize that increased use comes with an inevitable increase in trash and other damage to public lands.
Our small crew of Wilderness Rangers out of Stanley collected too many bags of trash out of the Sawtooth and Cecil D. Andrus-White Clouds Wildernesses, particularly concentrated in the busiest places like the Alice-Toxaway Loop, Hell Roaring Lake, Walker Lake, Sawtooth and Alpine Lakes. Approach any of the serene, high alpine lakes of the Sawtooths and you'll instantly see the appeal and beauty only these lakes can offer and why visitors flock to these sites. But once you turn your attention to the ground, it's a totally different story.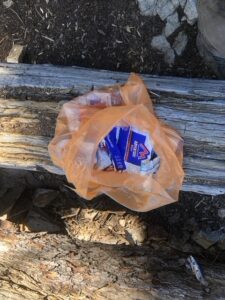 Dotted along the edge of many trails are plastic baggies filled with dog poop. Behind each log and oddly placed rock you could find piles of human waste, some of it still fresh. A quick scan of the more popular campsites and you'll find candy bar wrappers, instant coffee packets, ramen noodle seasoning, and used band-aids decorating the soil. If you continue hunting around the thicker, brushier areas just past a campsite, you'll almost be guaranteed to find a myriad of trash ranging from discarded underwear and socks to entire cooking sets to plastic bags filled with food scraps and wrappers — all lazily hidden behind rocks, bushes, and thick branches. This summer alone, I've found enough empty Mountain House packets to wallpaper a house.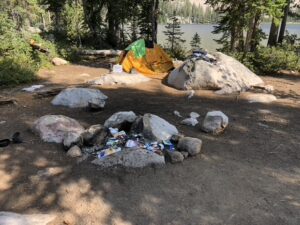 People's mindsets this summer seemed to be "out of sight, out of mind" rather than "leave no trace." Campfires are never allowed anywhere in the Sawtooth Wilderness, yet fire rings can be found at every lake in the Sawtooth Wilderness. These fire rings are a magnet for trash, with people attempting to burn their trash rather than pack it out.
Remember, if you pack it in, please pack it out. Leave No Trace ethics will always be encouraged, however, I challenge you to go a step further, and collect trash you find along the way. There's only a handful of Wilderness Rangers, but thousands of visitors each year. The visitors to the Sawtooth National Forest have the power to keep the Wilderness free from garbage, toilet paper, and campfire rings.
You can help keep Idaho's wild places clean, healthy and wild.
Volunteer Opportunities
Sawtooth NRA End-of-Season Clean Up, September 19 – October 4 
The Sawtooth National Recreation Area (SNRA) needs your help to recover from the impacts of this busy summer season. The COVID-19 pandemic drew record numbers of visitors to the SNRA, impacting both natural resources and recreational experiences. But you can help! Grab your family, friends, neighbors or co-workers and join your community in a COVID-friendly cleanup. Choose a project in the front-country or backcountry (whichever suits your group) and join us in making a difference on this iconic landscape. Sign up here!
Central Idaho Wilderness Stewards Program 
If you love Central Idaho's wilderness areas and backcountry, become a Central Idaho Wilderness Steward in 2021! Learn more about the program and how you can join our stewardship community dedicated to restoring, protecting and enhancing Idaho's wild places for all. Contact Hannah Smay, ICL's Community Engagement Assistant to learn more.